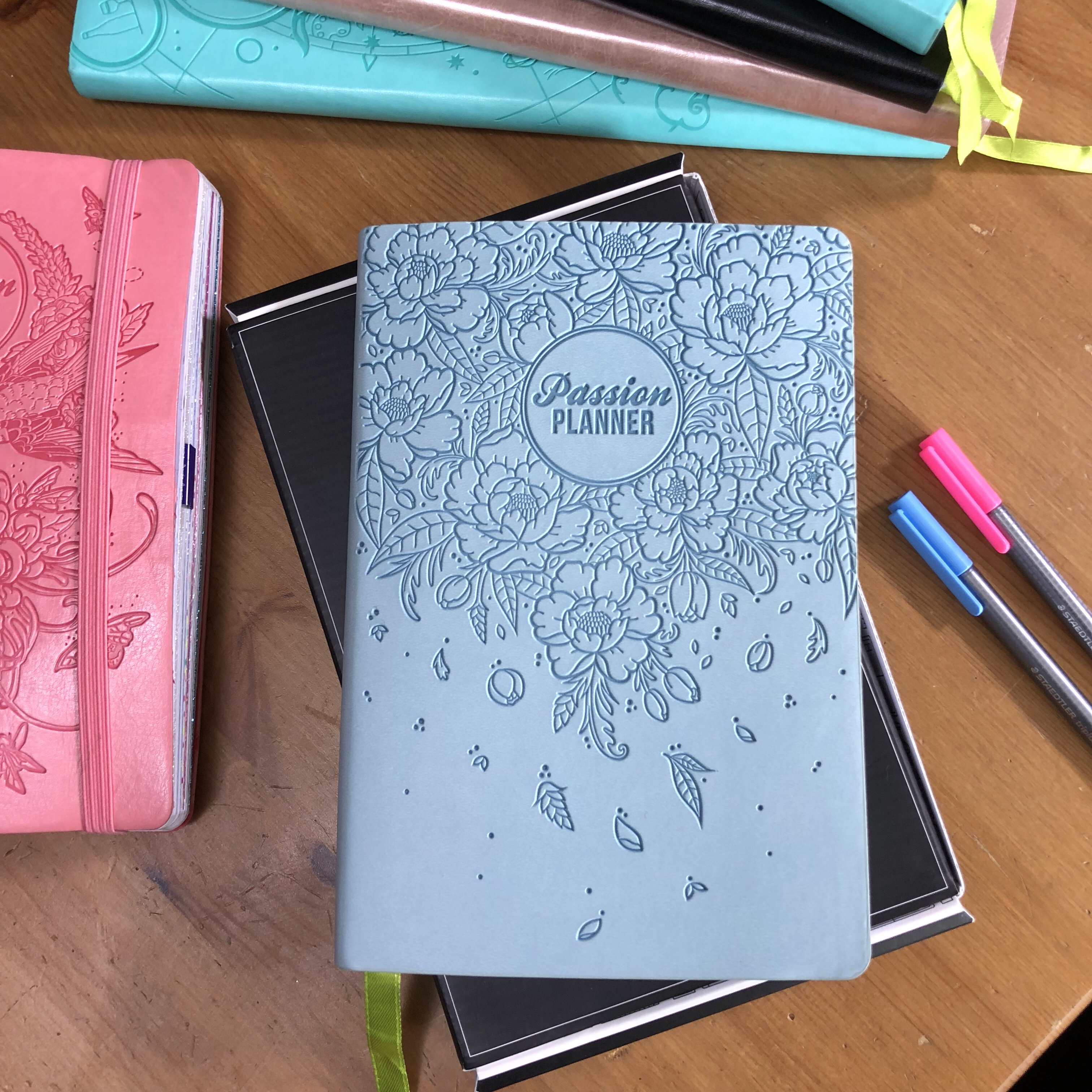 While I personally don't practice 'New Year, New Me' the New Year does signal the need to purchase a new planner! I use a variety of organizing and planning tools, such as my Passion Planner and iPhone's calendar, to help keep me updated on appointments, meetings, and deadlines, so I can continue to act and make progress towards my goals. I have been asked multiple times to share why and how I use my Passion Planner and so here it is.
I use my iPhone's calendar function, which syncs to my laptop and with the rest of my family's calendar. My phone's calendar function is perfect for keeping track of everyone's medical appointments, school meetings, my children's orchestra performances or other commitments, and due dates for bills. Since I always have my phone on me it makes saving appointments easy.
In addition to my digital calendar I use a Passion Planner to help me plan for the things I am most passionate about. I have always had wishes and goals for myself and my family but prior to using a Passion Planner I wasn't actively planning and taking action on my long-term and life goals. I felt like I was living month to month and focusing on immediate and short-term goals that could be accomplished in a year. Sure, I believed I would some day attain my goal to be financially stable or to vacation internationally but I had not actually made plans and tasks on what I needed to do now so that I could someday accomplish those goal.
What Is A Passion Planner?
The Passion Planner, created by Angelina Trinidad, is a paper planner that offers tools to breakdown short-term, long-term, and life goals while also offering the structure of an appointment calendar. The Passion Planner has many features/tools embedded in the pages that I had not seen before in a paper planner, such as: The Passion Roadmap, Passion Plan, Weekly and Daily focus, Good Things That Happened log, to-do lists specific for personal to-dos and work to-dos, and end of month reflections. The Passion Planner is available in two sizes (classic and compact), in multiple designed covers and colors, and as an annual January-December planner, academic planner (August-July), or an undated planner (12 months worth of blank templates).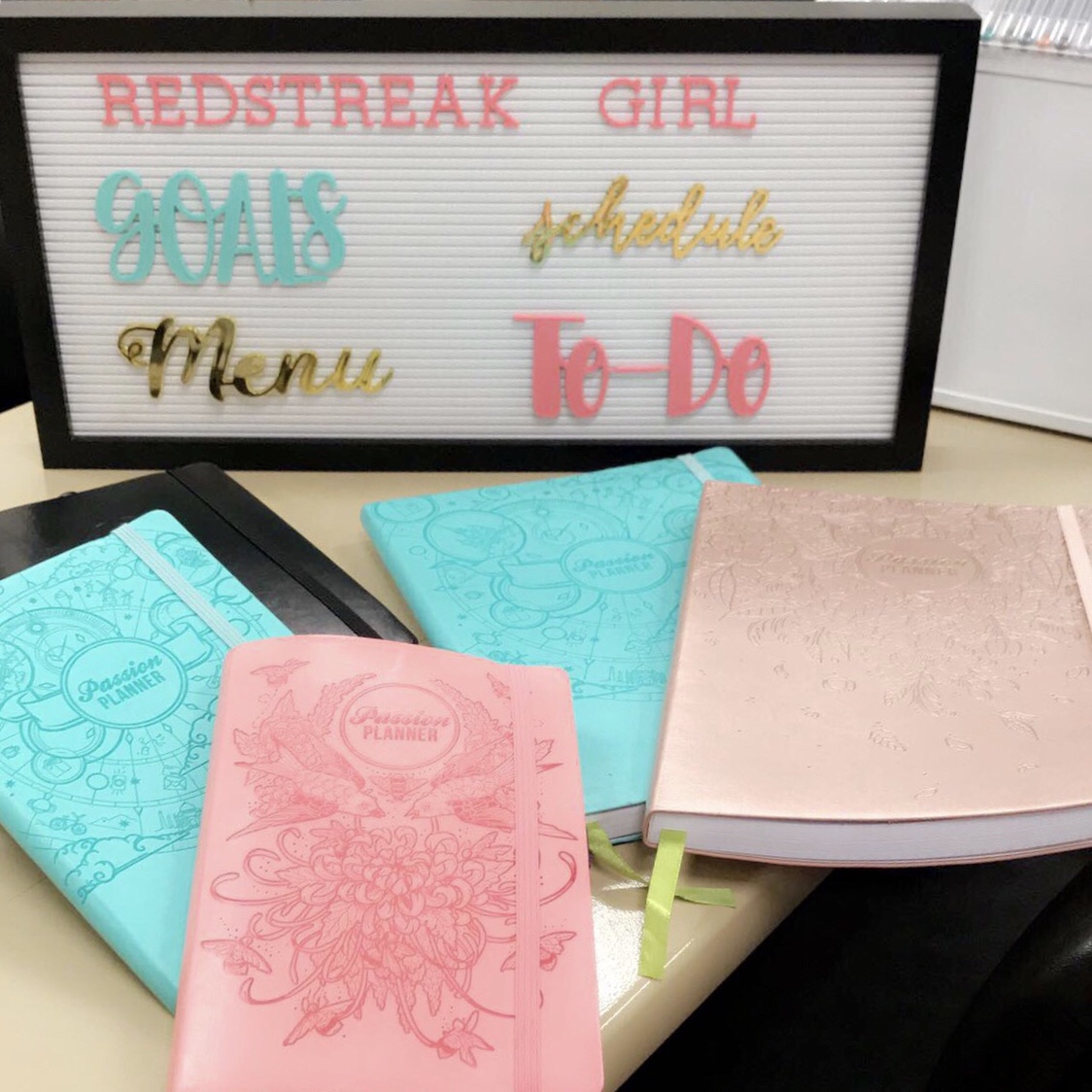 To be honest, when I first started using Passion Planner a couple years ago I didn't fully understand all of the tools available in the Passion Planner, specifically the tools for goal-setting, tasks, and reflection. At first, I used Passion Planner mostly to see my availability outside of college courses so I could allot time to study, write, and spend time with family. As an obsessed to-do list maker, I loved all of the blank spaces throughout the monthly and weekly layouts, and blank pages in the back of the planner for all my endless lists.
Essentially, I used Passion Planner as a paper version of my digital appointment calendar. Although it was helpful to physically write things down and to have space to jot notes, I felt like I wasn't fully realizing the benefits of what Passion Planner said their planner offered. I suppose this is because I wasn't using Passion Planner to it's full potential.
Passion Roadmap
By the time I started using a second Passion Planner I was curious what all this talk about The Passion Roadmap was. In short, The Passion Roadmap is a guide to map out short-term (3 month-1 year), long-term (3-years), and lifetime goals by making a wishlist of goals, prioritizing those goals, and then creating a Passion Plan. A Passion Plan identifies your GameChanger, or the goal that would have the most positive impact on your life right now, and guides you to plan out the tasks required so you take action in the coming months to accomplish that GameChanger by an identified date.
Prior to using Passion Planner, I had in some ways done something similar by jotting my goals and the applicable tasks down throughout the year but those became lost across multiple notebooks and sticky notepads. The Passion Planner made goal-setting and task-planning a seamless process because it is attached to monthly and weekly calendars so due dates for tasks and goals can be tracked. It also incorporates monthly reflection at the end of the month to reflect on progress towards goals. Rather than simply be a calendar to keep track of appointments it became a reminder and accountability tool for my personal goals.
How I Use My Passion Planner
I have reached personal and educational goals over the years that include graduating with my MPP, publishing academic journal articles, weaving my first Diné rug, traveling to New York City to attend theCURVYcon (twice!), studying for the LSAT, starting a business, and publishing 27 posts in 2017 here at RedstreakGirl.com, and through it all I used my Passion Planner to brainstorm, create timelines of tasks, track habits, and to journal and reflect on what's worked for me. I believe that I would have reached all of these goals without a Passion Planner, but my Passion Planner just made the organization process easier by having everything in one place.
This is my experience on how I have used the Passion Planner and I know that not everyone will use Passion Planner the same way. I also believe that the concepts of the Passion Roadmap, Passion Plan, and monthly reflections could be applied to non-Passion Planners. In my opinion, I just think the Passion Planner makes it an easier and seamless process. Why have your goals, tasks, to-do lists, and calendar appointments scattered across multiple books when it can all exist inside the Passion Planner?
Monthly & Weekly Spreads
Now, there are multiple ways in which people use their Passion Planner and if you were to Google images of Passion Planner weekly or monthly spreads you will most likely see how creative people are with their planners. I'm talking about sketches, paintings, fancy lettering, colors, beautiful stickers, and all sorts of creative skills that I simply do not have. In fact, sometimes these beautiful planner spreads (and the thought of using all of the features) may deter individuals from just starting to use a Passion Planner.
I am here to say and to show, that it doesn't have to be that way. As a non-artistic person, the extent of personalizing my planner pretty much ends at using a variety of pen colors and flower doodles. In addition, I am also busy and sometimes the idea of making my planner "pretty" just seems like so much work and time. Although I may not create fancy spreads I do allot time weekly to sync my calendars, make to-do lists and tasks, and to make sure I'm planning for the things that make me happy. I also want to show that even though Passion Planner has all of these amazing features, I may not use every feature all the time. I make my Passion Planner work for me and my schedule. Sometimes this may mean that I skip a week(s) of Passion Planning.
I use the monthly layout as an overview of all my commitments and major projects for that month. Since this is an overview, I don't provide event details such as start time or location. In the weekly layout I then provide additional details for commitments (e.g. appointments, meetings) such as start time and estimated length of time needed. I also block out time for traveling if I have to drive to an appointment. Although I use multiple colors in my monthly and weekly layouts I personally do not color code the types of commitments. In the weekly layout I further break down that month's major projects into tasks and to-do lists.
Monthly and weekly layouts provide boxes to fill in the focus of the month or week. The focus box is helpful for keeping track of the tasks that need to be completed that week so you can continue to work towards your goals. At the end of each month, there are two pages of monthly reflection prompts that encourage you to think about your accomplishments and progress in reaching your goals.
Here are some examples of my monthly and weekly spreads:
My Planner Tools
Since I use Passion Planner's compact size, I use fine tipped pens so I can write in the provided space. I also use highlighters (although some highlighters bleed through he paper), post-it notes, washi tape, and stickers. If I have extra time in my week, I may decorate or personalize my monthly and weekly layouts.
Here are some of the tools I use and where you can find them:
Staedtler Triplus Finalizer Pens – I purchased a 20-pack of multi-color pens at Target during Back-to-School shopping. However, these pens are also on Amazon.
Sharpie Fine Point Pen – If you buy Sharpie pens, make sure you are buying pens not markers, as the markers will bleed through the paper.
Planner stickers and washi tape – I have purchased generic planner stickers and washi tape from Joann's, Michaels, and Target. I've also purchased washi tape on Amazon. However, most planner stickers sold in retail stores don't necessarily fit within the Passion Planner because they have been made for a specific planner brand (e.g. Happy Planner, Erin Condren, etc.).
Chelsea Brown Designs – I have purchased stickers, specifically for the Passion Planner (compact or classic size), from Chelsea Brown Designs on Etsy. Although, I don't use stickers often, I appreciate that her stickers are the perfect size for my compact Passion Planner!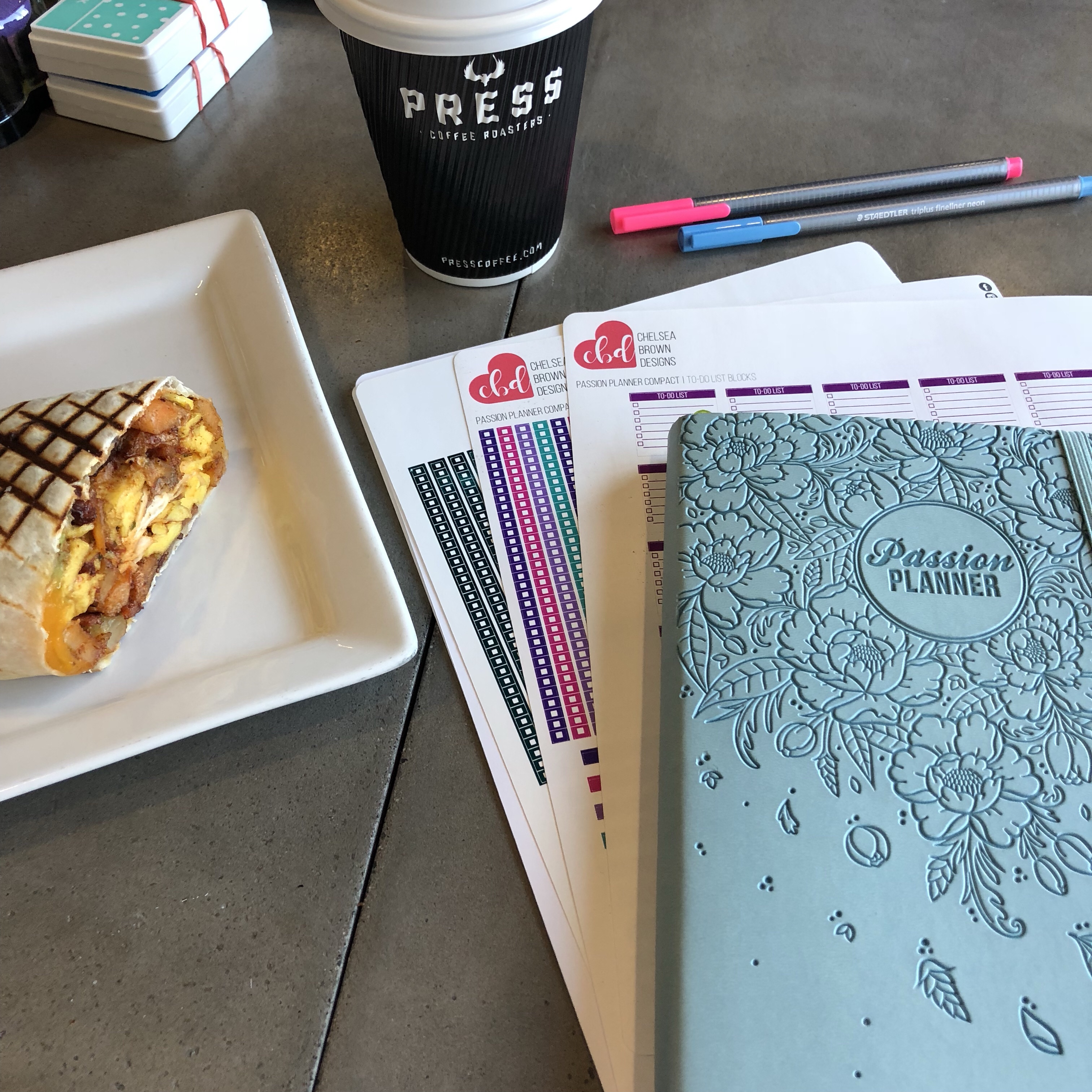 How To Get A Passion Planner
Free Passion Planner PDF
Interested in trying out Passion Planner before you buy it? Head on over to Passion Planner's website and follow the instructions to download a free PDF of the Passion Planner. Passion Planner also provides free PDFs of habit trackers, budget forms, and other printabled that could be added to your Passion Planner.
Get One, Give One Program
Passion Planner offers a program for individuals, schools, and organizations to apply for a free Passion Planner if they are unable to afford one. The program only accepts applications a certain number of times during the year so if the application page is closed keep checking back throughout the year! Applications are now being accepted from January 15-26, 2018. See Passion Planner for more information.
Purchase
Passion Planners can only be purchased online. If you purchase a Passion Planner, I would appreciate if you gave my email address RedstreakGirl.blog@gmail.com in the referral box so I can earn a free Passion Planner to giveaway here on my blog (see below!).
Enter To Win A Passion Planner!
Enter to win a 2018 Dated Compact Passion Planner in Timeless Black ($25 value) from me! The Passion Planner is bound (the original notebook style), dated from January 2018 to December 2018, and has a Sunday start for the weekly layout. It is pictured here: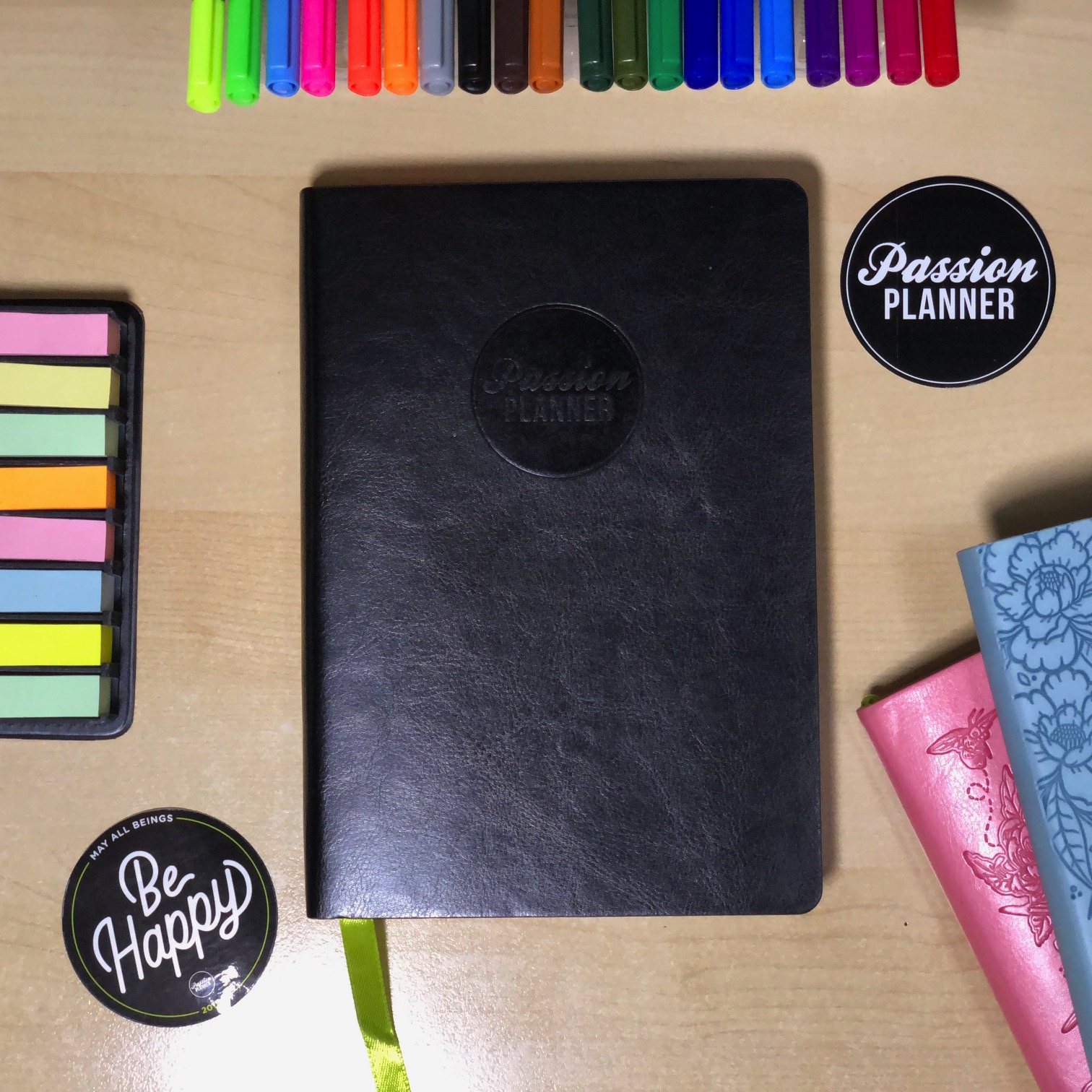 There are two ways to enter (you can do both!):
Sign up to receive my newsletter (down below), make sure to use your personal email address as the winner must be reachable and contact me within 48 hours to claim prize.
Enter the giveaway by following the instructions on this @RedstreakGirl Instagram picture.
This giveaway is open to U.S. residents only. To enter, complete the tasks as noted above. The giveaway entry period opens Wednesday 01/24/18 and closes Tuesday 01/30 12:00pm MST. By entering this giveaway, you are agreeing to join Redstreak Girl's newsletter (one newsletter subscription per person although you can earn multiple entries on Instagram). Once the entry period has ended, all entries will be combined from newsletter subscription and Instagram entries, and a winner will be randomly selected and announced on Instagram stories. The winner has 48 hours to claim and must be willing to provide their full name, mailing address, and email by Thursday 01/31/18 or another winner will be selected. This giveaway is not affiliated, endorsed, or sponsored by Passion Planner or any social media platform.
As you could probably tell I am super excited to share how I use my Passion Planner and hope that you'll consider joining the #Pashfam!
-Nicky
SaveSaveSaveSave