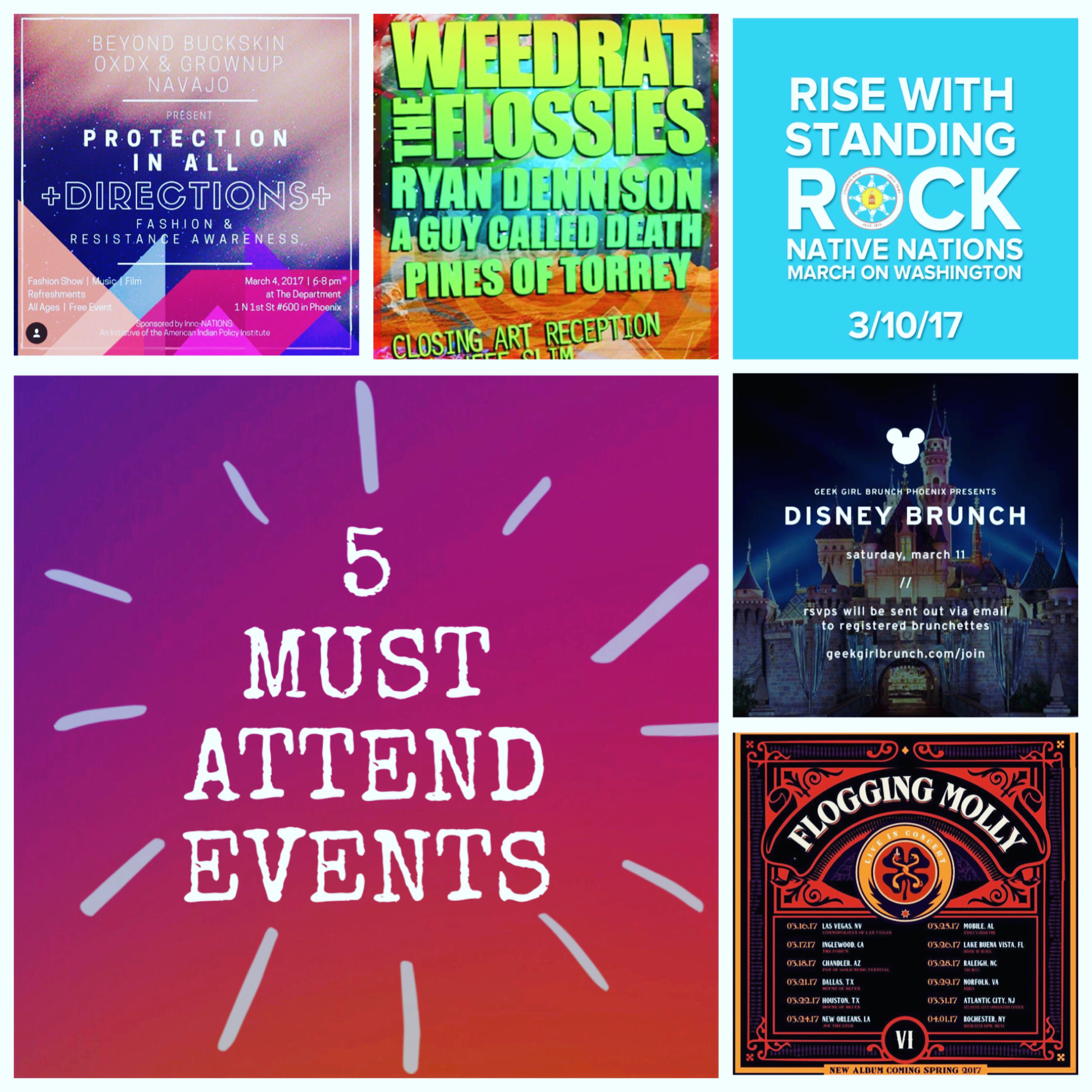 Check out these 5 must attend events in March! There are amazing events happening in Arizona. Here are a handful of events I'm interested in relating to fashion, activism, and music. I'm looking forward to attending some of these events so if you see me come and say hi!
For more events related to fashion, American Indian representations, and activism follow my curated list of events on Facebook!
Inno-NATIONS Kick-off Events: Lecture & Fashion Show
Wednesday, March 1, 2017 – Phoenix AZ
Saturday, March 4, 2017 – Phoenix AZ
Inno-NATIONS, a developing American Indian business incubator, is hosting two kick-off events this week featuring Native American fashion businesses. The first event, Beyond Buckskin: Beyond Online, is a lecture with Jessica Metcalfe happening Wednesday March 1st. The second event, Protection In All Directions: Fashion & Resistance Awareness, is a mixture of talk, art, and a fashion show happening Saturday March 4th. It is being presented by Beyond Buckskin, OXDX, and Grownup Navajo. I'm personally looking forward to this night of fashion, Native American representation, and resistance! See you there?
Chapter House Presents: Live at the Hive!
Friday, March 3, 2017 – The Hive, Phoenix AZ
I love a good punk show at The Hive is putting on this Chapter House Presents punk/art show. I look forward to checking out these bands WEEDRAT, The Flossies, and Plus there is an art show. — If you're looking for other music shows in the Phoenix-metro area follow Joe of Every Show Joe. He puts out a list of shows, mostly in the Phoenix area, titled Every Show Joe Says Go!
Native Nations March in Washington D.C.
Friday, March 10, 2017 – Washington D.C.
I'll be in Washington D.C. for the Native Nations March to stand with my tribe the Standing Rock Sioux Tribe with my mom, aunt, and sister. I'm marching to not only support our Tribe's right for clean water and to stop the Dakota Access Pipeline but also to support ALL Tribe's right to consent on protects that will impact their people, lands, and sacred sites. Learn more about the march here: http://standwithstandingrock.net/march/. If you can't make it to Washington D.C. there are sister marches happening throughout the U.S. including a march in Phoenix AZ!
Geek Girl Brunch Phoenix – Disney Themed Brunch
Saturday, March 11, 2017 – Phoenix AZ
Sadly, I will be missing out the Geek Girl Brunch Phoenix Chapter's monthly brunch for this March. The brunch for March is Disney-themed and I can only imagine all the cosplay and Disney fashion that brunchettes will show up in! I hope you get to attend!
How do you register to attend a Geek Girl Brunch? First join Geek Girl Brunch by completing the membership form HERE (membership is FREE!). Don't forget to select the chapter you want to join – there are a couple chapters in Arizona and many more across the U.S.. Once you've joined as a brunchette, you should receive an email from the GGB Phoenix Chapter with instructions on how to RSVP for this specific brunch. Instructions and details on the location of the Brunch are only available in the email and brunches may fill up fast, so make sure to RSVP as soon as you can. While it's free to join Geek Girl Brunch brunchettes are responsible for their own food and drinks at the venue.
Read up on the GGB Phoenix Chapter's February Brunch, which had a mythical creatures theme!
Pot of Gold: Flogging Molly
Saturday, March 18, 2017 – Rawhide, Chandler AZ
It's been a couple of years since Flogging Molly has played St. Patrick's Day in Tempe and I couldn't be more excited to see them this year at Rawhide in Chandler AZ! Plus I won two free tickets (yippee!), which makes attending this show more affordable since Saturday tickets are $70 each. I attended my first Flogging Molly show probably 10-11 years ago when they played a Tempe club. They've continued to come back to AZ eventually playing every St. Patrick's Day festival in Tempe for years. It never ceases to amaze me how much fun I have at a Flogging Molly show. Here is a picture of me with Flogging Molly bass guitarist Nathen Maxwell who is also the lead vocalist of The Bunny Gang.
Okay, so you're in luck! I couldn't stop at just five events this month because I would really like to go to this sixth event, the Native Fashion In The City Fashion Show, happening in Denver Colorado.
Native Fashion In The City Fashion Show
Friday, March 24, 2017 – Denver CO
I wish I had the means to go to all the cool events that I hear about especially those that happen outside of Phoenix. The Native Fashion In The City fashion show is taking place in Denver Colorado and is an annual event to celebrate contemporary and traditional Native American and First Nations fashion designers. Tickets are affordable and if you are near Denver it looks like this event is gearing up to become one of the go-to events for Native American fashion.  If you go, bring be back a swag bag! *wink*
There are many more events happenings this upcoming month but these were a few that piqued my interest. Are you interested in any of these events and will you attend? If so, I hope we bump into each other! * Don't forget to see a listing of other events that may interest you over on the Redstreak Girl Facebook page.
-Nicky
SaveSave