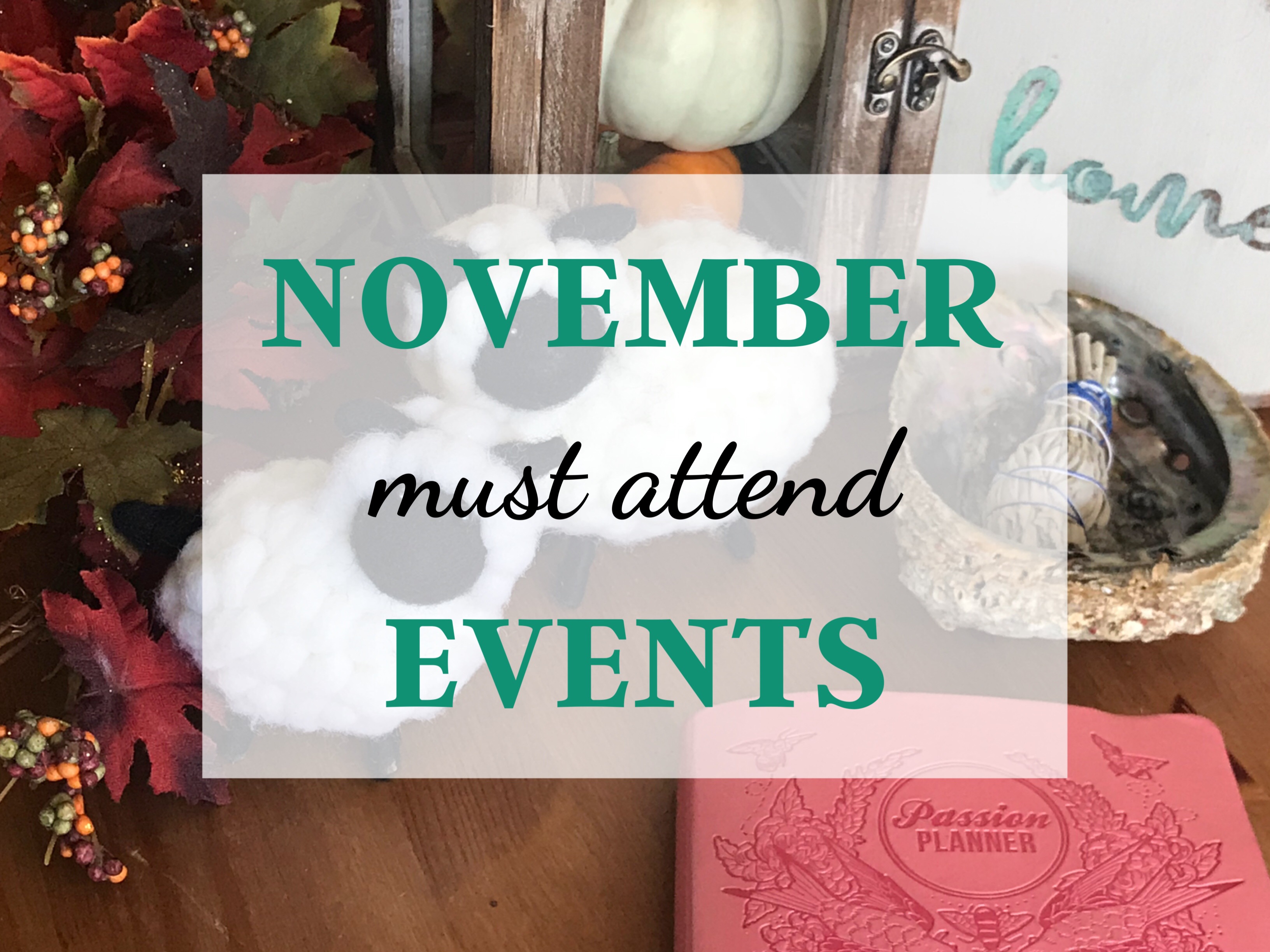 Celebrate Native American Heritage Month!
Happy November and National Native American Heritage Month! This month, I am dedicating all of my suggested must attend events to Native American Heritage Month. I hope that this month you will take advantage of these opportunities to learn more about the Indigenous peoples of Arizona (or wherever you reside).
So, what is the criteria I use when determining a must attend event that is published on this blog? Well, as someone who experiences FOMO every once in a while (a topic for another time) I try to select the events that I personally think would enrich my life. Sometimes I ask myself these questions: will I benefit intellectually, physically, emotionally, or spiritually?, will I strengthen my relationships with others?, will my attendance benefit a community I am part of? and sometimes I just ask myself if the event is about a topic I have a strong interest in. I also consider how much it costs to attend an event, the significance of an event to a community, and I heavily favor independent, minority, women-owned, and local businesses and events.
I do curate a list of events on my Redstreak Girl Facebook page that don't always make the cut for the blog. So, make sure to check that list for other events that I think you might have an interest in!
Gatherings: Pow Wows & Dances
There are quite a few pow wows and dances taking place and so I listed those that I knew of. If I missed one, let me know! Make sure to click the links for more information such as times, if there is admission, for specific addresses, and if there are other activities taking place at the gathering. Pow wows are not only a time to observe the beauty of multiple Native American heritages coming together but also a great opportunity to support Native artisans! I love attending pow wows because of the feeling of community and a sense of belonging. Plus, as a kid I crushed hard on those fancy and grass dancers… and yeah I don't think much as changed as an adult!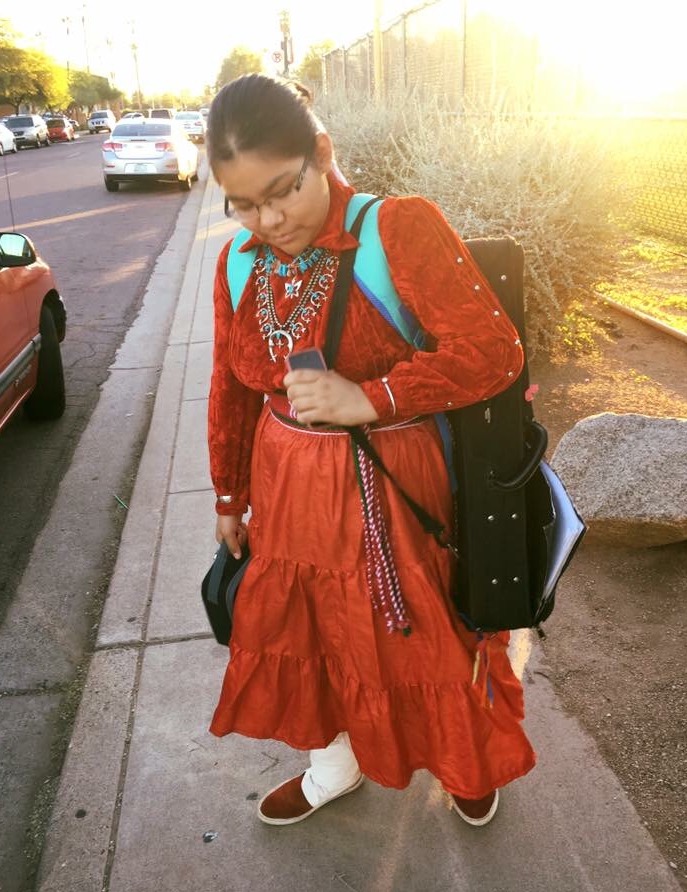 Documentary Premiere: More Than A Word
Friday, November 3, 2017 – Steele Indian School Park, Phoenix, AZ – Free admission
The documentary, More Than A Word, is premiering in various cities across the United States and is coming to Phoenix on November 3rd thanks to many organizations and departments at Arizona State University. The screening is taking place at the Phoenix Indian School Visitors Center located at the Steel indian School Park and the event starts at 6pm. The event is free and open to the public. A panel discussion will follow about the cultural appropriation of Native American heritages and will feature activist Amanda Blackhorse and ASU Professors Jacob Meders and James Riding In.
Join us for the Phoenix premiere of the More Than A Word Documentary! Long before #TakeAKnee protests, the movement against Native American mascots,…
Indigenous Comic Con 2
Friday – Sunday, November 10-12, 2017 – Isleta Resort & Casino, Albuquerque, NM
Okay, so this event is not in Arizona but I'm including it in this list because I really wanted to attend the Indigenous Comic Con II this year. A self proclaimed geek and fan of comic/pop-culture conventions, I think the Indigenous Comic Con is an opportunity to highlight positive Native representations in the comic world – both comic book characters and Indigenous creators! My husband Wayne has been working on his comic Native American Ninjas in his free time and I know this would have been a great opportunity for him to network with other comic book creators. If you're in Albuquerque, you should definitely check out this event! I hope there is an Indigenous Comic Con III in 2018!
· Hosted by Native Realities Publishing and Indigenous Comic Con
Awake: A Dream From Standing Rock – Film & Lecture
Monday, November 13, 2017 – Sun Devil Marketplace, ASU, Tempe, AZ
Tuesday, November 14, 2017 – Heard Museum, Phoenix, AZ
The Simon Ortiz and Labriola Center Lecture on Indigenous Land, Culture, and Community presents a reception and screening of the film AWAKE: A Dream From Standing Rock on Monday November 13th and Tuesday November 14th. On both dates, Myron Dewey, a co-director of the film with Josh Fox and James Spione, will be present for a Q&A. On both dates, the reception starts at 6PM and the screening starts at 6:45PM. Both events are free of charge and open to the public.
American Indian Children's Benefit Concert and Holiday Toy Drive
Friday, November 24, 2017 – Arizona Science Center, Phoenix, AZ
This year's American Indian Children's Benefit Concert & Holiday Toy Drive is taking place on Friday November 24th, from 6-9PM, at the Arizona Science Center. Admission to this benefit concert is a donated unwrapped toy or clothing for a youth ages newborn-17 years old. We enjoy this event not only for the benefit concert but also for the chance to roam around the Arizona Science Center while shopping the vendors who sell Native American arts. In previous years, our daughters get to select toys and clothing items to donate to children who are approximately their same age. This event is hosted by the Phoenix Indian Center and they also coordinate other holiday drives. See this flyer for more info: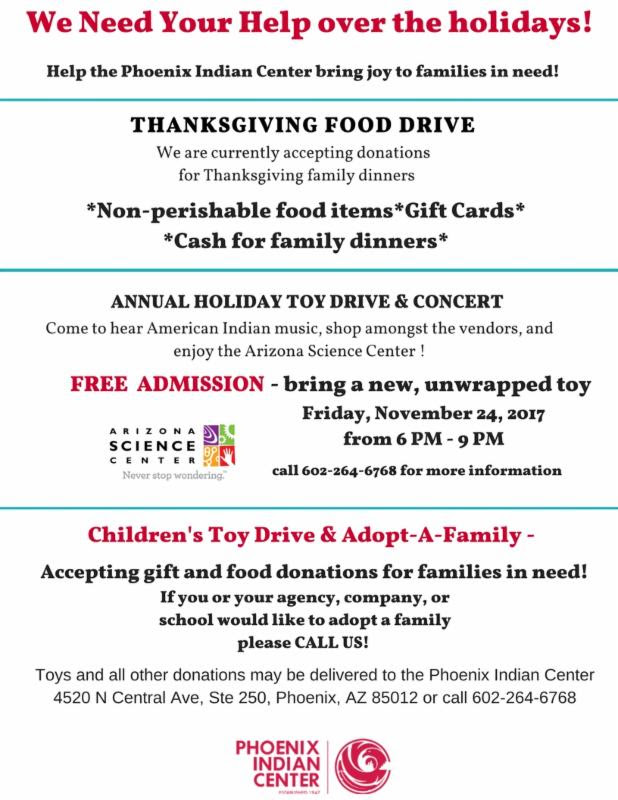 Don't forget that the Phoenix Indian Medical Center is still hosting their Saturday Indian Market on November 18th. I hope one of these events catch your eye! Let me know if these are events you're interested in and of other events I should be aware of. I love learning more about what is happening in the community!
Don't forget to see a listing of other events that may interest you over on the Redstreak Girl Facebook page.
-Nicky
SaveSave
SaveSave