Disclosure: This post may contain affiliate links that when clicked on may result in a small commission to this site but all opinions are mine.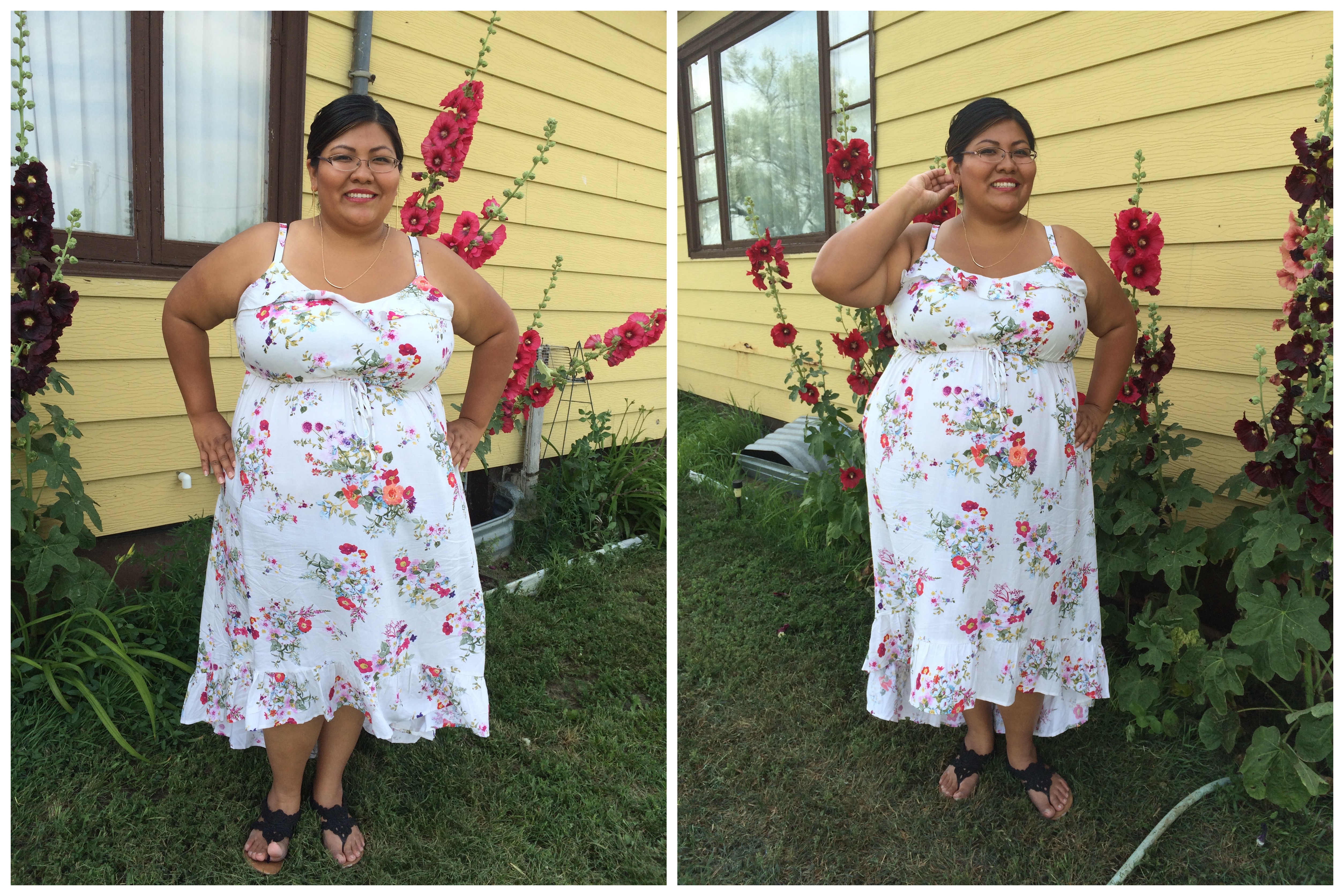 The hot dry summer, especially here in Phoenix AZ, calls for lightweight and airy summer dresses to chill in. A couple years ago I wrote about Torrid's Floral Challis Maxi Sundress (similar) and what to wear under a white summer dress. That dress (pictured above) is still in relatively great condition and I still wear it to this day. Although I purchased that dress two years ago it still is one of my go-to dresses for the spring and summer. While Torrid no longer sells that specific dress I've rounded up 5 similar summer dresses that I could see myself chilling in, especially in 106° temps! I'm looking to add one of Torrid's summer dresses to my closet and could use your feedback! Which is your favorite?
1. Chill your legs and shoulders with a fun maxi dress.
Maxi dresses are a closet staple for the summer but mix it up with this Off The Shoulder Smocked Hi-Lo Maxi Dress that will let you feel the summer breeze on your legs and shoulders.
2. Get away from the heat in this lightweight dress.
This Floral Print Ruffle Challis Tank Dress is the perfect dress for your summer vaca – it is lightweight and takes up less space in a suitcase! Throw this dress on over your swimsuit and head to the beach! This Floral Print High Neck Challis Hi-Lo Dress is very similar but in the trendy hi-lo style!
3. Stay chic this summer despite the summer heat.
This cute Crinkled Chiffon Tank Dress is a lightweight summer dress for those not so causal days. Add a cardigan and take your summer dress to work!
4) Chill the weekend away in a casual summer dress.
This Hacci Knit Trapeze Dress is perfect for lounging on a hot summer weekend. Rompers are a fun flash back to the 80s when I was a kid but this Charcoal Grey Jersey Strappy Back Romper looks soon relaxing!
5) Take your summer maxi up a notch.
This peach pink Lace Up Ruffle Maxi Dress would be great for that dinner party or summer wedding on a beach that you feel like dressing up to but still want to feel chill in.
Personally, I prefer a summer dress with straps to cover any bra straps and favor the hi-lo or maxi look. How about you? What do you look for in a summer dress?
-Nicky
SaveSave
SaveSaveSaveSave
SaveSaveSaveSaveSaveSaveSaveSaveSaveSaveSaveSave