As a child, it seemed that as soon as school was out for the summer we would embark on an annual road trip to visit my grandmother in North Dakota. While the majority of these trips happened in what seemed overnight there were occasional stops in touristy places like the Hole N' The Rock, the Flintstones Park, Mount Rushmore, and the Crazy Horse Memorial. Although the ultimate destination was my grandmother's home on the Standing Rock Sioux Tribe's reservation I have special memories of the road trip there.
My late grandmother Marie: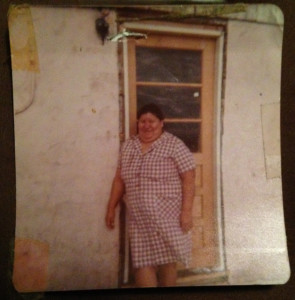 So, when I was planning my road trip from Arizona to North Dakota to visit my mom I wanted to give my daughters a similar experience that I had as a child. Allegiant Airlines has made air travel a bit more affordable allowing my mom to visit us in Arizona on a regular basis. It has also made the thought of the 27-hour drive daunting in comparison to a three hour flight.
The plan was to travel from Phoenix to my hometown of Window Rock, spend a couple days seeing family, and then make the drive to North Dakota in two days. The first day we would travel eight hours from Window Rock to Salt Lake City. The second day we would travel 15-hours from Salt Lake City through Idaho, the corner of Wyoming, through Montana and into North Dakota. The goal was to arrive super late at my mom's place just south of Bismarck.
The route I decided on is actually five hours longer than a route suggested by Google Maps that would have taken us through Colorado, Wyoming, and South Dakota. However, that route didn't include Window Rock and Yellowstone National Park, the two stops I really wanted to make.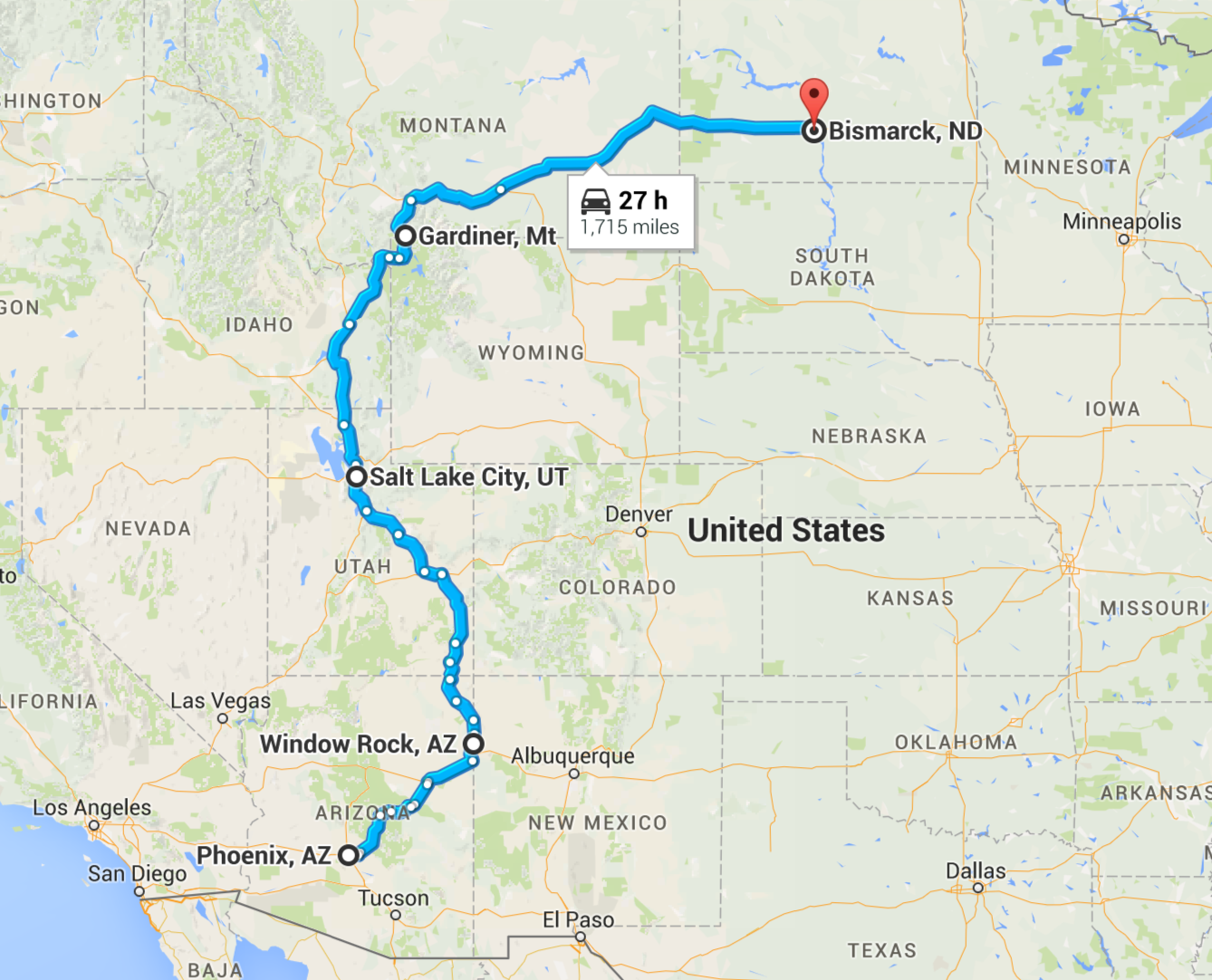 If you follow me on Instagram, you've probably seen some of these photos. My daughters did give me permission to share my photos of them on my blog.
Leaving Window Rock as a solo driver with two teens: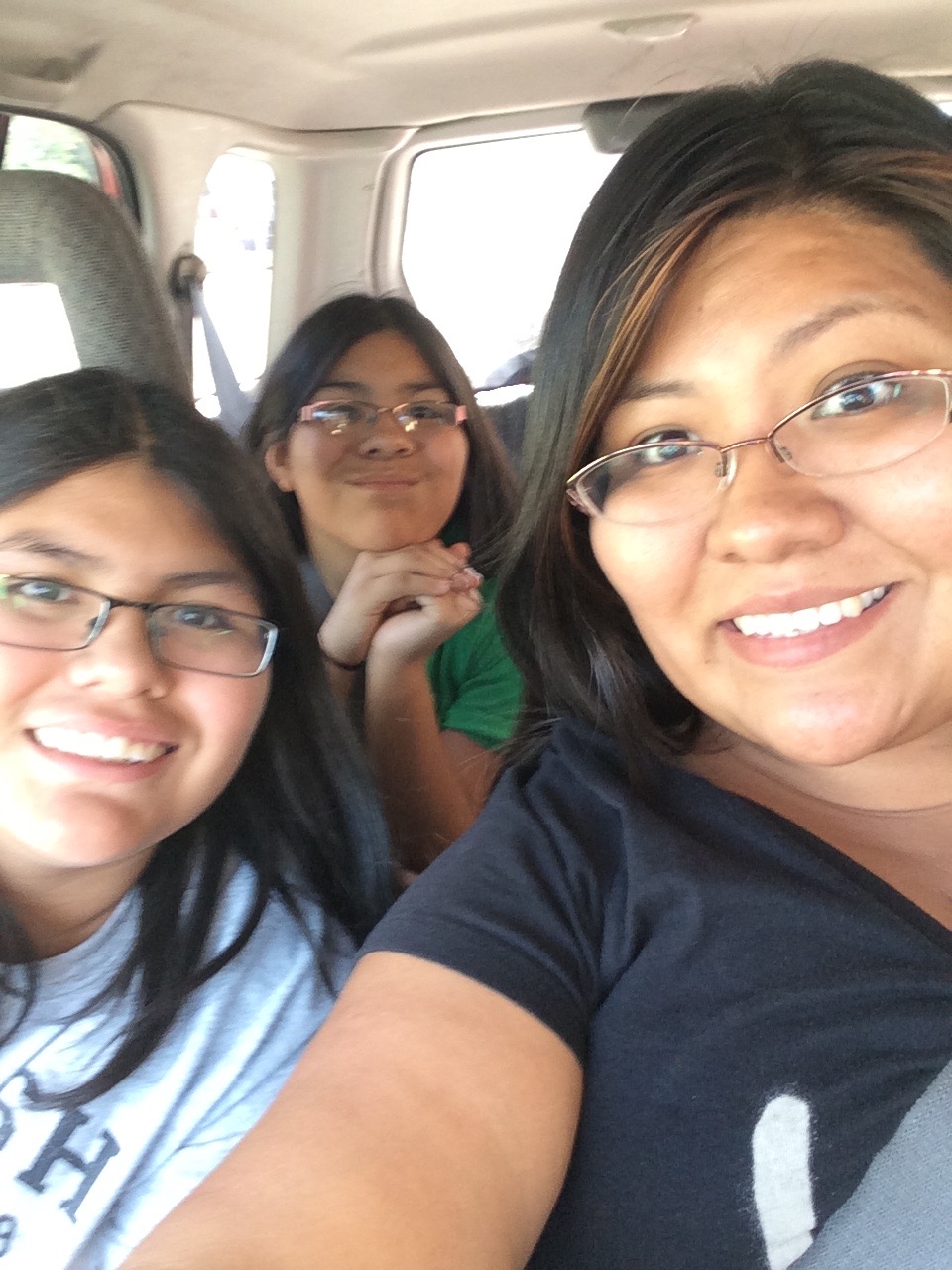 Day One: Window Rock, Arizona – Salt Lake City, Utah
We drove from Window Rock past Wheatfields Lake and to Salt Lake City through Moab Utah. The landscape was very beautiful through the Navajo Nation, whether it was the green pine trees or the red rocks against the blue sky. We did see many roadside signs that encouraged people not to litter and to keep Mother Earth clean. The girls mostly sat in silence while I listened to CDs on the car radio, as our cell phones generally had no service. As we drove through Mexican Hat, I contemplated driving past Dennehotso to remind myself of the land where my late grandfather Bill lived. I told my girls about my childhood memories of climbing the hill behind his house and they listened intently. But I decided not to take the detour because I wanted to make it through the canyons in southern Utah while it was still day. We arrived in Salt Lake City around 9:30PM and quickly visited a cousin before we made out way to the hotel. Rather than eat fast food, we heated frozen meals in the hotel microwave for dinner.
The beautiful landscape of the Navajo Nation:
Day Two: Salt Lake City, Utah – Yellowstone Park, Wyoming – Montana
While driving from Salt Lake City to Yellowstone Park we missed seeing the Idaho state sign. I was driving and the landscape looked very green and monotonous that I didn't even notice we were in Idaho until I saw a sign indicated the nearby distance to Malad City Idaho. Regardless, we were happy to have exited another state and to be somewhat closer to our destination.
I knew traveling through Yellowstone National Park would be slower than what was suggested online and I considered this in the timing of my trip. However, Yellowstone was very beautiful that we stopped often and took our time exploring whenever we stopped; in addition road construction severely delayed exiting the park before sunset. This turned our two day trip into three days. I have been to Yellowstone Park before but only remember seeing bison and Old Faithful. I don't recall any waterfalls or hot springs so when the Holder of the Map (my youngest daughter) identified these places we stopped as often as we could.
We must not have been paying very close attention to the state signs because we didn't see the Idaho or Wyoming signs: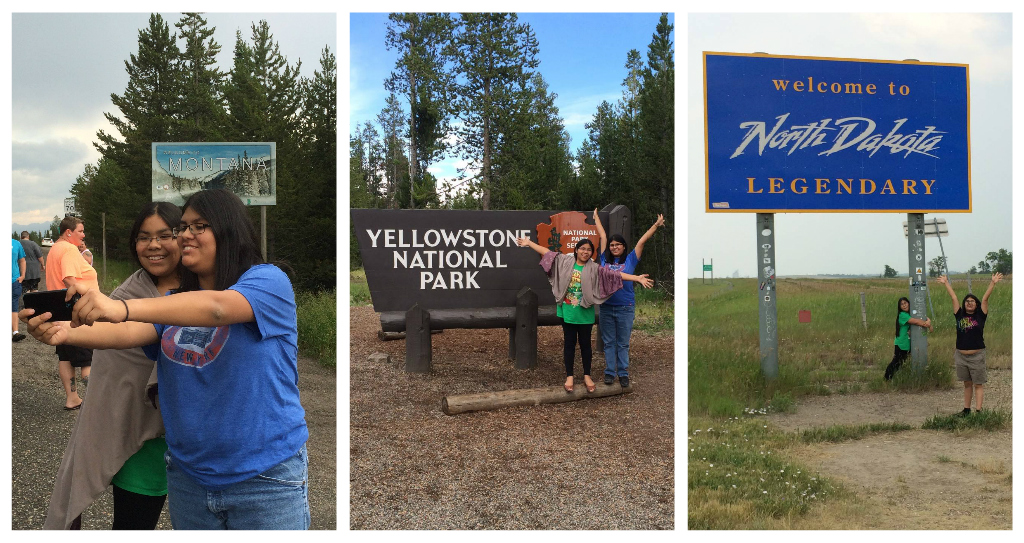 Exploring alongside the Madison River, just a short drive after entering the Yellowstone National Park:

We sat and watched a bison walk across the road to eat grass in a nearby field: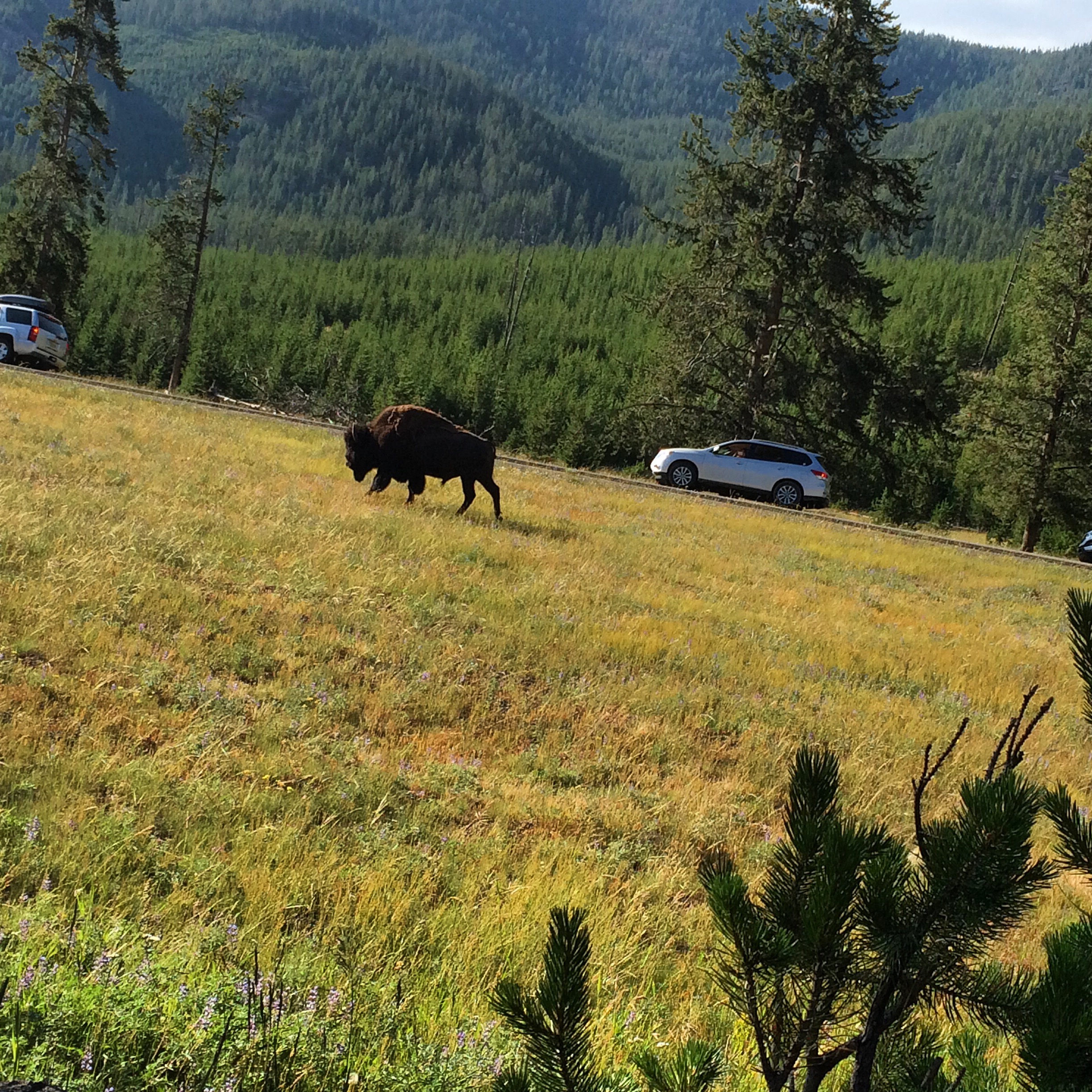 One of the hot springs visible from the road that we stopped to explore: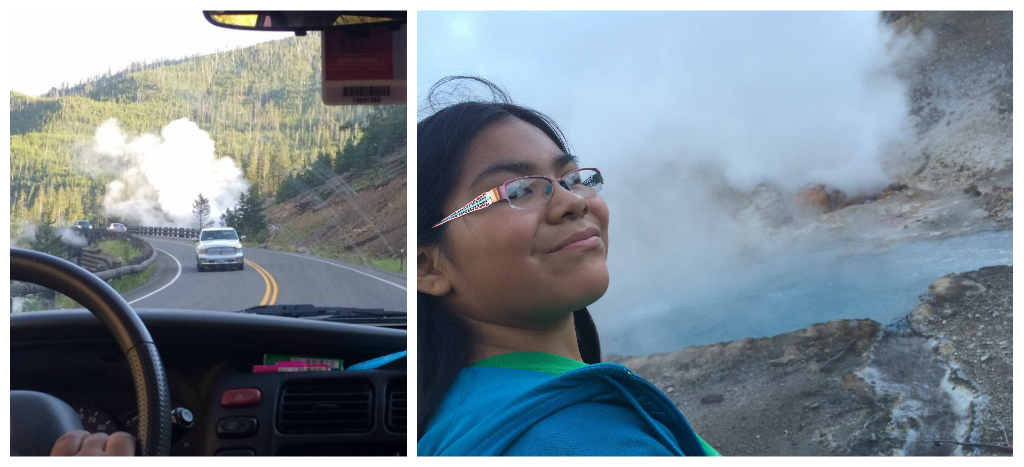 Two of the beautiful waterfalls we saw (Gibbon Falls and Rustic Falls):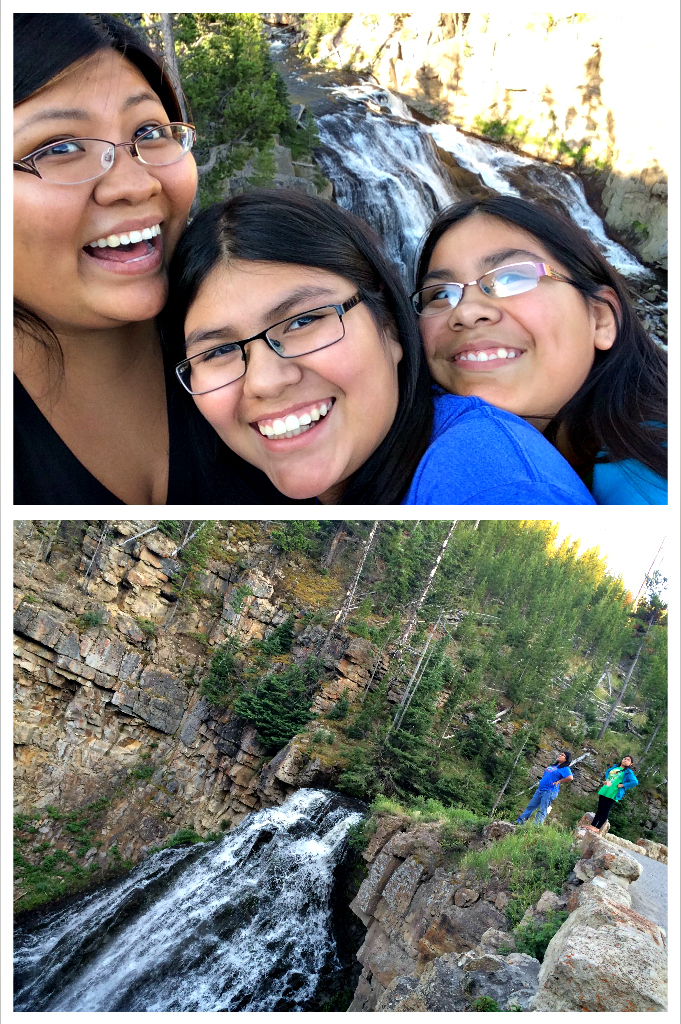 At the top of Mammoth Hot Springs:

Day Three: Montana – Bismarck, North Dakota
After leaving Yellowstone Park, I tried to get a hotel in Livingston Montana but hotels were either sold out or the room rate was not affordable for me. We also choose to purchase a large rotisserie chicken from the grocery store rather than eat fast food. Since we weren't staying in Livingston I decided I could totally drive straight through Montana to North Dakota. I barely made it 30 miles when I decided to stay in a non-chain hotel in Big Timber. Drowsy driving is not safe and I'm glad I decided to stop and sleep.
On the drive through North Dakota I had no idea that the Theodore Roosevelt National Park Painted Canyon even existed. We pulled off the road to visit it when it started to rain.
Visiting the Painted Canyon in the rain: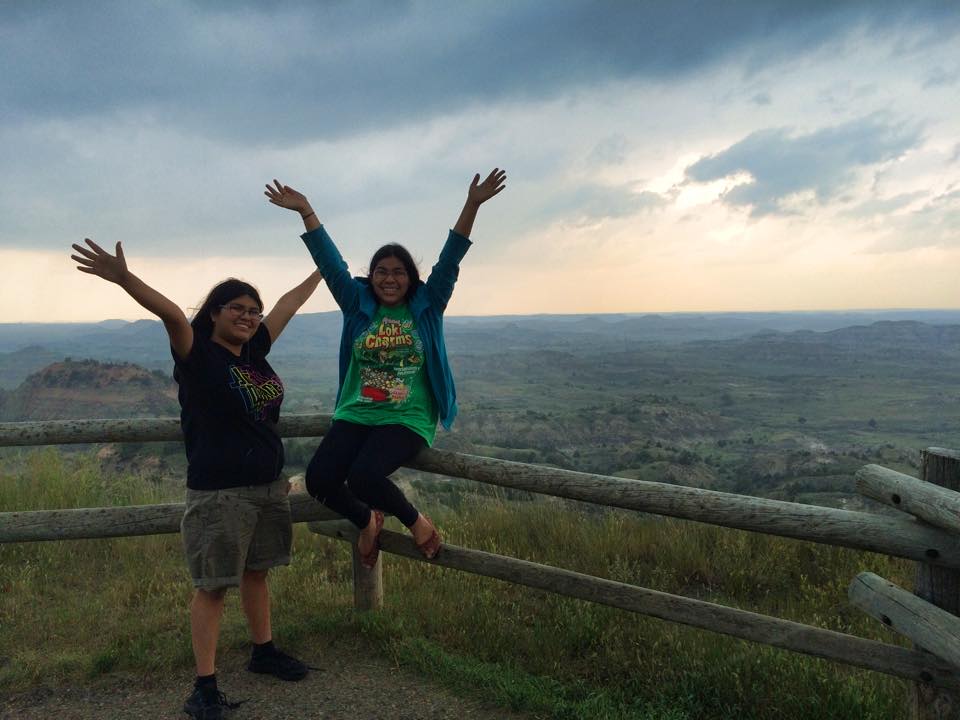 Destination reached! My mother's home on a large farm: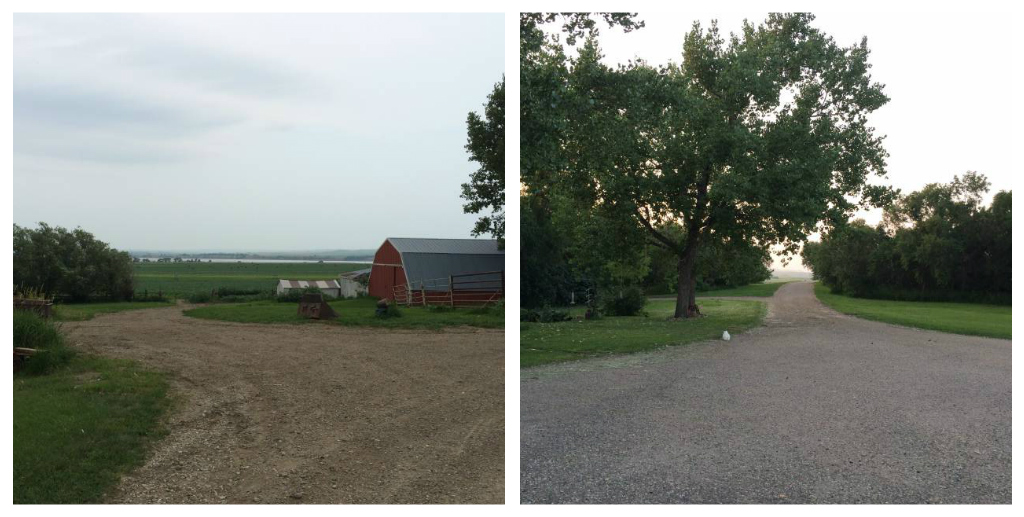 I'm so happy that I took this road trip with my daughters. The journey was just as important as our destination as it was about spending time with them; talking, singing, and hearing them chat and joke with each other. It was also an opportunity for them to ask me questions and for me to share my story of being a child making this trip, just like they did. Of course the road trip wasn't all perfect photo opps but that's for a future post!
Have you traveled long distances with your family (whether as a child or adult) and if so what were some of the memorable points of your trip?
Also, check out my blog post on "5 Tips for a Long Distance Road Trip."
-Nicky