"Celebrate good times, come on (Let's celebrate)!" I'm humming the tune to the Celebration song because this past September I celebrated my husband's birthday. Yippee for birthdays! We try to celebrate birthdays the whole month which is also fun for me (the non-birthday person) because I get to dress up.
While I'm fond of birthday celebrations I'm also particularly fond of my husband and his birthday! I've hardly mentioned him on the blog so far but I'm attracted to him like electrons are attracted to protons (LOL). On top of being amazingly sexy, he's talented (hello he's in a band!), a caring father (our daughters have him wrapped around their little finger), smart (he married me!), and treats me well. He also has been supporting and motivating me to do Bikram Yoga by attending each session with me. He's wonderful and deserves to be celebrated.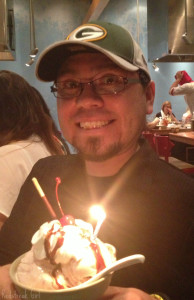 While birthday parties of course mean celebrating the birth of an awesome person there are also other perks to birthday celebrations: dress-up for fancy dinner, food and cake. Oh and wearing my Squash Blossom (which I don't wear often because I consider it sort of formal)!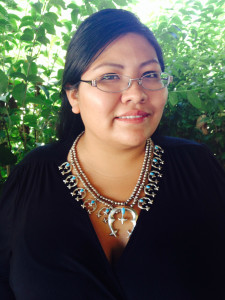 For one of his birthday dinners I wore Kiyonna's Winona Hi Lo dress in black paired with peep-toe heels (Target) and my Squash Blossom necklace (Navajo Silversmith Mildred Parkhurst). I mustn't forget the underthings: Spanx and Cacique.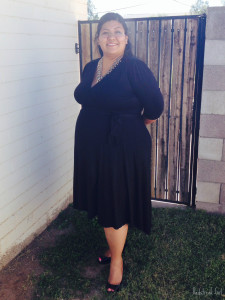 As I left the house, primped and ready to go, two thoughts were running through my head:
1. I hope I don't trip.
2. I hope I don't have to go pee.
The last time I wore heels was in April when we attended a formal fundraising ball. And with a healing ankle I'm a tad nervous…
Anytime I wear Spanx I pray I don't have to use the bathroom till I get home. I do love Spanx though and give them credit for making my curves smooth. But putting them on can be bothersome and using the restroom is a nightmare that I'd rather not have…sure they are supposed to be restroom-friendly but I'm just not that trust worthy of that feature.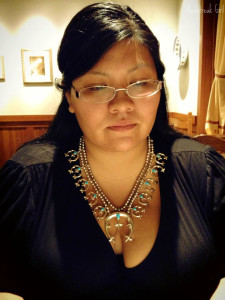 So, thought's on my outfit? What are some of your go-to outfits for celebration parties? Have you every worn Spanx and if so what do you think of them?
Check back for my review of Kiyonna's Winona Hi Lo dress in a future post!
<3 Nicky