*** March 24, 2017 UPDATE: Torrid has removed the Squash Blossom related products from their website. Click here to read Torrid's statement and how they are making this situation right. ***
Dear Torrid,
Stop #StealingNativeCulture.
I am completely floored that you have taken an aspect of Navajo culture, the Navajo Squash Blossom necklace, and have turned it into a cheap reproductive jewelry piece. I really am at a lost of words here. The fact that the fashion industry does this – and that the Navajo Squash Blossom necklace has been stolen and appropriated by many other companies – does not make it right.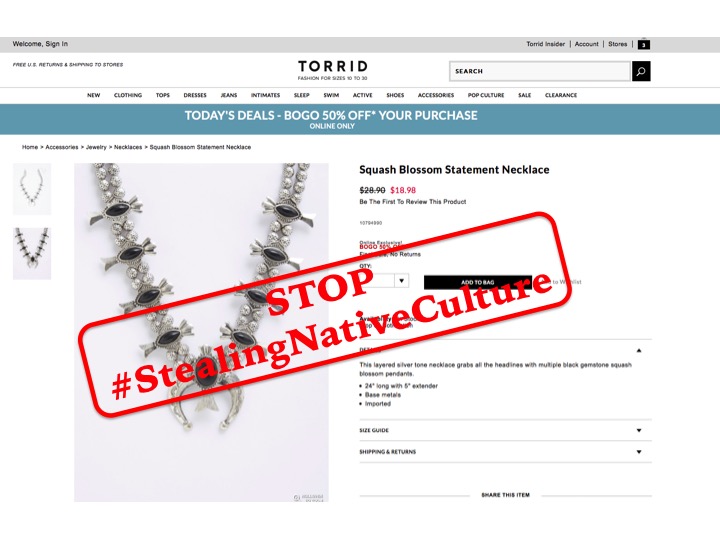 You see Torrid… You are NOT just another fashion/clothing company. But rather, you are a clothing necessity for many plus-size ladies, namely me. It is embarrassing to think that you, a national and international clothing company (you do have stores in Canada) didn't have someone in product development who said "This is not right," which raises concerns about the diversity within the executive levels of your company.
#StealingNativeCultures
Now, you probably could claim ignorance but the issue of cultural misappropriation of American Indian cultures has been an ongoing battle for many years. There are groups of Indigenous people who call out thefts of Native cultural designs and products and ensure companies are held accountable. However, I am certain a company that has a multi-million dollar revenue has heard of the social media uprising that resulted in the recent Navajo Nation v. Urban Outfitters case.
The Navajo Nation's lawsuit against Urban Outfitters is more-so a legal case about protecting the Navajo Nation's trademark and while you don't claim your product is a Navajo product or made by American Indians – which you probably don't due specifically to avoid violating the The Indian Arts and Crafts Act of 1990 – you have in fact stolen a cultural resource.
Navajo Squash Blossom Necklace & American Indian Artists
Torrid, the reason this issue hits so close to home is because I have family who are Navajo silversmiths – who design and create authentic Navajo Squash Blossom necklaces – and whom rely on their craft for their livelihoods. Here are pictures of the Navajo Squash Blossom necklaces that were designed and crafted by family members:
Torrid, you are being unethical by exploiting an American Indian design and craft for your own profit. By selling a product that easily passes as an American Indian piece of jewelry you are in fact directly influencing American Indian artists. You see, when people can purchase reproduced jewelry in the image and likeliness of authentic American Indian jewelry at a fraction of the actual cost to design and create authentic high quality jewelry there are consequences to those American Indian designers and artists. This is a major issue because American Indians rely on their cultural resources, art created from their cultural heritage, for a living.
#NotMyTorrid
There is a need for plus-size clothing. According to the Torrid website there are 12 Torrid retail locations in Arizona, 11 within the Phoenix metro area, and 1 operating on an American Indian reservation. In fact, today half my outfit is clothing I've purchased from Torrid. The majority of my clothes come from two retailers, Torrid and one other store. Which is why, I for one can't call on a Boycott of Torrid because I have extremely limited options on where to purchase plus-size clothing from. Torrid's unethical action to sell a product that appears to be American Indian jewelry is an action not consistent with what I have known Torrid to be. This is #NotMyTorrid.
Torrid, I am calling on you to stop #stealingNativeculture and make the following changes:
Take responsibility for your actions and apologize for being offensive rather than apologize that people were offended.
Immediately remove the listing "Squash Blossom Statement Necklace" from the Torrid website and stop selling the product. And these 2 products recently discovered: Squash Blossom Pendant Necklace, Turquoise Squash Blossom Necklace.
Donate profits made from the selling of this product to an American Indian organization that supports American Indian artists or provides education to retailers about American Indian arts. Here is one to consider: Indian Arts and Crafts Association Education Fund
Support American Indian artists, not Native-inspired products. You can do this by creating a cultural diversity team that works directly with American Indian artists to promote their designs and skills. You can even do this to avoid copying designs on fabrics that are Native-themed. [See the case of Paul Frank.]
Live up to your claim of being a socially responsible company. Your social responsibility should also include being ethical. Trying to pass an American Indian designed product as non-American Indian by simply excluding such claims is not ethical.
It would actually be great to see Torrid learn from this experience and take the lead in ensuring that American Indian arts are not exploited but are protected. It would be amazing to see you collaborating and working one-on-one with one my favorite American Indian artists to design plus-size clothing or jewelry that I can then buy when I walk into your store.
Torrid, I have been a devoted shopper and Torrid Insider for many years. I am a fan of your company for embracing and promoting body positivity and for encouraging me to wear my first bikini. This is why your actions today hurt. I urge you to take immediate action.
Sincerely,
Nicky, Redstreak Girl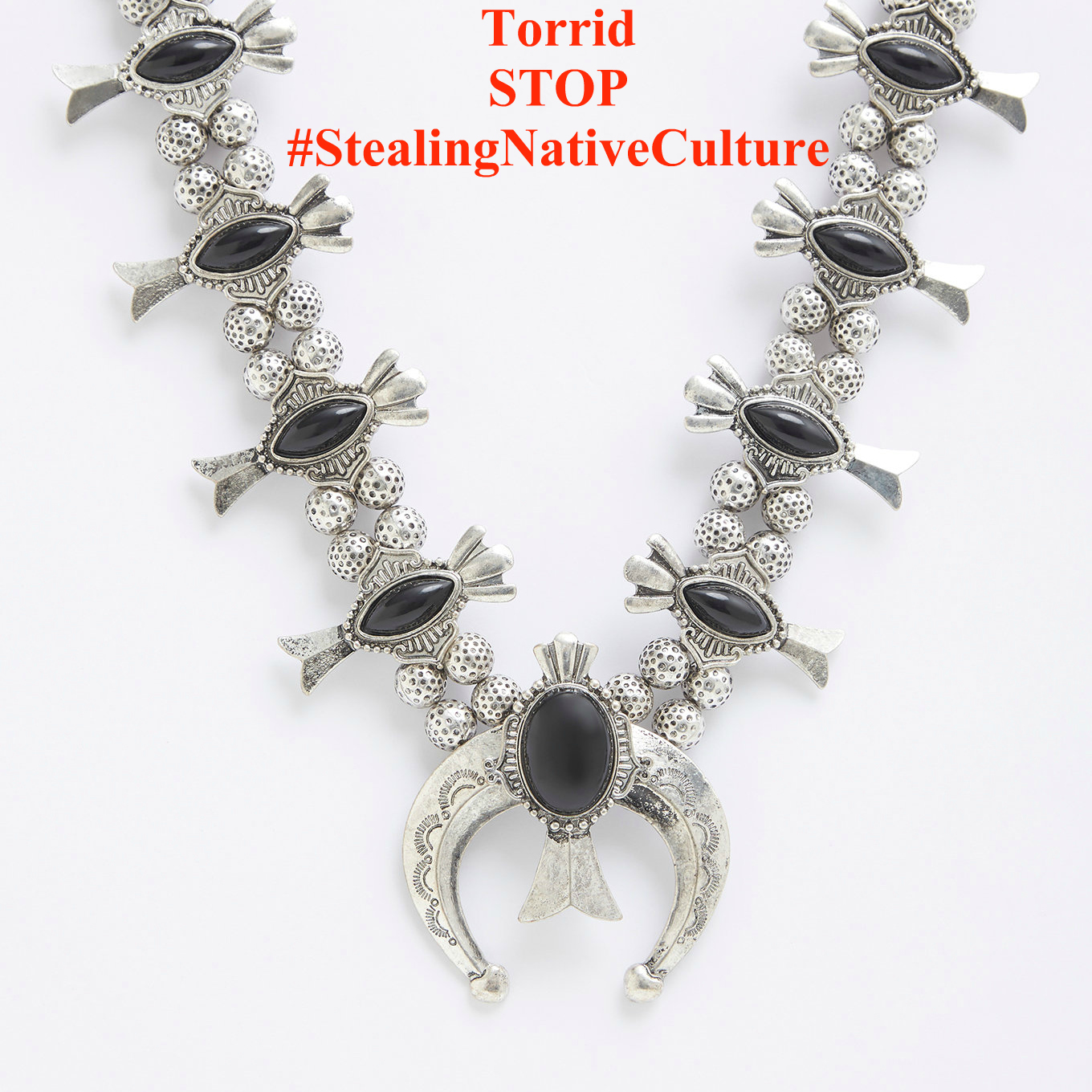 ---
To my readers,
In an effort to be transparent and honest with you I want to describe the situation in which I stumbled upon this Squash Blossom Statement Necklace on Torrid's website and where I find myself today, March 22nd.
Tuesday March 21, 2017 – In the morning I received a marketing email from Torrid about a new clothing collection. I went to their website to shop and placed 3 items in my shopping cart. I was going to purchase approximately $130 worth of clothing. I was then distracted; I had remembered I was going to apply to be an affiliate of Torrid. I submitted an application to become a Torrid affiliate but was immediately denied. I resubmitted my application because I thought perhaps I made a mistake in my application as it has been my experience that submitted applications go through a review process before being denied. An immediate denial seemed unusual to me. After resubmitting my application and being immediately denied a second time, I emailed the Advertiser Account Representative asking for a reason why I was denied. That was that and I proceeded with the rest of my day. Later in the day, I returned to my Torrid shopping cart. As there was as an online deal happening I decided to check their online clearance section to see if anything would interest me. It was then I saw the Squash Blossom Statement Necklace. I was completely aghast. Torrid not only is one of two places where I do the majority of my shopping for plus-size clothing but I generally enjoy Torrid's style. I then immediately began writing my Dear Torrid letter. I had intended to publish the letter yesterday but it was not quite complete.
Wednesday March 22, 2017 – I woke up this morning in receipt of an email from the Advertiser Account Representative for Torrid's affiliate program stating that after re-reviewing my site, my affiliate application was approved.
Now, regardless of whether I am an affiliate of Torrid or not I would still raise this issue and ask Torrid to take immediate action. My request for Torrid to make specific changes rather than a boycott has nothing to do with applying or being approved as an affiliate. Not asking for a boycott is more so about the fact that there are limited places for me to physically go and purchase reasonable priced and well-fitting plus-size clothing.
Because I value your trust in believing that I am honest and authentic in what I share with you online, I will NOT act as an affiliate for Torrid on my blog at this time. I would be willing to withdraw my affiliate application should Torrid not address these issues, which means that since I have a small-timer blog and Torrid may be less likely to actually respond the likelihood of me withdrawing my affiliate application is high. However, I do want to give time for Torrid to take action. I will update my blog at a future date on my affiliate status.
Now, I call on you as a reader of this blog and as an ally/advocate for American Indian rights to help make Torrid aware why selling products that look like American Indian jewelry is wrong. Contact Torrid: Website | Instagram | Facebook | Twitter
-Nicky
SaveSave
SaveSave