Disclosure: This post may contain affiliate links that when clicked on may result in a small commission to this site but all opinions are mine.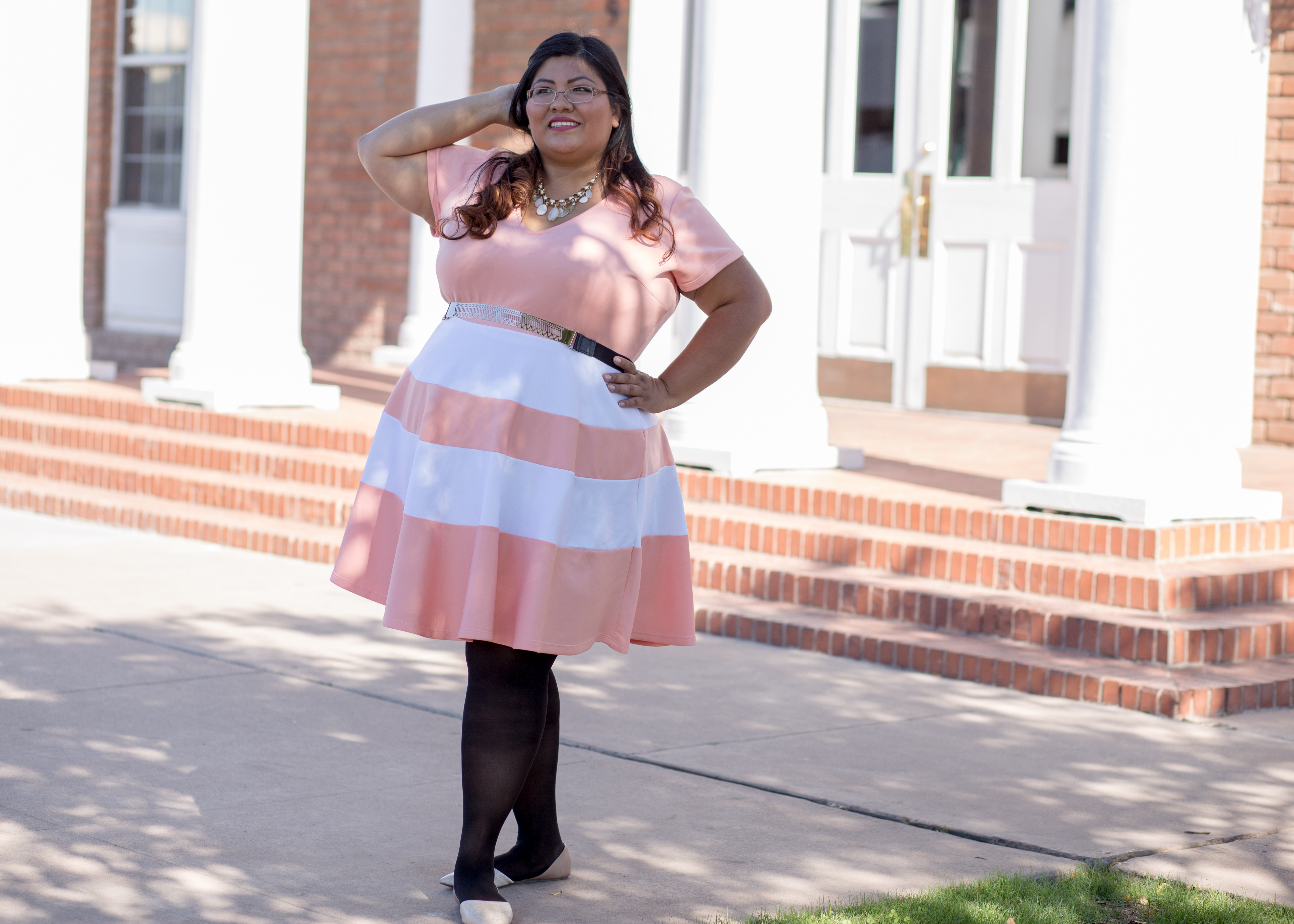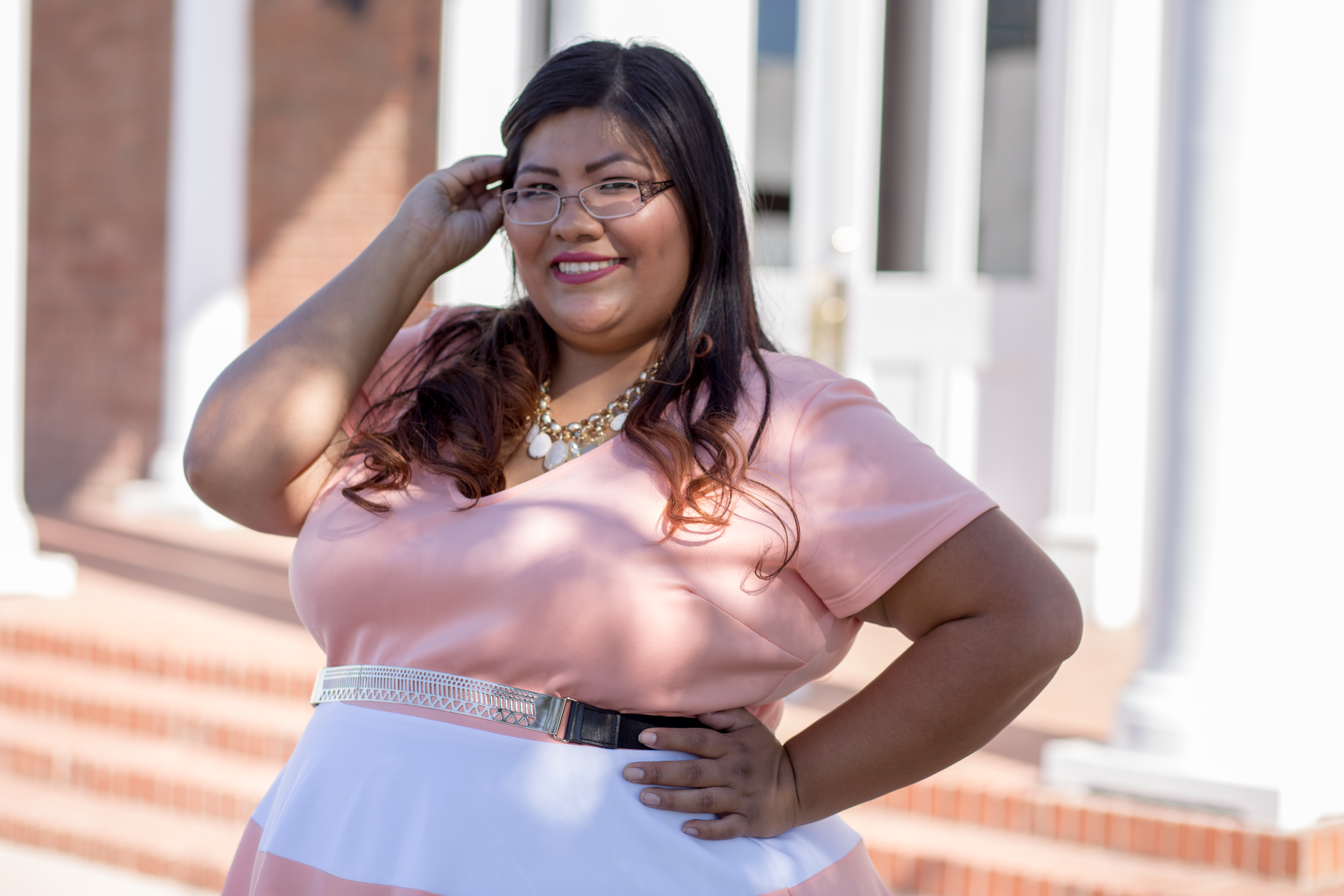 I'm feeling quite peachy in this cute V-Neck Skater Dress from Society+ that's perfect for your Valentines date or brunch with your girlfriends! Society+ is easily one of favorite online retailers for plus-size clothes. Not only do they have REALLY really cute clothes but they often have sales. I'm a college student on a budget and sales for cute clothes are always welcomed. More info below on their current promotions!
Outfit details
 V-Neck Skater Dress in Peach from Society+
Belt from Torrid, sold out
Bauble Statement Necklace from Lane Bryant, sold out (similar)
Flats from Franco Sarto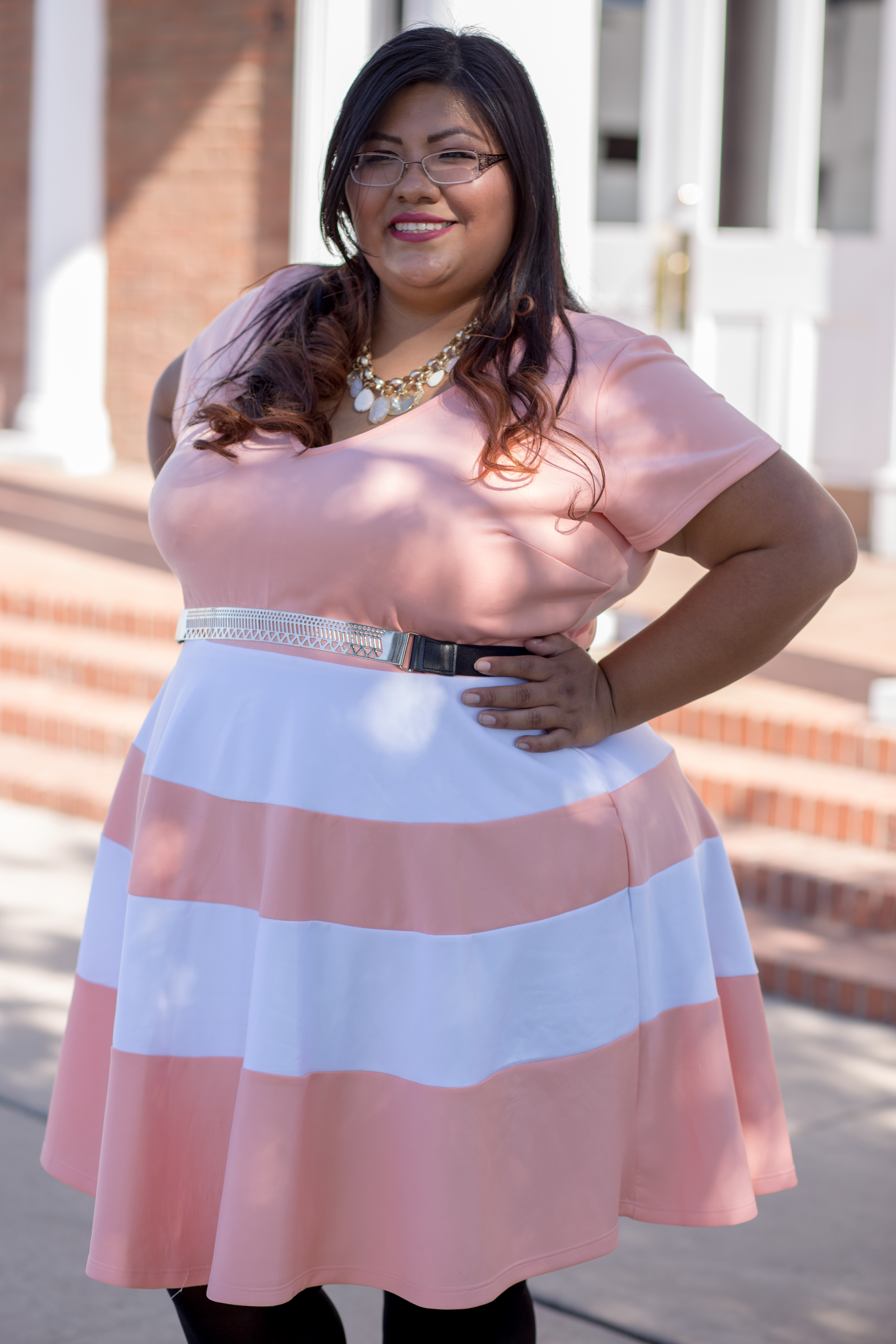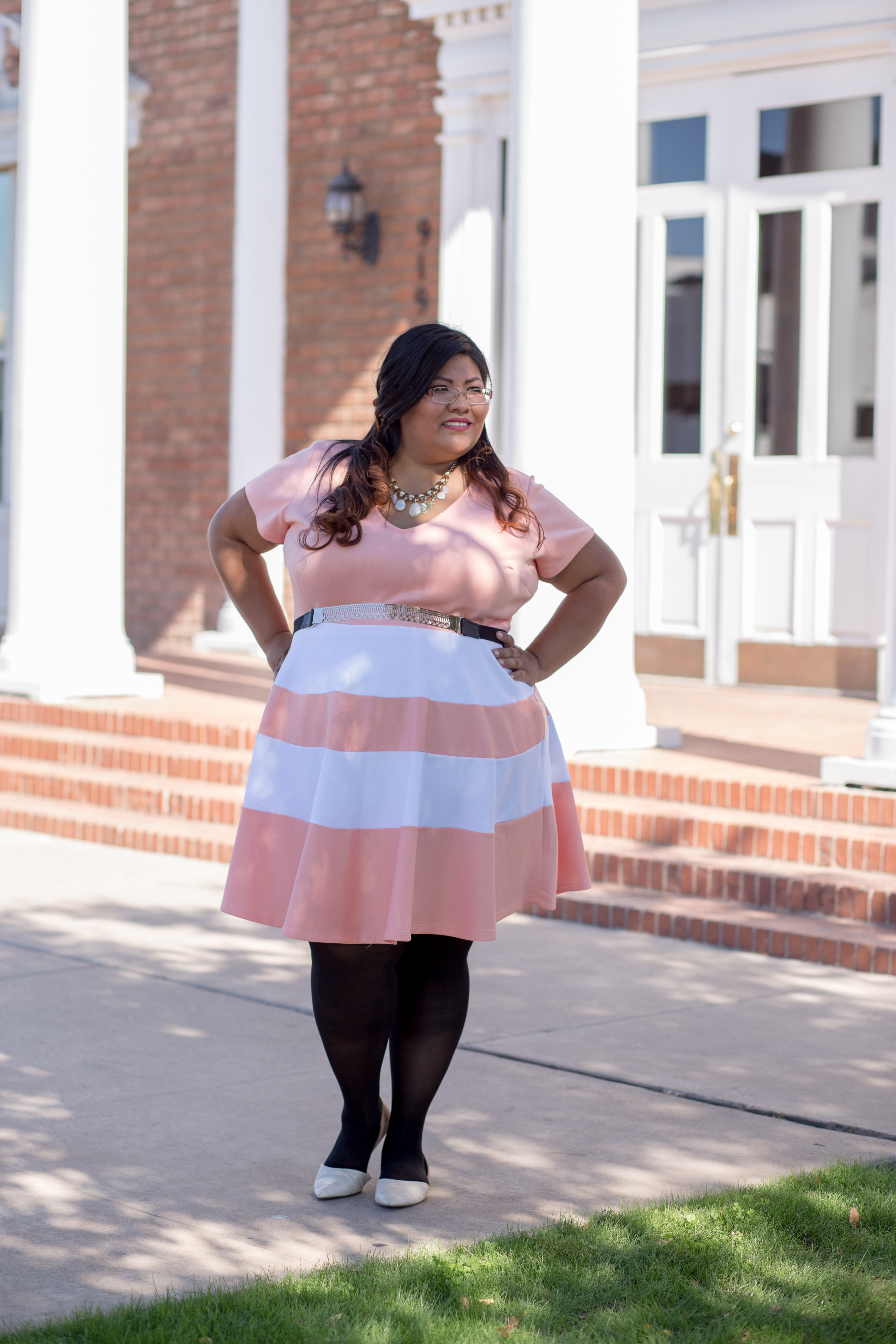 Society+ has some awesome promotions going on. This dress was actually purchased at the end of 2016 on a similar promotion as the Love Leap Event. I've been wanting a Kate Midington Skirt for a while and these promos make it hard not to snatch one! The decision then becomes which Kate Midington color/pattern to buy?!

BOGO Event
WHAT: Buy a Twirl Skirt, Get a Black/White Miss Audrey Shirt FREE!
WHEN: Now until 2/2 at midnight EST
Love Leap Event
WHAT: Up to $100 Off – tiered promo
$100 off purchases $200+ CODE:  loveleap100
$35 off purchases $100+ CODE:  loveleap35
$15 off purchases $60+ CODE:  loveleap15
WHEN: Now until 2/15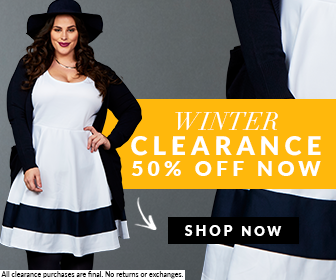 Winter Clearance Event
WHAT: starting at 50% Off
WHEN: Now until 2/15
V-Neck Skater Dress
This dress is made of a scuba-like material but not as thick. I've worn dresses made of thick scuba fabric and this is pretty lightweight. It does have stretch, compared to thick scuba fabrics that may not stretch as much. The skirt of this dress has a good amount of fabric that it drapes nicely on my body. I do have a booty and was concerned about the dress swaying and showing my goods everywhere but the weight of the fabric is just enough to keep it down. However, it did ride up a tad whenever I sat down. Tights can be an important part of an outfit especially with a skirt/dress that rides up with you sit. The tights I am wearing in this photo worked for this photo shoot but did not last for the long haul. Eventually these tights did slip down by the time I made it home. So if you have a recommendation on tights for plus-size babes please let me know!
Since I purchased this dress in the late winter I accessorized with black tights, gold/black belt, and gold necklace to help it not come across as a "spring" dress. I think because of the peach color I associate it as a spring dress but I wanted to make it work in the winter as well. I'm learning that really you can make any color work for any time of the year. Except maybe red and green… I think I'll always associate those two colors with the Christmas holiday. And maybe orange and black you know because of Halloween.
Society+ has a version of this skater dress (although it's not v-neck) in other colors.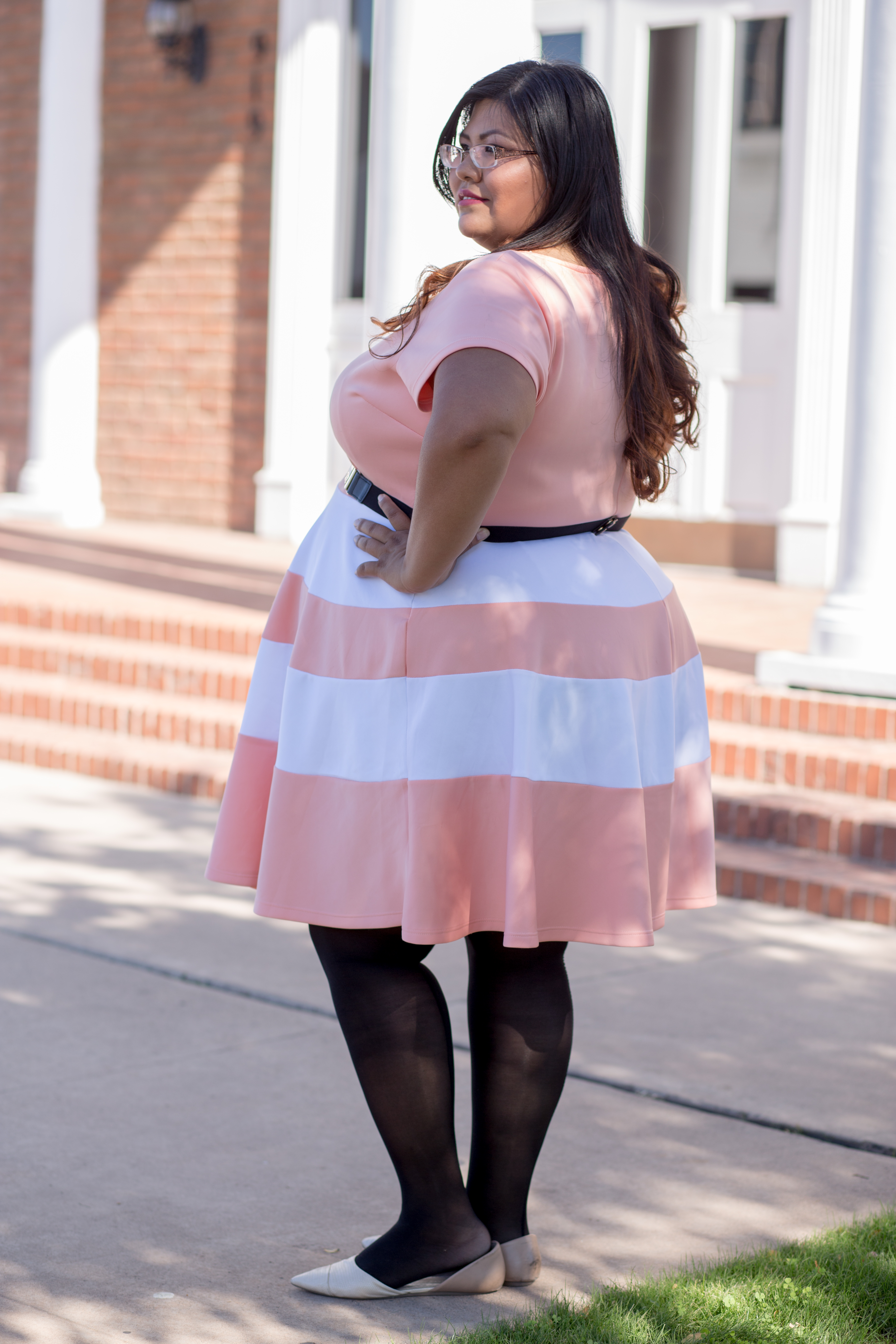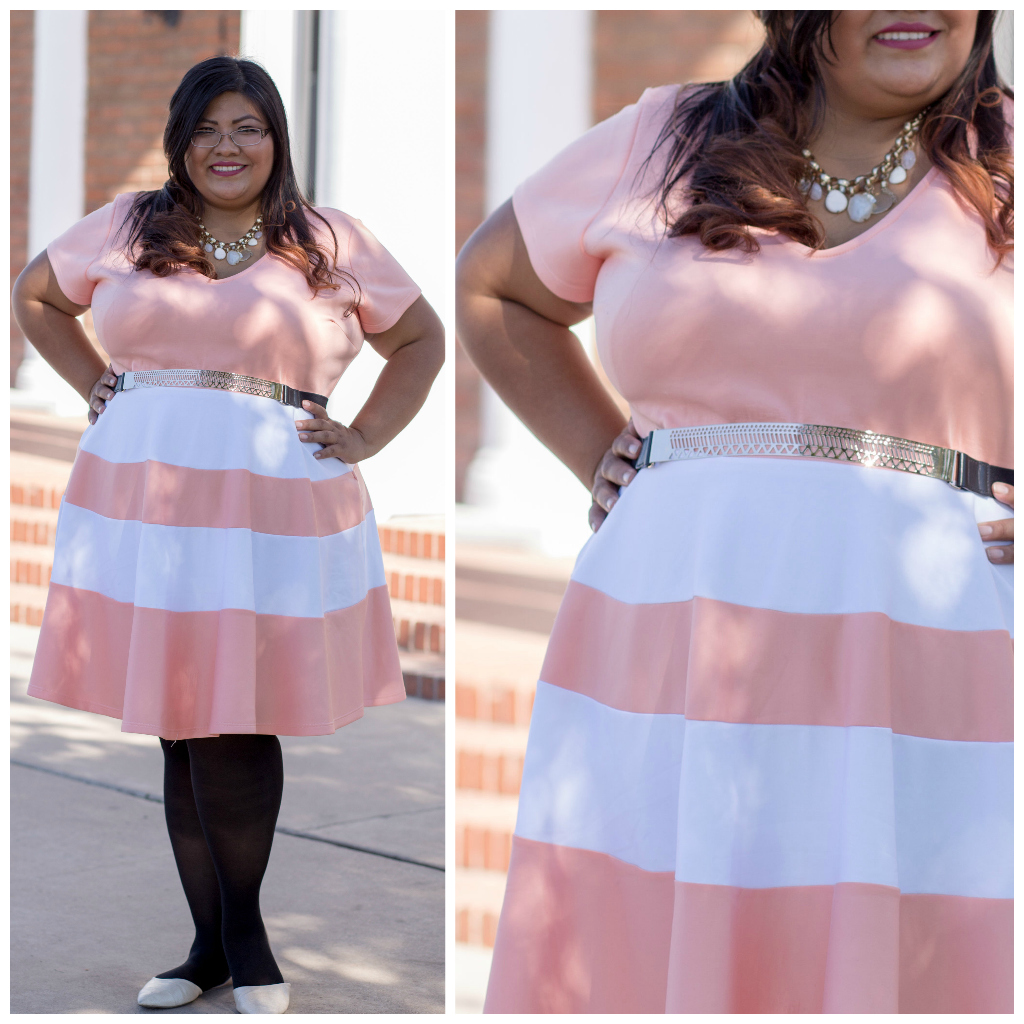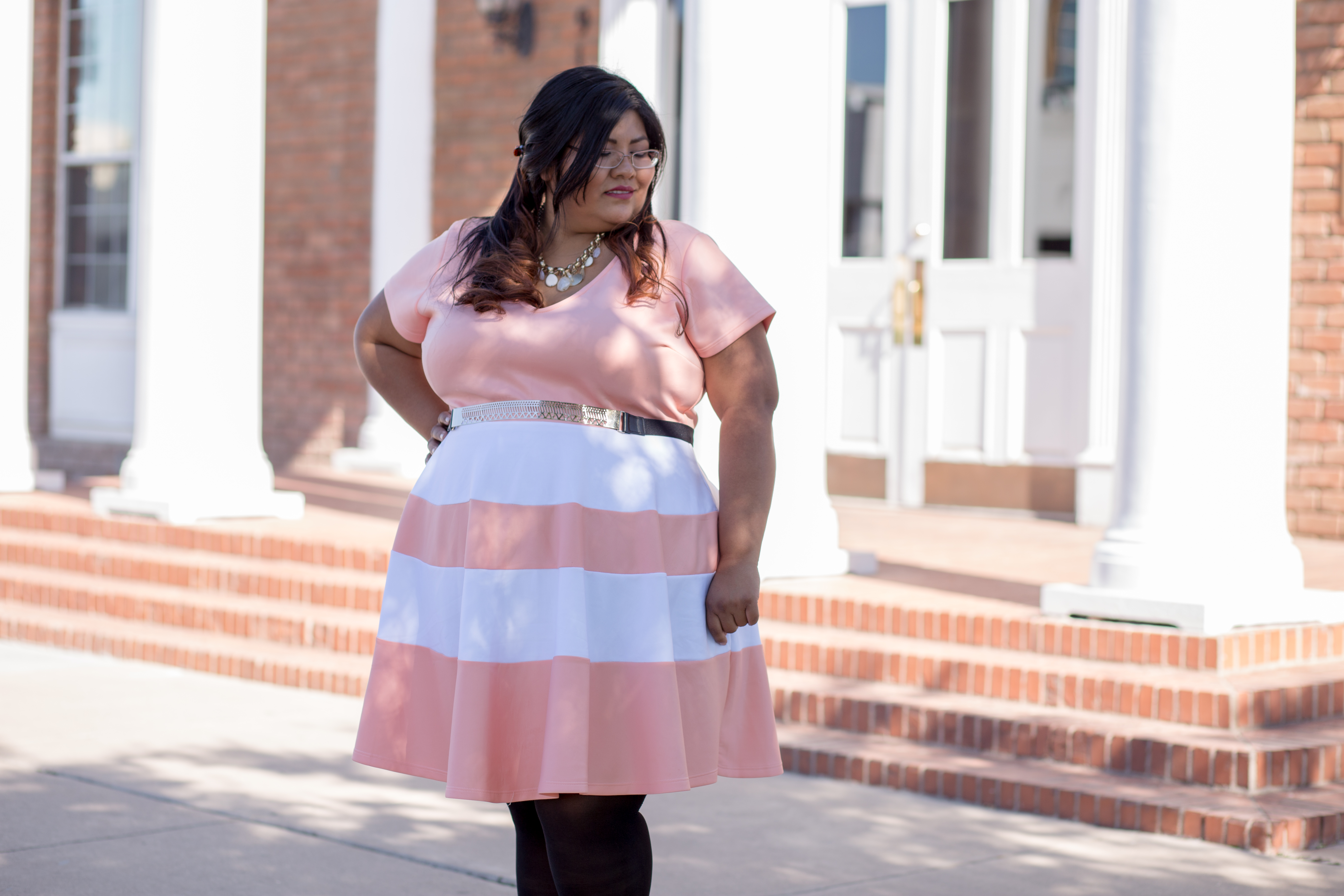 I didn't realize how many outfits I have in various shades of pink. This dress is peach but it passes as pink. Pink is one of my favorite colors and so I guess I shouldn't be that surprised. How about you, what color(s) clothes are in your closet?
Photos by: Maeghan of Maeghan Gerloff Photography.
-Nicky