My husband and I are watching House of Cards along with 15% of Netflix subscribers (Variety, 2014) and I figure the HOC comeback is a great time for a blog comeback!
Specifically, I want to give a loud WOOT WOOT for Gil Birmingham's appearance as Daniel Lanagin and Gary Davis's appearance as Michael Frost! It should be a norm for major shows to integrate Native American actors into their show. I won't delve further into the plot and their roles but I will say I love seeing Natives in non-stereotypical roles, especially those who portray powerful characters!
To quench your curiosity, just a little, here are some quotes from Daniel Lanagin…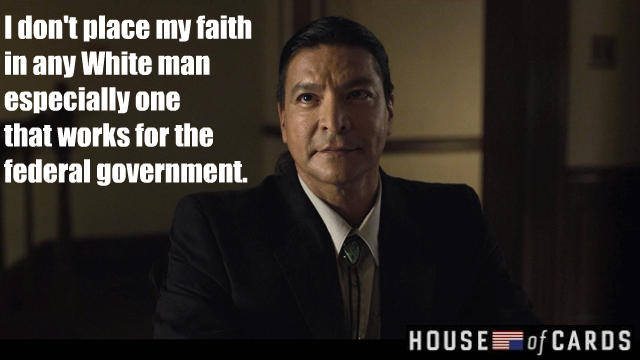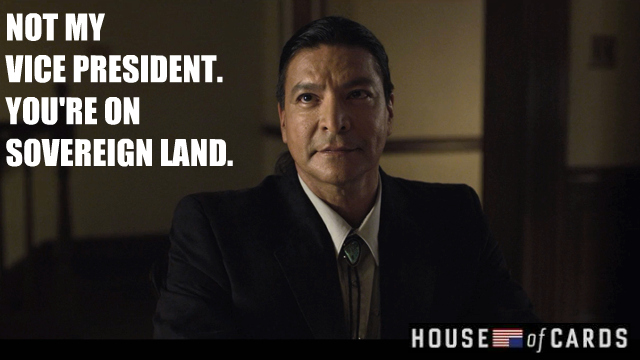 I have a tip for binge viewers on how to STOP the cycle so you can actually get some rest, clean house, go food shopping, and ya know live life. The key is to stop watching ¾ of the way through an episode rather than trying to break away from an episode at the very end. I've found that stopping an episode earlier than it is supposed to end usually means the majority of the plot has been addressed in a somewhat sufficient manner and no new surprising cliffhangers have happened, which tend to happen right at the end!
FYI: I will be posting a review of show and the inclusion of Native roles in a week! I'm being kind and giving my friends a week to watch the series before I begin talking about it.
Happy watching!
<3
Nicky