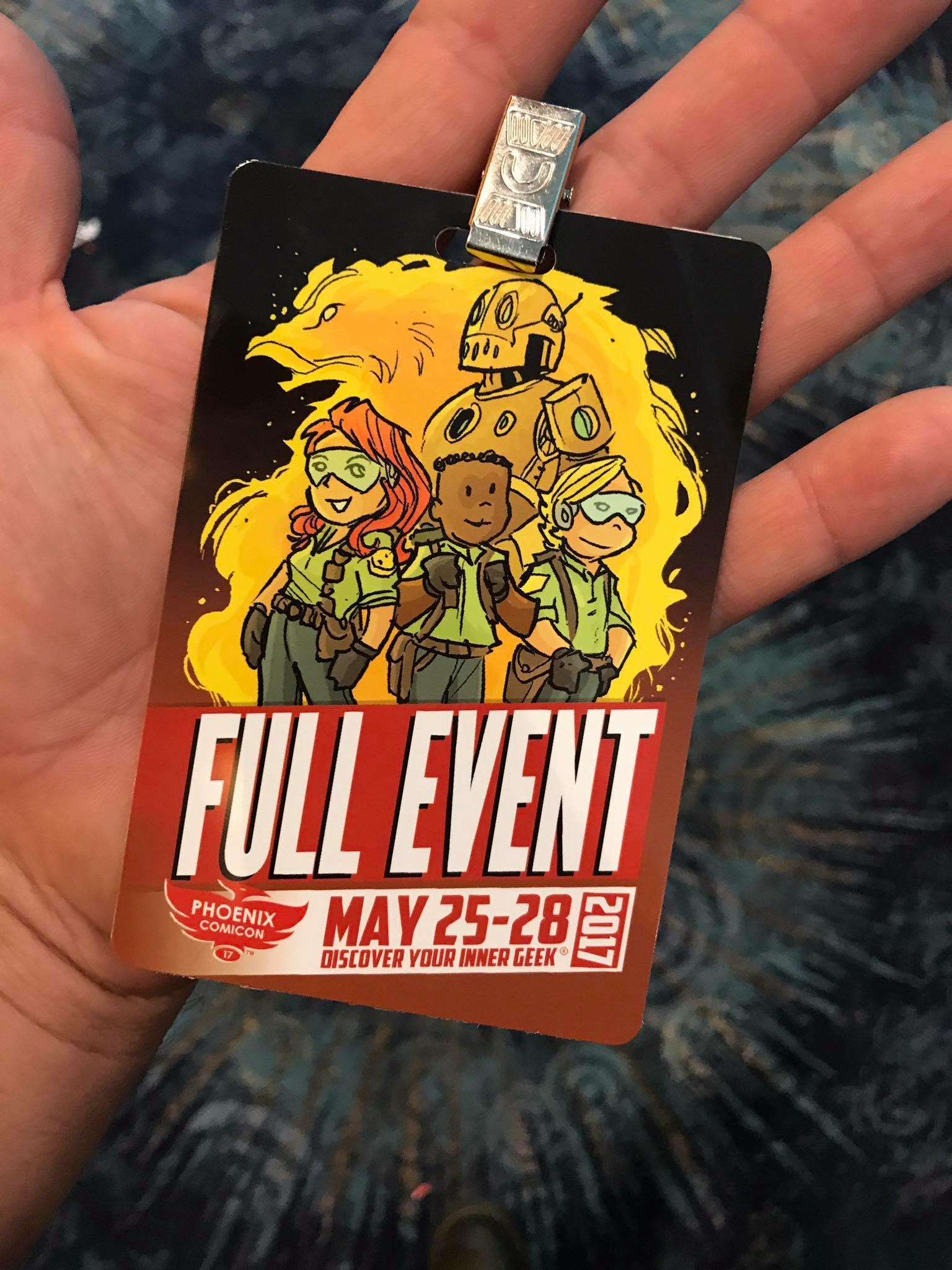 Phoenix Comicon 2017 is happening this Memorial Day weekend, May 25-28, 2017. I look forward to the Phoenix Comicon every year because it's an opportunity for me to geek out and have fun with my family – we are Indigenerds (Indigenous Nerds)! I love seeing my teens become creative with their cosplay. And I like meeting and hearing from my favorite artists, comic book creators, and actresses/actors. As you may be able to tell from the photos from Phoenix Comicon 2016 this is our family's type of fun.
This year, I'm especially excited for the presence of Indigenerds who are representing! If you are attending the Phoenix Comicon please show them some support. Tell these independent artists to keep up the good work and support their business by purchasing their products. These are the Indigenerds I am aware of at the Phoenix Comicon: comic book artists Damon Begay and Tatum Bowie, Boise Esquerra the Director of H.A.M., and the short film Monster Slayer which is a contemporary retelling of the Navajo twin warriors.
Damon Begay & Tatum Bowie – Comic Book Artists
Damon Begay and Tatum Bowie are both Navajo comic book artists. Damon creates Interstellar Comix and Tatum creates The Pretty Okay Adventures of Tatum. Tatum also creates comic strips, one of which, What Can You Learn From Someone Like Me?, appeared in Native American Feminist Musings Vol 2. Empower Yosef Before You Wreck Yoself. They are a power couple and I am impressed with their production as they always seem busy creating the next book in their comic series/strip, tabling at comic book events, or participating in 24-hour comic book day. Their comic books are affordable so go find their booth #AA1522 and ask them about their current project!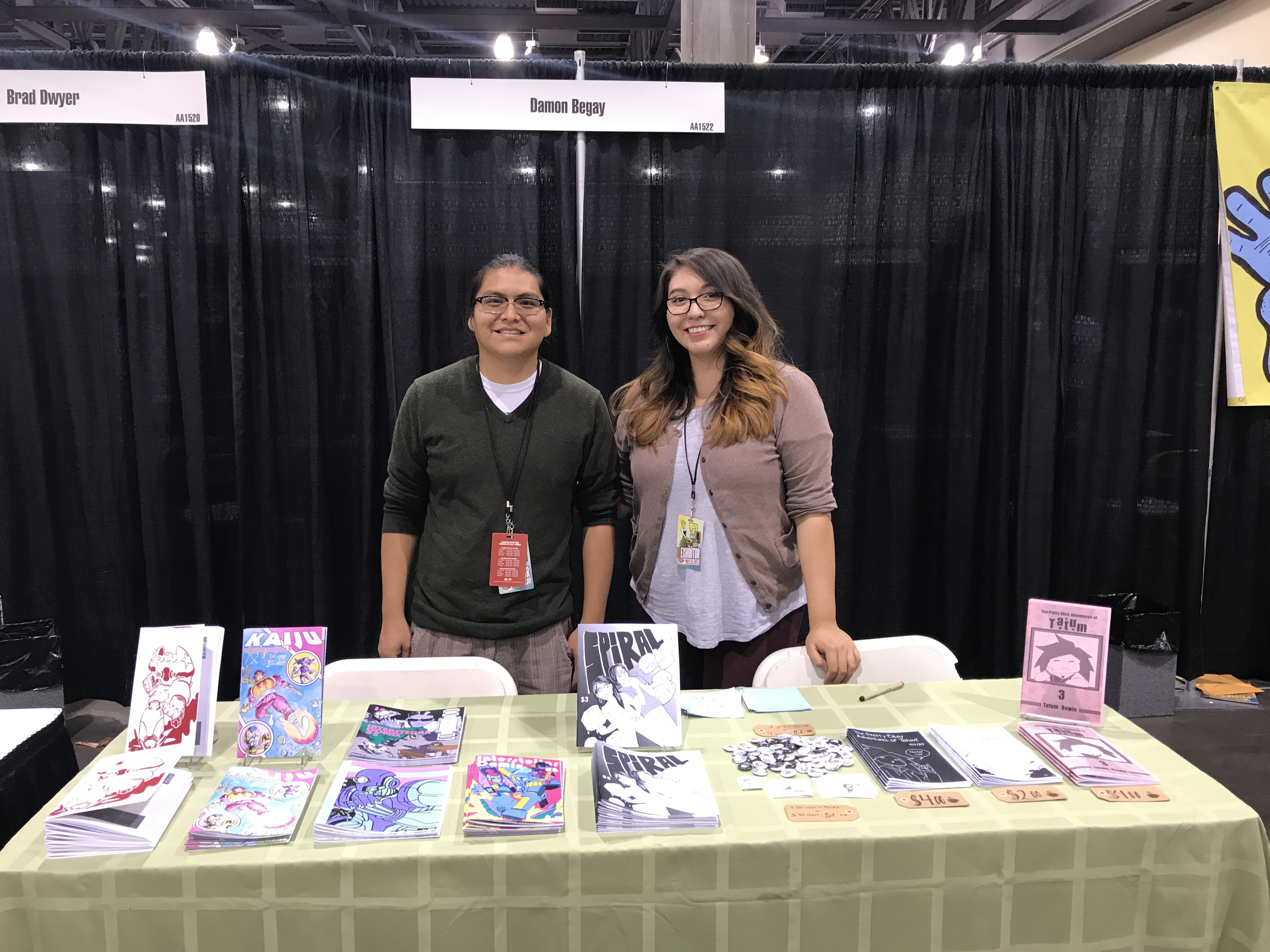 Boise Esquerra, Director of H.A.M.
Boise Esquerra, is Writer and Director of the short film H.A.M. that screened this weekend at the Phoenix Comicon. Boise is of the Colorado River Indian Tribes. H.A.M. was also screened at the Phoenix Film Festival this past April 2017. Unfortunately, the Phoenix Comicon Film Festival already screened H.A.M. on Thursday, May 25 but you can still watch the trailer!
Director: Boise Esquerra

United States, 16min

16-year-old Peter must cope with his crackpot father who builds a HAM Radio that inadvertently catches the attention of an alien creature from outer space.
Monster Slayer
Monster Slayer is a collaborative art project that retells the Navajo story of the Hero Twins. This project falls under the Indigenerds banner because of this short film's focus on contemporary Navajo culture. Monster Slayer is screening on Friday, May 26 between 12:45 PM to 2:15 PM.
Director: Kjell Boersma

United States, 19min

In this contemporary retelling of the Navajo story of the Hero Twins, teenagers Shondiin and Nathan Yazzie battle monsters raised by the mysterious Coyote with the help of their medicine man grandfather and metalhead uncle.
Damon Begay and Tatum Bowie are tabling the whole Phoenix Comicon weekend from May 25th through May 28th. The Phoenix Comicon Film Festival is part of the Phoenix Comicon and so an event pass is required. The Phoenix Comicon Film Festival is screening films all four days. H.A.M. was already screened on Thursday May 25th and Monster Slayer is screening Friday May 26th. The Phoenix Comicon Film Festival Awards Ceremony is Saturday May 27th. Maybe one of these films will win an award!
Let me know of other Indigenerds who are tabling or have a panel at the Phoenix Comicon. See you at the Phoenix Comicon!
-Nicky
SaveSave