A few weeks back my sister started posting on her wall referral links to try out a monthly makeup subscription service called ipsy (oddly my computer autocorrects this to tipsy). As you can probably tell by my blog I'm inclined to try new services especially if recommended by someone I trust (my BFF referred me to Rocksbox). While I'm sure my husband is becoming concerned with my many monthly subscription services (Gwynnie Bee, Rocksbox, and now ipsy) the $10 price tag of the ipsy glam bag was competitively priced enough for me to consider it affordable.
What is alluring (and concerning) about ipsy's service is that you don't really know what products you'll receive in your monthly glam bag. Sure you take a style quiz that helps to identify your fashion/makeup styles, skincare regime, skin tone, and it all helps to prioritize products you may receive, but unlike Gwynnie Bee where you select specific clothes to receive, or Rocksbox where you know you'll receive earrings, necklaces, or bracelets, with ipsy there are a lot more categories that fall under the realm of beauty products such as nail care, hair care, skin care, and makeup.
However, ipsy which was founded by Michelle Phan (Youtube celebrity turned entrepreneur), must be doing something right because I see glam bags all over social media. In addition, earlier this year ipsy hit 1 million ipsters! While it took me a minute to realize who Michelle Phan is I do remember watching her makeup tutorials in the past few years (still have yet to nail the smokey eye) and I admit I was influenced to purchase eos lip balm which she would use at the beginning of her makeup application videos. Fast forward a few years and now I'm getting beauty product samples delivered to my door. Thanks Michelle!
Deets:
$10 monthly subscription includes shipping
Receive a sampling of beauty products with a cute makeup bag to keep
Option to purchase select product offers on the website after you receive your glam bag
August Glam Bag – Prep School themed
Houndstooth makeup bag
Marc Anthony Argan Oil Treatment – value $3.01
Starlooks Pro Luxe Longwear Eyeliner Pen in Black – value $19.00
OFRA Lipliner in Wine – value $13.00
tarte LipSurgence Energy Lip Gloss  – value $3.51
JUARA Turmeric Antioxidant Radiance Mask – value $3.96
Total estimated value $42.48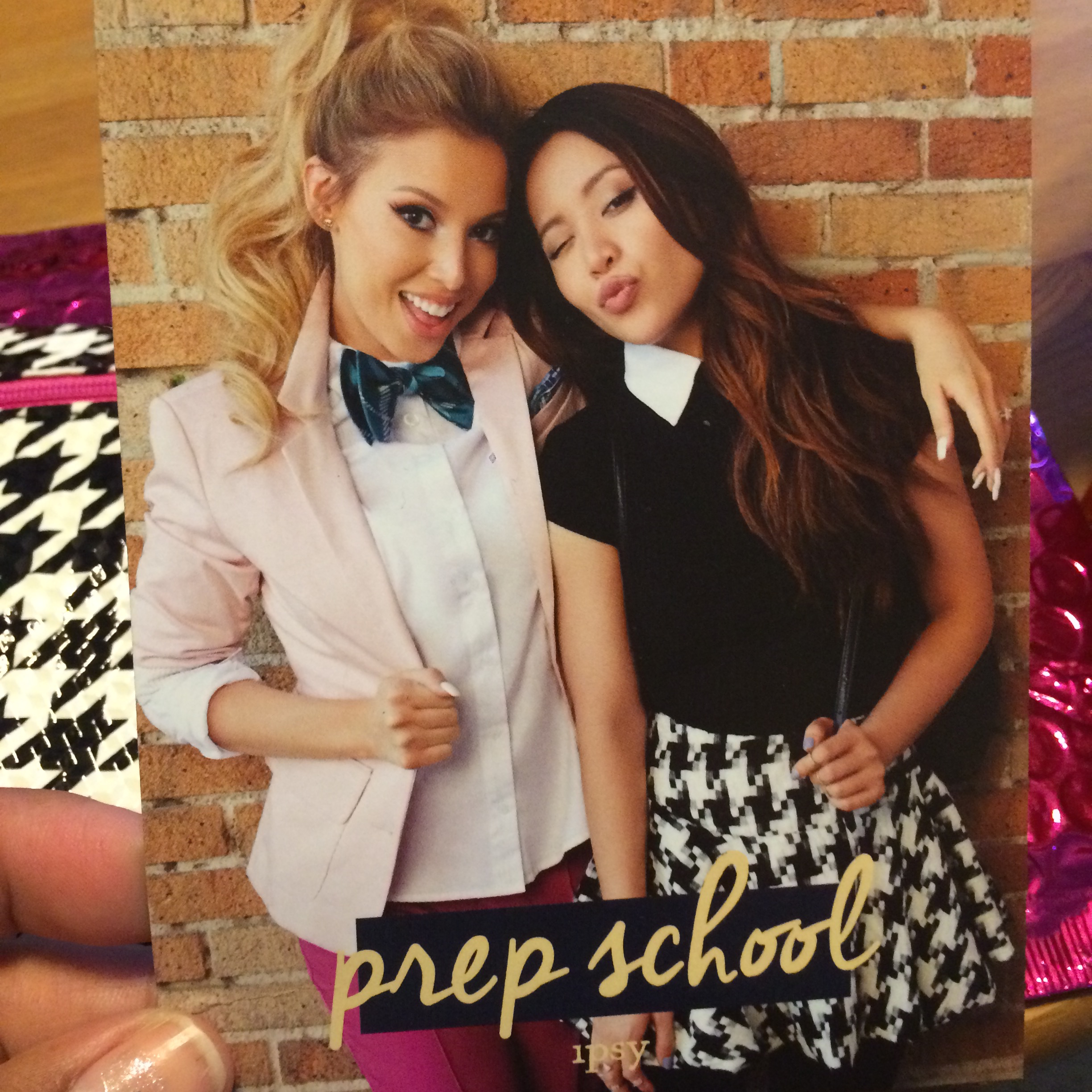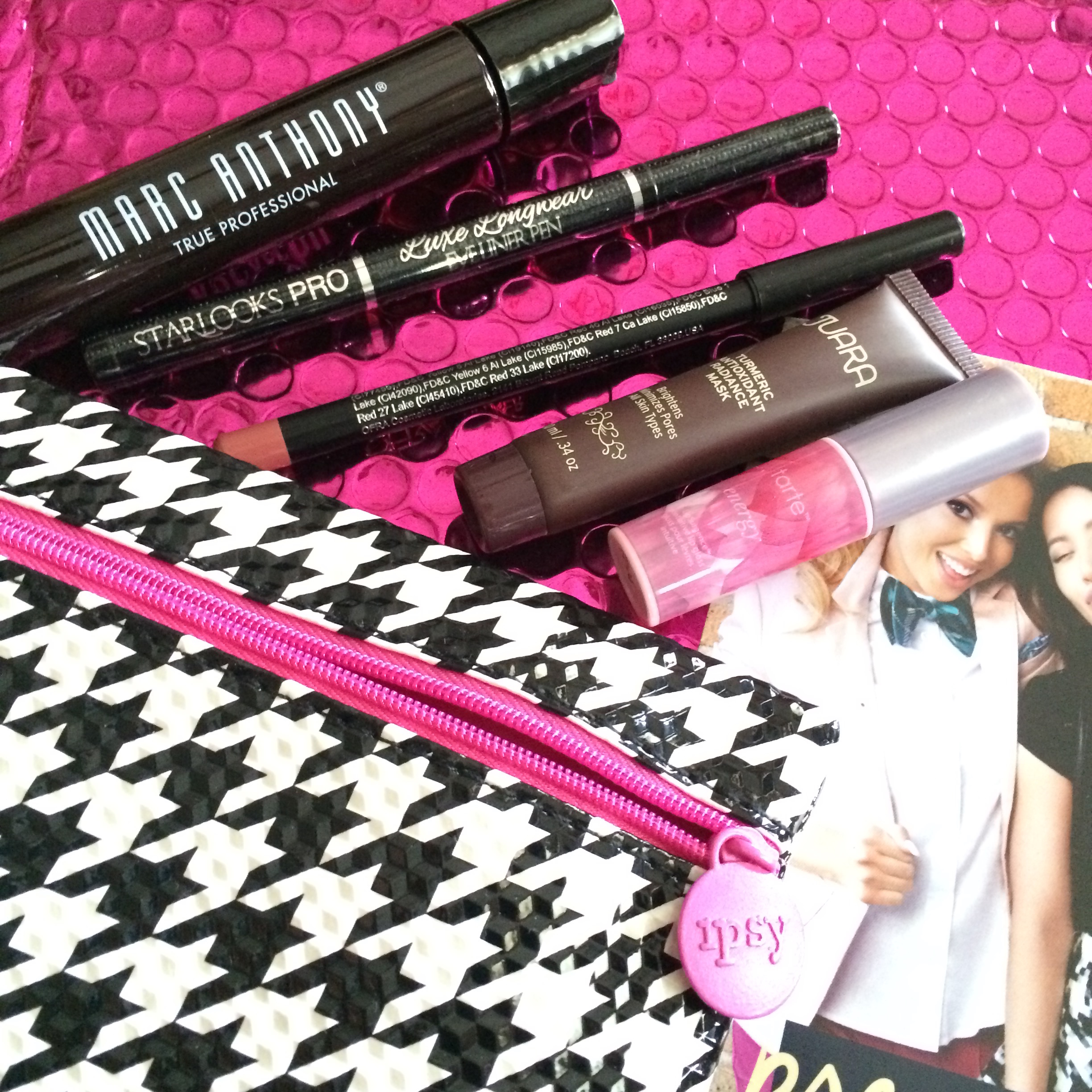 In honesty, I did not know what would come in my glam bag. I was the most nervous about receiving foundation since I have a challenge matching my skin tone. However, I was pleasantly surprised to receive two full-size eye and lip liner pencils (that I was in desperate need of) especially since ipsy suggests their bags contain 4-5 beauty samples. My friend Kristi of That Asian-Looking Chick recently blogged about cruelty-free products and I checked to see if the products I received passed the TALC test…and they do! This info was found on every product's website except for Marc Anthony which was on this list). However, I have no idea if future products will continue to pass this test.
The only let down is the process to receive your glam bag which is a tad annoying. ipsy relies on your social media participation to give you the illusion that you are speeding up the process when really shipment for all glam bags seems to happen at once for everyone. For example, I had to share an ipsy link with my Facebook friends to get off the waitlist. ipsy wanted me to share the service with my friends to get a sneak peek of what I'd receive and to earn points for products upgrades, but I didn't have time for any of that so I simply just waited for my bag to arrive.
Despite having to wait till next month to receive a new bag I believe the price I paid, $10, was worth the value of products I received which I estimated to be around $42.48. I am giving ipsy one more month to determine if it's a subscription I'll continue to keep and if you're interested click this link to join the fun!
Have you received ipsy glam bags or similar makeup subscription services or looking forward to starting one? What has been your experience?
-Nicky