Some of my favorite elegant special occasion dresses (and everyday pieces) have come from the online boutique Kiyonna, who designs clothing in plus sizes 10+.
They have a great line of wrap dresses, maxi dresses, cocktail dresses, and separates. My favorite items are their lace cocktail party dresses that I have purchased and worn to galas, data nights, parties (e.g. wedding, New Years Eve), and in Vegas.
I'm in love with their cocktail lace dresses, especially the Retro Glam Lace Dress which I own in the black lace with purple lining. Other color options include: black lace with red lining, and black lace with black lining.
Outfit details
Retro Glam Lace Dress (includes brooch) from Kiyonna
Round Toe Heels from Target
Statement bib necklace & drop earrings from charming charlie
Hair styled by Sean of RAW IMAGE
Makeup application by Lori of High Brow Waxing & Skin
Style
I purchased Kiyonna's Retro Glam Lace Dress because I was looking for a chic, retro styled dress that wasn't too formal and not too casual. This dress was a great balance that was elegant, stylish, and still fun. I wore it to the 31st Annual Silver & Turquoise Ball a benefit dinner for the Phoenix Indian Center.
For me, this dress had a good amount of bust coverage for a special event with colleagues. The ruching just beneath the shoulders creates a sweetheart neckline that is perfect for showcasing a statement necklace. The sleeves flare outward rather than hug the skin. If there was a dance floor at this ball, I'm certain I would have been able to form the letters Y.M.C.A. with my arms. This dress comes with a removable satin belt and the crystal brooch.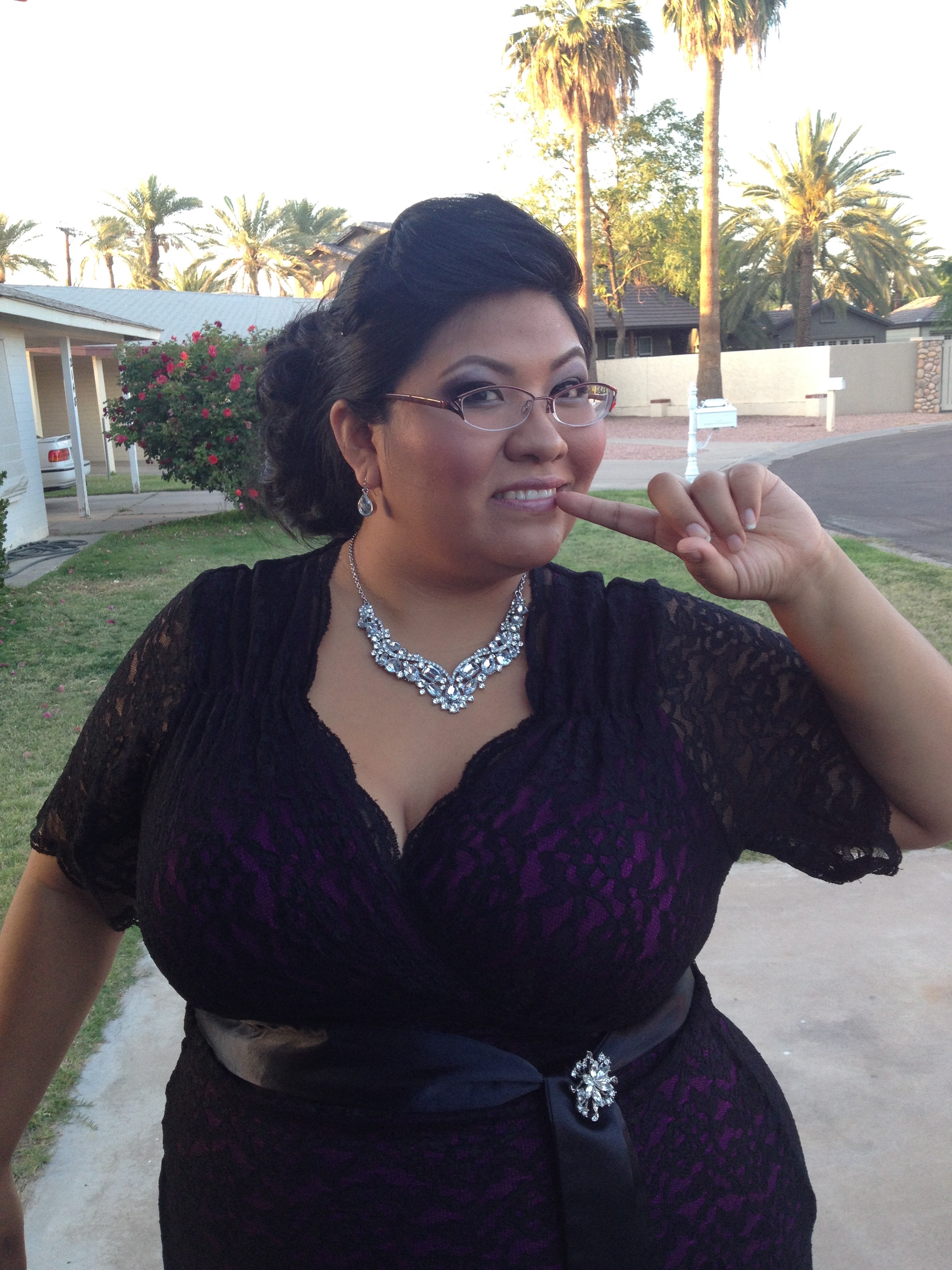 Fabric
Kiyonna has a number of lace dresses and I own three of them (including the one featured in this blog). All are quality made dresses.
For this particular dress there are two layers, the purple lining and black lace overtop. The fabric of this dress is not thick or heavy at all. It does seem a bit thin but not like cheap thin fabric that is see through (I'm sure we've all had those type of clothes before). The feel of this dress is amazing and very comfortable. In my opinion, this dress is well-made and I like the quality of the fabric and lace. The lace stretches and is soft on the skin, rather than stiff and scratchy. As with all lace dresses I was scared that the lace would catch on something and so I didn't wear a bracelet. The brooch did catch a couple times on the dress but it was only when I was sitting. When I would sit, I placed the satin belt between the brooch and the dress so nothing drastic would happen to the lace.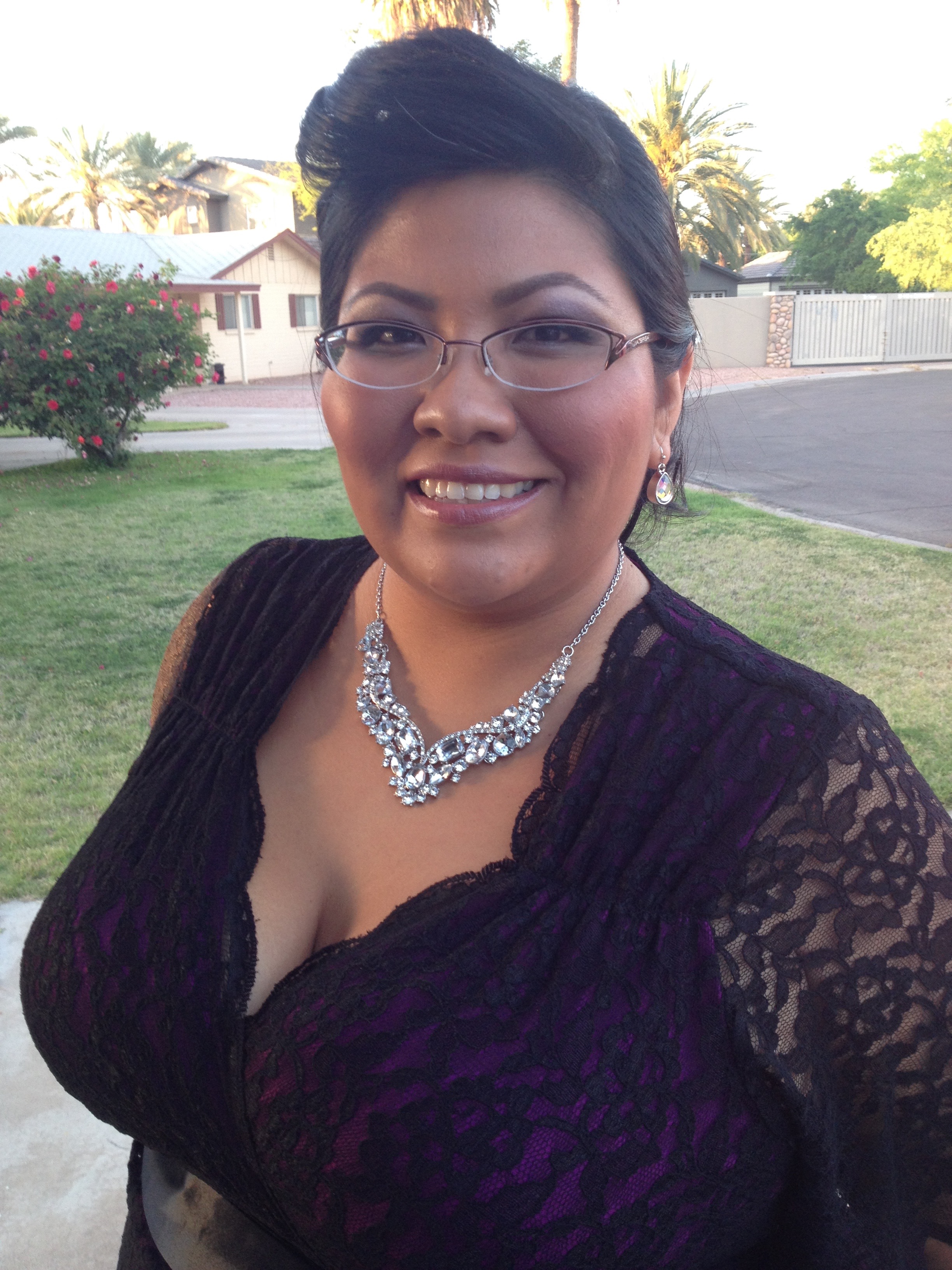 Fit
Depending on the brand of clothing, I generally wear a size 22/24 in tops and 24/26 in bottoms. I either will purchase a size 2 or 3 in Kiyonna dresses depending on the type of fabric (i.e. stretch factor). I am 5'6″ and this dress falls just beneath my knees. The belt is long enough to wrap around me and hang almost the full length of the skirt.
I'm wearing a size 2 in the Retro Glam Lace Dress. Honestly, this dress and the lace has a 'lil bit of stretch to it but the bust of this dress was a bit taut for me, which could partially be because of the push-up bra that I'm wearing or not. *shrug* I probably could have sized up but I was concerned about whether or not the bust of the dress would be too loose for me. The dress does hug the body but only to the waist, below the waist the dress just hangs rather than hug everything.
I have been purchasing dresses and shirts from Kiyonna.com since 2010. I first found them online while searching for fashionable plus size clothing options. They rotate through sales which is generally when I purchase the majority of my clothes from them. I'm a fan!
What do you think of this dress? I've worn it a handful of times already and look forward to wearing it again this holiday season. Bring on the parties!
– Nicky
This blog contains affiliate links and banners that when clicked on or purchased from may result in a small commission for this site.