On Sunday March 19th, Native News Online.net published an article I wrote about the Lost Lake Festival coming to the Steele Indian School Park this October 2017. In the article, I discussed concerns of cultural insensitivity as to the presence of hipster headdresses in an area that has historical significance as to the erasure of American Indian cultures.
UPDATE: On March 23rd, I received a statement from Superfly, the company producing the Lost Lake Festival, that states, "Out of respect for Native American heritage and culture, and with respect to the Native American history of the park, we will not allow headdresses at Lost Lake Festival. Our code of conduct will reflect our commitment to creating a safe, respectful and inclusive environment for all festival-goers to have the best experience possible, and we're happy to share that [code of conduct] with you once it's finalized in the coming months."
Guest Commentary The Lost Lake Festival, a 3-day music festival is coming to the Steele Indian School Park in Phoenix Arizona in October 2017. The Lost Lake Festival was announced on March 15, 2017. The creators of the Lost Lake Festival also created the Bonnaroo and Outside Lands Festivals; these festivals are known for not banning hipster headdresses.
The Steele Indian School Park is the site of the Phoenix Indian School, a boarding school that operated from 1891 to 1990. Indian boarding schools assimilated Native American youth into mainstream American society through forceful tactics such as chopping off hair, physical punishment, restricting youth from speaking their Native language, and living life in a military-like regime. I recall knowing about Indian boarding schools from a very young age… in fact, I can't recall a time when I didn't know about Indian boarding schools. To this day, in my academic career I write about the consequences of boarding schools and historical trauma on generations of American Indians, particularly the consequences to families, relationships, connections to Tribal communities, and ties to their cultural heritage.
This is why, I became concerned when I learned about the Lost Lake Festival and that it was created by the same founders of Bonnaroo and Outside Lands – festivals unfortunately known for not banning headdresses. In my Lakota culture, the headdress is an important and significant item for the person who has earned it. And yet the appropriation of this cultural and spiritual item represents an act where American Indian culture is quite literally taken from American Indians, reduced to an accessory, and stripped of its cultural significance. This type of action, donning a headdress as a non-American Indian when one has not earned it, minimizes a complex history of assimilative practices that resulted in the culture of American Indians being forcibly taken away from them.
Implementing a No-Headdress Policy
The hipster headdress at music festivals has become a common occurrence but that doesn't make it right. In fact, Dr. Adrienne Keene, author of Native Appropriations, regularly posts about headdress appropriation and even wrote about spotting this phenomenon at a 2011 Outside Lands Festival (remember Outside Lands is one of the creators of the Lost Lake Festival).
Thankfully, music festivals – at least in Canada – are implementing policies that ban the hipster headdress. In 2014, the Bass Coast Festival in Merrit, British Columbia Canada implemented a ban on feathered warbonnet or similar headdresses. In 2015, the Osheaga Music and Arts Festival in Montreal Canada placed First Nations headdresses on their list of banned items.
While Superfly did provide a statement to me on March 23rd that indicates "… we will not allow [emphasis added] headdresses at Lost Lake Festival" they don't specifically indicate how this will be conveyed to attendees (will the code of conduct explicitly state this or will it be on a list of prohibited items), how it will be enforced, or how such policy would apply to their vendors (will vendors be excluded from selling headdresses?). [Superfly's full statement is listed in the first paragraph of this post]. Superfly's statement on their code of conduct appears to be a general statement about promoting safety, respect, and inclusivity for attendees rather than specifically stating that headdresses are prohibited from the festival grounds (although I should note that the code of conduct still has to be developed). I responded to Superfly requesting clarification about how not allowing headdresses will be exactly implemented, asked to be part of developing their code of conduct regarding the headdress, and asked if the headdress ban will be on a list of prohibited items.
If the Lost Lake Festival follows through with their statement would they be the first festival in the United States to implement a ban on the headdress (If you are aware of U.S. festivals that do ban headdresses please let me know)? Further, would the creators of Bonnaroo and Outside Lands then make similar policy implementations in those respective music festivals? I want to hope so but I don't know. Supposedly, the 2015 Outside Lands Festival banned the hipster headdress according to this photo posted to Powwow.com. However, the 2016 FAQs does not mention the hipster headdress on the official list of items not to bring into the festival as seen in this screenshot.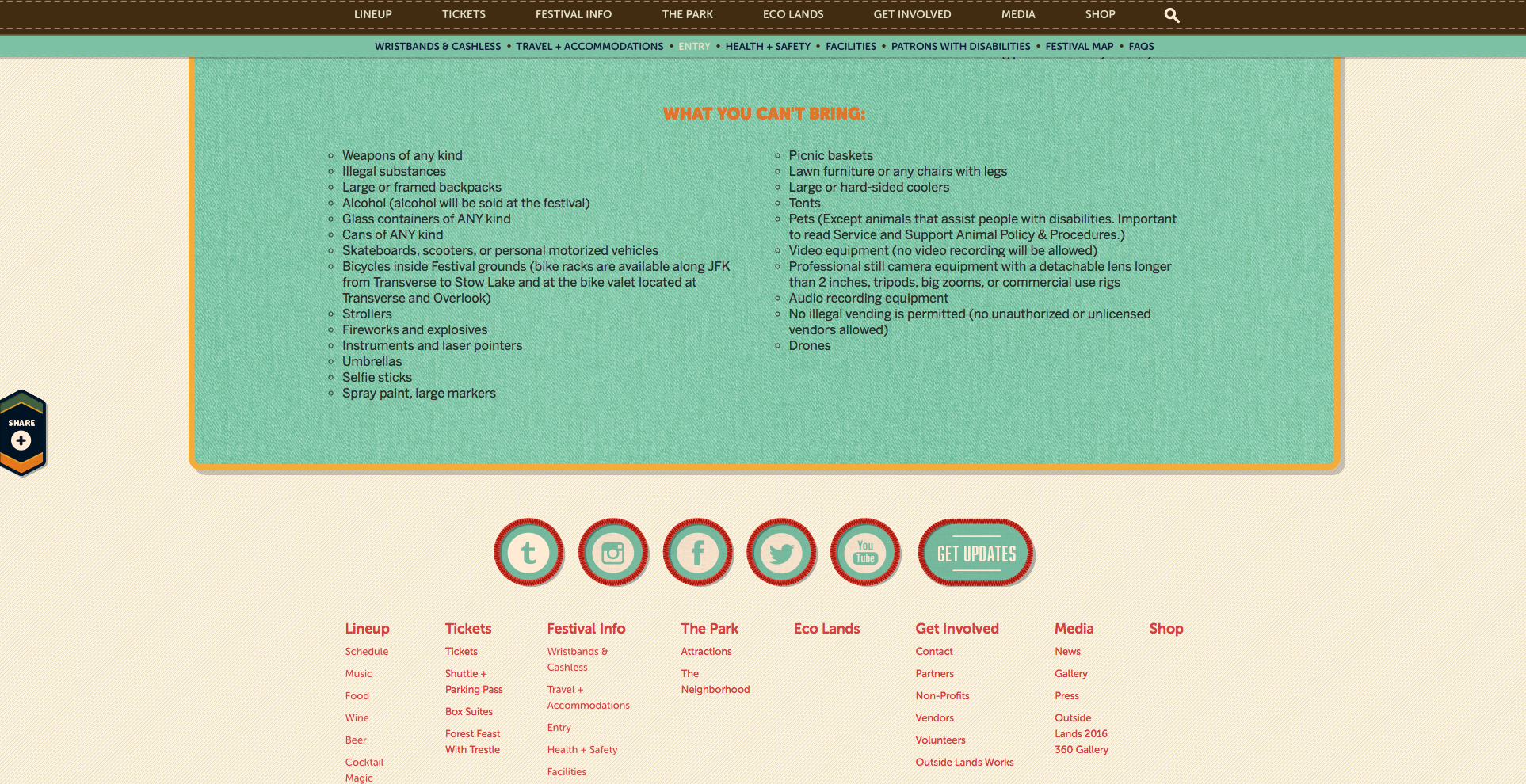 With its tribalesque aesthetic (look no farther than Lost Lake Festival's promo video) and festival name of "Lost Lake" (indicating a body of water to be found, a limited resource in the Arizona desert) this event seems more and more a theme of discovery or westward expansion. Superfly co-founder and a producer of the Lost Lake Festival Rick Farman stated in an azcentral.com interview that the Steele Indian School Park is an "undervalued gem" and points out "It was surprising to us that we have this incredible jewel here and it doesn't seem that a lot of people know about it. And having the lake in the middle of it was an interesting thing for us to play off."
The impression I get from the Lost Lake Festival marketing is that the Steele Indian School Park is a rare, unknown, and untouched resource not unlike the myth of an untouched, unknown, and rare picturesque west, which was in part what fueled the westward expansion program. Yes, the settling of the west was a federal program that required the government to deal with Native American peoples by making them "disappear" to give the illusion of an untouched and free west to be discovered and found. While the Steele Indian School Park may be unknown to the festival organizers it is not unknown to me and a good number of other American Indians in the Phoenix metro area who are aware of its history and connection to the Indian boarding school days.
This is why it's important that we hold the festival organizers to their word and ensure that American Indian cultures are not minimized to fashion accessories and that the Steele Indian School Park is given the respect it is deserved.
-Nicky