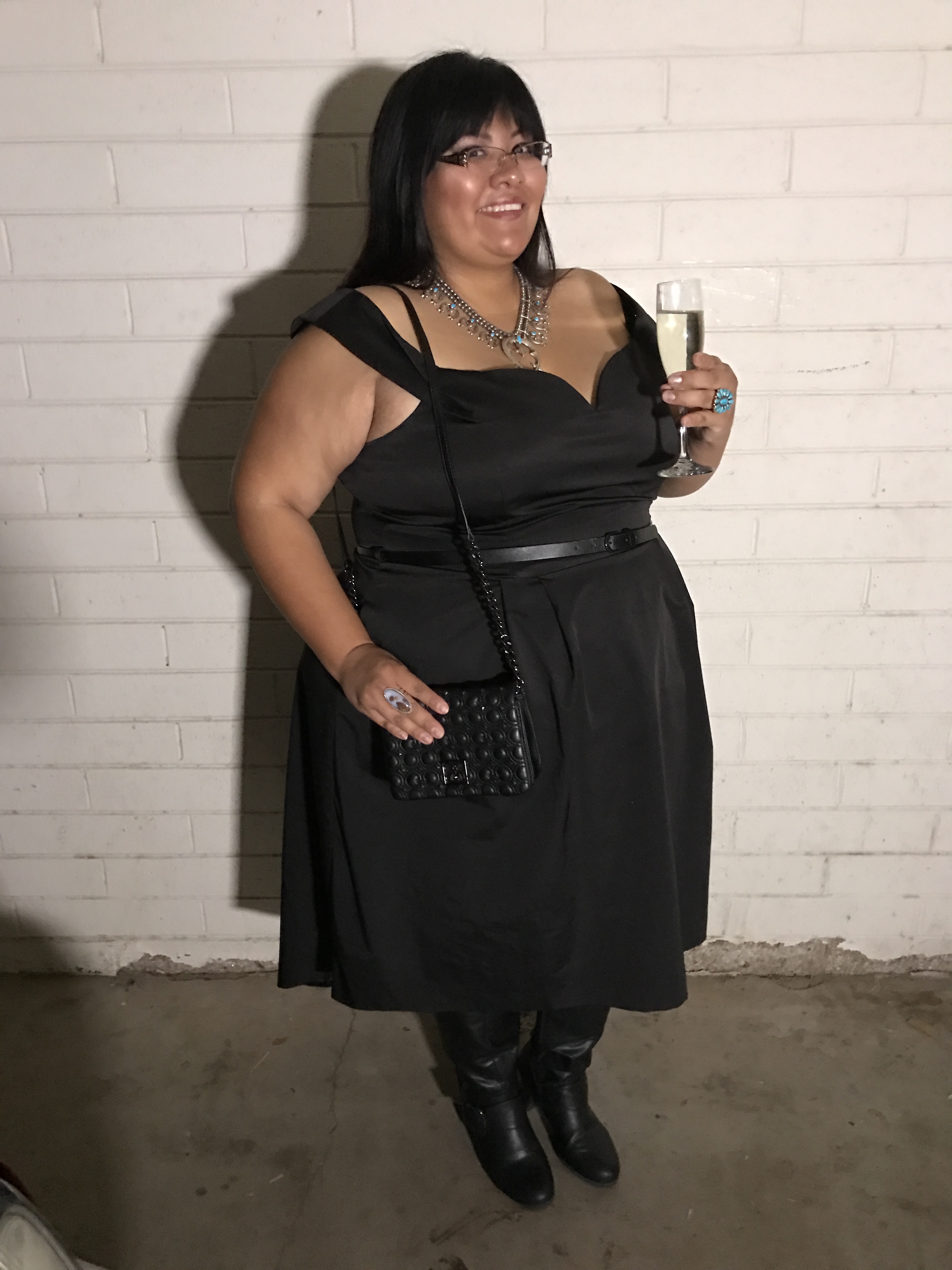 My husband and I have two teenage daughters and so our New Years Eve generally results in us being home to ring in the new year with them. Honestly, as much as I love any reason to glam up and parade my crown jewels around town I enjoy being home with my teens at the stroke of midnight. This past NYE, my husband and I enjoyed a late dinner at one of our favorite restaurants and returned home in time to sing Auld Lang Syne. I much preferred this than being stuck in the after-midnight traffic and dealing with Uber surge pricing. The fancy City Chic dress I wore for NYE arrived in the mail just in the nick of time from Gwynnie Bee, a clothing subscription service for women sizes 10-32. I paired this fun and daring off the shoulder dress with my new Heidi Studded Mini Crossbody purse. This purse, from 88 Handbags, has gunmetal studs and quilted exterior for an edgy look, perfect for my rocker-chic style!
Outfit details
 City Chic's Hi Lo Off The Shoulder Dress rented from Gwynnie Bee
Knee-High Boots from Lane Bryant
Heidi Studded Mini Crossbody from 88.EightyEight Handbags
Sterling Silver Squash Blossom made by Navajo Silversmith Mildred Parkhurst (personal collection)
Sterling Silver Polkadot Agate ring made by Navajo/Oneida Metalsmith Krystal Parkhurst (personal collection)
Sterling Silver Turquoise Cluster Ring made by JW (personal collection)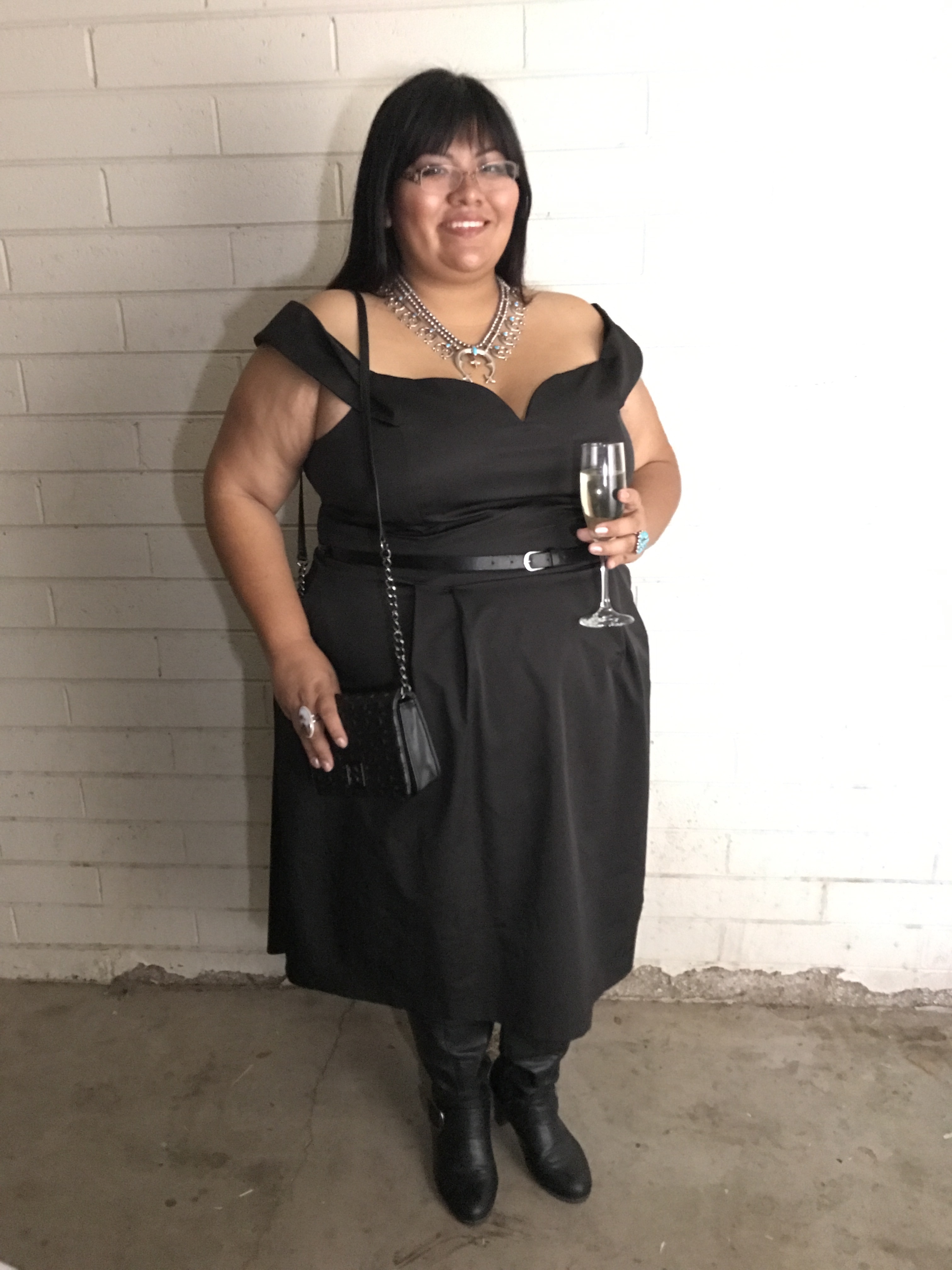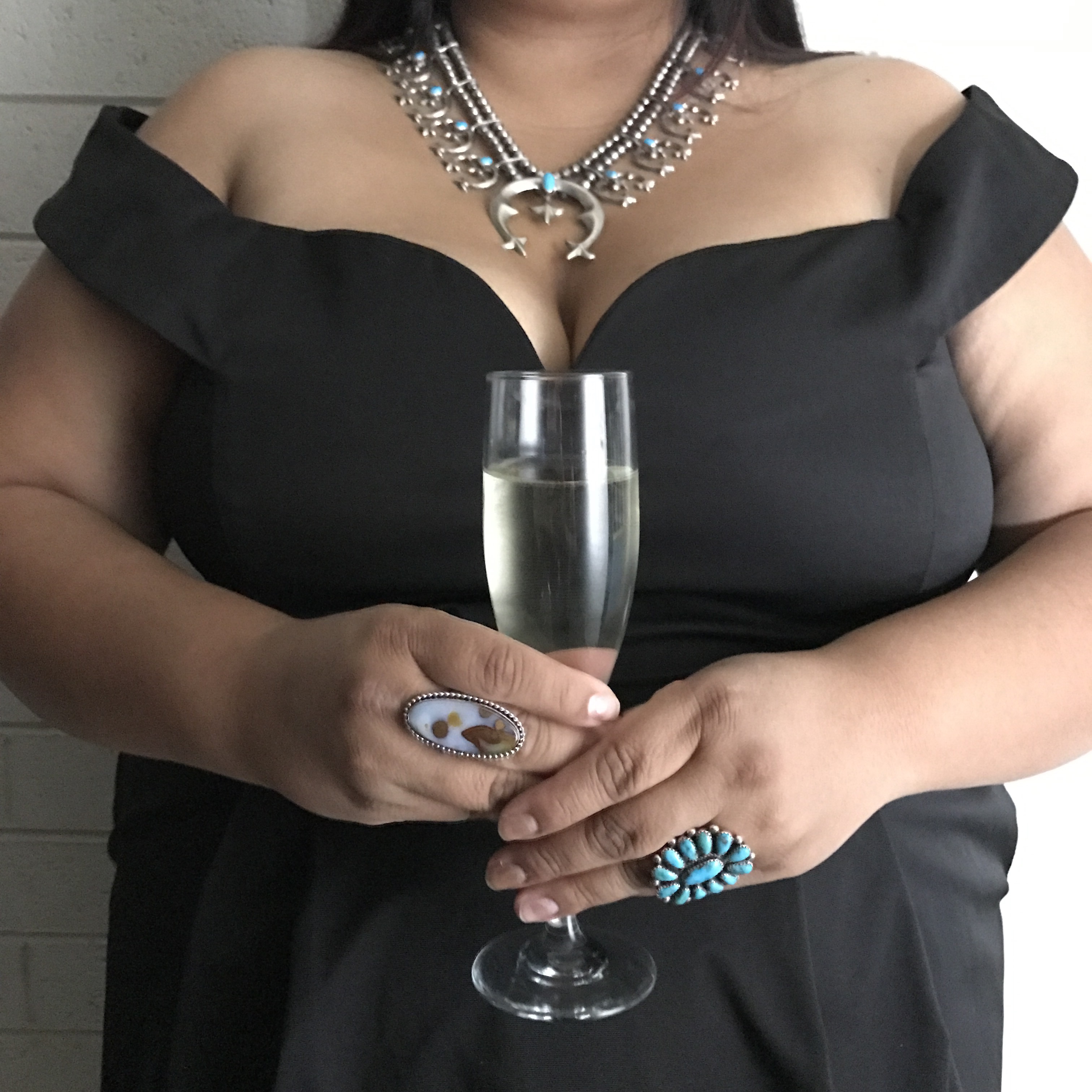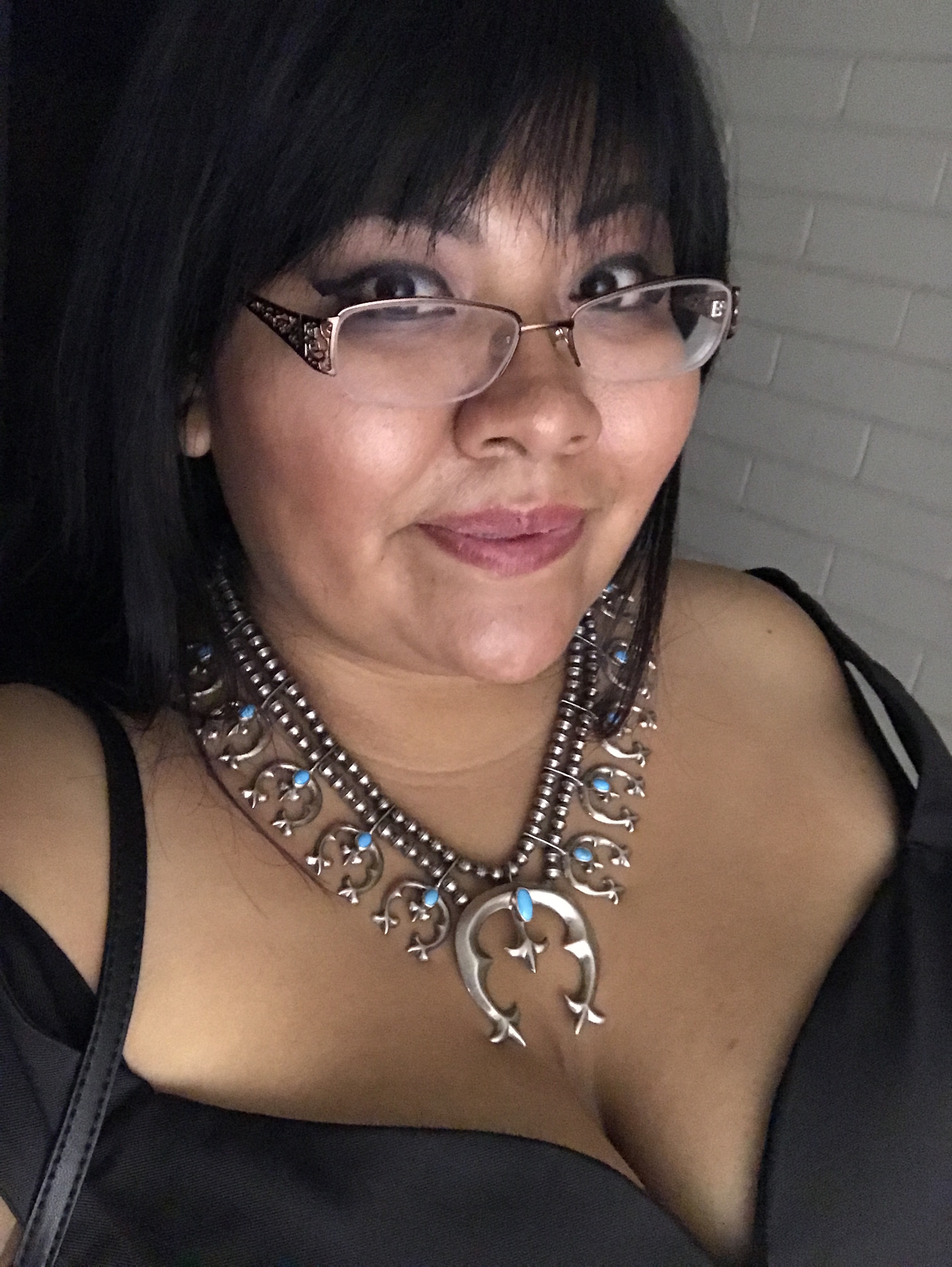 I am quite the fan of monthly subscription services. In fact, I've been a paying member of Gwynnie Bee, a clothing subscription service for women sizes 10-32 for more than 3 years! As a person who wears plus-size clothing Gwynnie Bee has changed my wardrobe allowing me to try out trendy clothes! Before Gwynnie Bee I had no idea how many clothing brands make plus-size clothes. I have also gained a better understanding about the styles of clothes I am most comfortable with, for instance I really like A-line and fit-and-flare dresses.
Gwynnie Bee is essentially a monthly clothing rental service. You get access to their expansive and always growing closet of women's clothing in sizes 10-32. You select the clothes you are interested in possibly receiving and add them to your online closet.  Your membership plan determines how many garments you're allowed out-at-a-time. Once garments in your closet become available, Gwynnie Bee ships the garments to you. I pay for a 2-item garment plan, currently have 42 garments in my closet, and have a 3-garments at home (because of a promotion when I upgraded). Once I am done wearing a garment I send it back to Gwynnie Bee in the prepaid envelope and they will send me another garment from my closet. I don't even have to worry about cleaning costs because it's covered by Gwynnie Bee.
If you're interested in trying Gwynnie Bee you can sign up for a FREE 30-day trial. The 30-day subscription service includes unlimited clothing exchanges and free shipping. Gwynnie Bee also has a feature to prioritize a garment so you would be more likely to receive the garments you really want to try. I hope you'll give Gwynnie Bee a try!
Here is a snapshot of what's currently in my closet: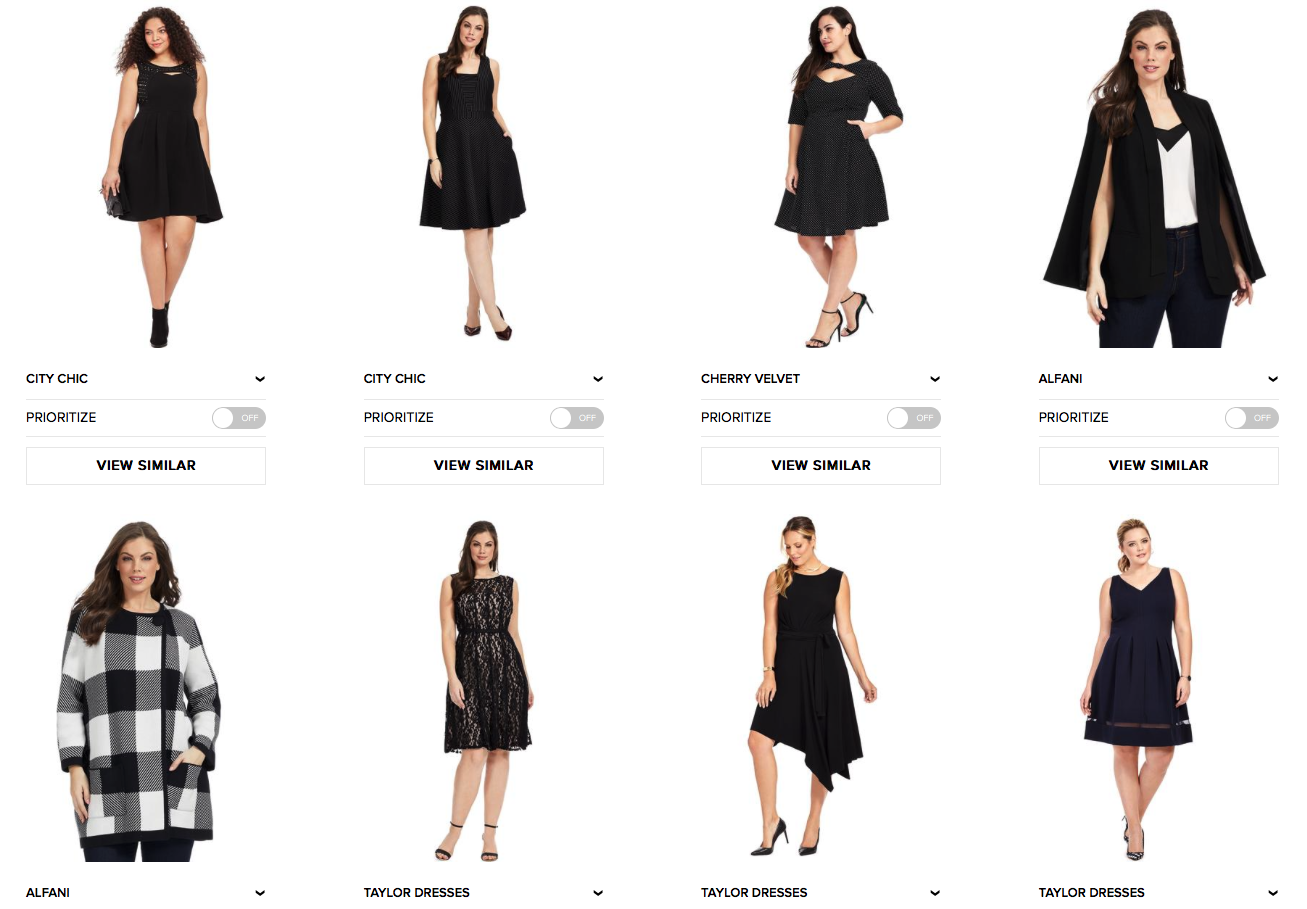 I will definitely add this fancy off the shoulder dress into my Gwynnie Bee closet again because it's a great dress for cocktail parties and galas! I don't wear many off the shoulder outfits but love how this dress lets me showcase my goods! My gorgeous sterling silver squash blossom that is! *wink*
As I mentioned my husband and I spent NYE at home and this dress was great for dressing down with a pair of knee high boots (besides it was cold outside!). If I were to wear this is a cocktail party I would wear it with black high heels. A black dress without any hardware (buttons or belts) also lets you determine the type of jewelry to wear, whether it's gold, silver, or pearls. Could you see yourself wearing this type of dress? Where would you wear it to?
-Nicky