Disclosure: This post may contain affiliate links that when clicked on may result in a small commission to this site but all opinions are mine.
Today, I share with you 2 ways to style a body con dress.
For me, wearing a body con dress is a big deal. I can at times be overly self-conscious and insecure about showing my curves. So, to get dolled up and pose some where public for a photo shoot in a body hugging dress kind of rattled my nerves. I kept checking for strangers who were walking by and when they got close I would stare at the nearby cactus trying to avoid eye contact. Sure I felt like the only thing between me and a stranger's naked eye was a piece of jersey fabric but how is this any different than a t-shirt?
Honestly, when I look at myself in the bedroom mirror with this dress on I like what I see! I feel cute, sexy, and curvy! I feel powerful, despite my thighs, booty, and VBO (Visible Belly Outline). How could I NOT take pictures of my powerful sexy self?
So for this outfit post I'm sharing with you not one but two ways to style a body con dress!
Styling A Body Con Dress
Now, I've never worn a body con dress and didn't really know how to style it. My first instinct was to wear a long cardigan wrap but I had no such wrap to match the beautiful dark blue fabric. I also figured this sort of goes against the idea of wearing a body con dress. Now a body con dress is rightfully named so because it takes some guts and confidence in oneself to wear this type of dress. This is because the material of the dress is clingy and hugs all the curves. Rather than try to hide my curves, I decided on some accessories that would highlight the beautiful color of this dress and my curves.
 Outfit 1 Details
3/4 Body Con Dress from Fashion To Figure
Wide Belt from Lane Bryant (similar)
Strappy Mini Wedges in Gold Metallic from Torrid
Bauble Necklace from Lane Bryant
Katie Medium Satchel in Sand Crocco from 88.EightyEight Handbags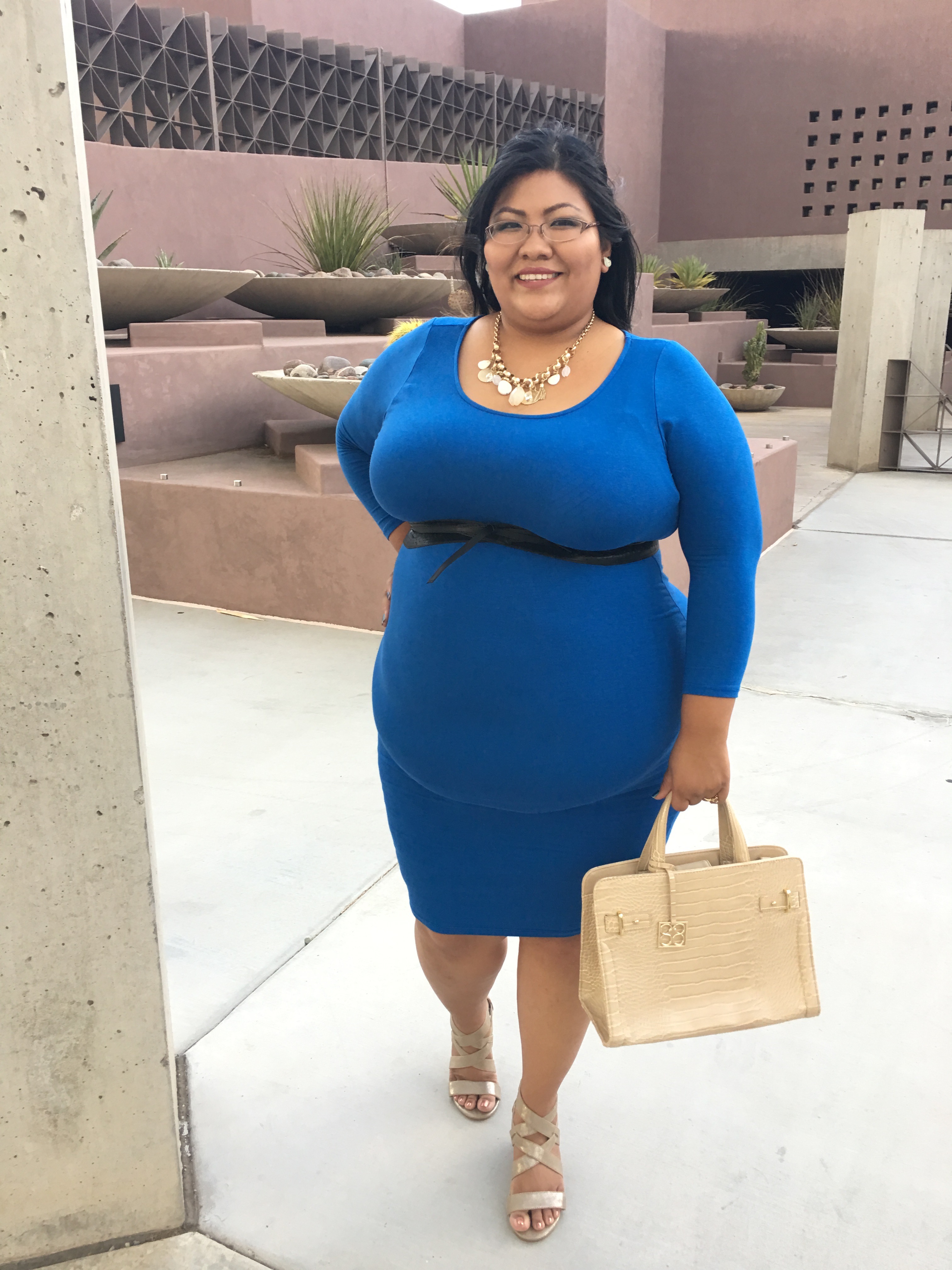 For this first look, I styled this dark blue jersey dress with gold accents. I like the strappy wedges, chunky statement necklace, and this totally vegan satchel from 88 Handbags. I completed the outfit with an obi wrap belt to help me keep my posture.
Now, this satchel is an eye catcher with it's faux leather and the color is a great highlight to the bold blue body con dress. The satchel is roomy with pockets for my everyday essentials: cell phone, makeup bag, wallet, planner, and more. It's cute and a great accessory to add to my closet. If you're looking for a new purse check out 88 Handbags.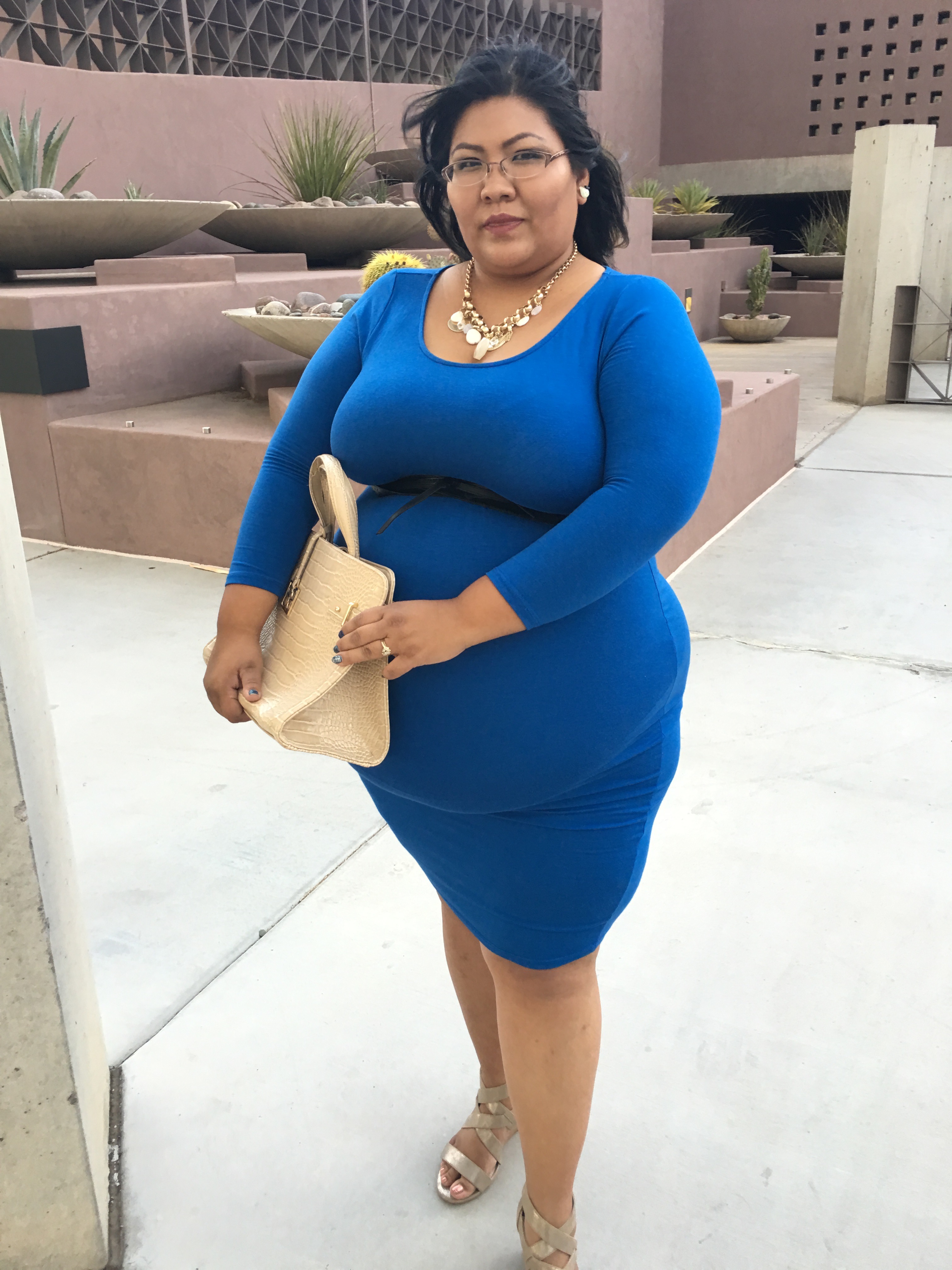 I actually received this gorgeous 88 Handbag and the Fashion to Figure dress in theCURVYcon platinum swag bag! Now I don't purchase handbags often and so I was shocked that I received a handbag valued at $100 in my swag bag and the FTF dress is valued at $38.90! Wooh! I know I'm slacking on publishing my review of theCURVYcon and the platinum swag bag up. But it's coming, I swear.

Outfit 2 Details
3/4 Body Con Dress from Fashion To Figure
Studio Lace Biker Jacket from Eloquii (similar)
White Skinny Belt from Torrid (similar)
Beaded Tassel Necklace from Lane Bryant
Ankle Strap Wedges from Lane Bryant (similar)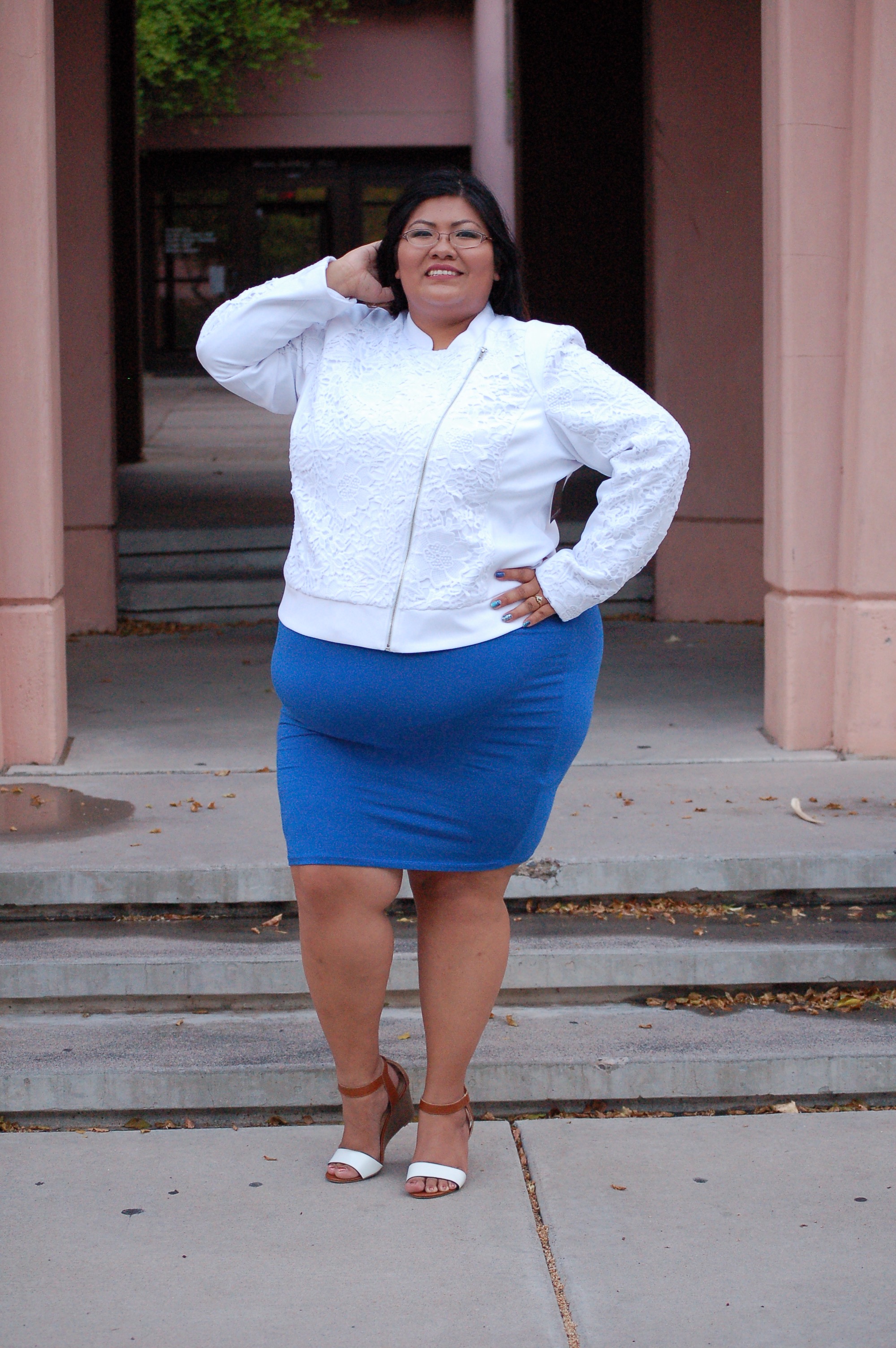 For this second look, I went for a blue and white color combination. I also tried to think of how to style this dress with just a tad more coverage perhaps for someone wanting to try a body con dress but nervous about all your curves being out there. This white lace Eloquii jacket provides upper body coverage and the color blocking draws attention to both the slim fit of the skirt and the intricate lace detail of the biker jacket. I also think a chiffon duster would look cute over this body con dress and provide some booty coverage.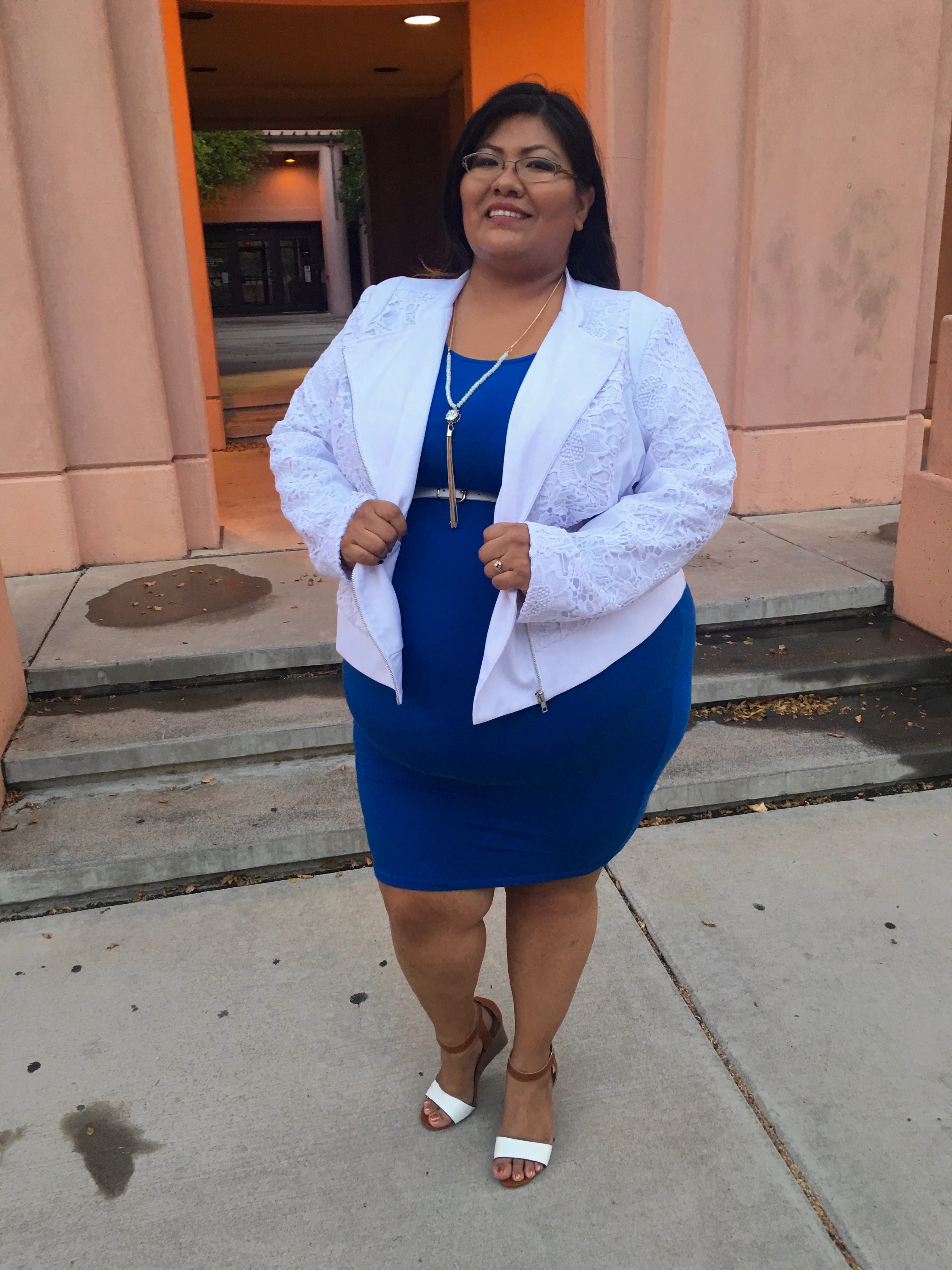 The Eloquii jacket was also one of the swag items for being a platinum attendee at theCURVYcon! This jacket is sold out but I found a list price of $145.90! Wow, can you believe it?! I'm really excited to tell you what other swag Eloquii gave platinum attendees so make sure to subscribe to my blog to receive notification when I update the blog.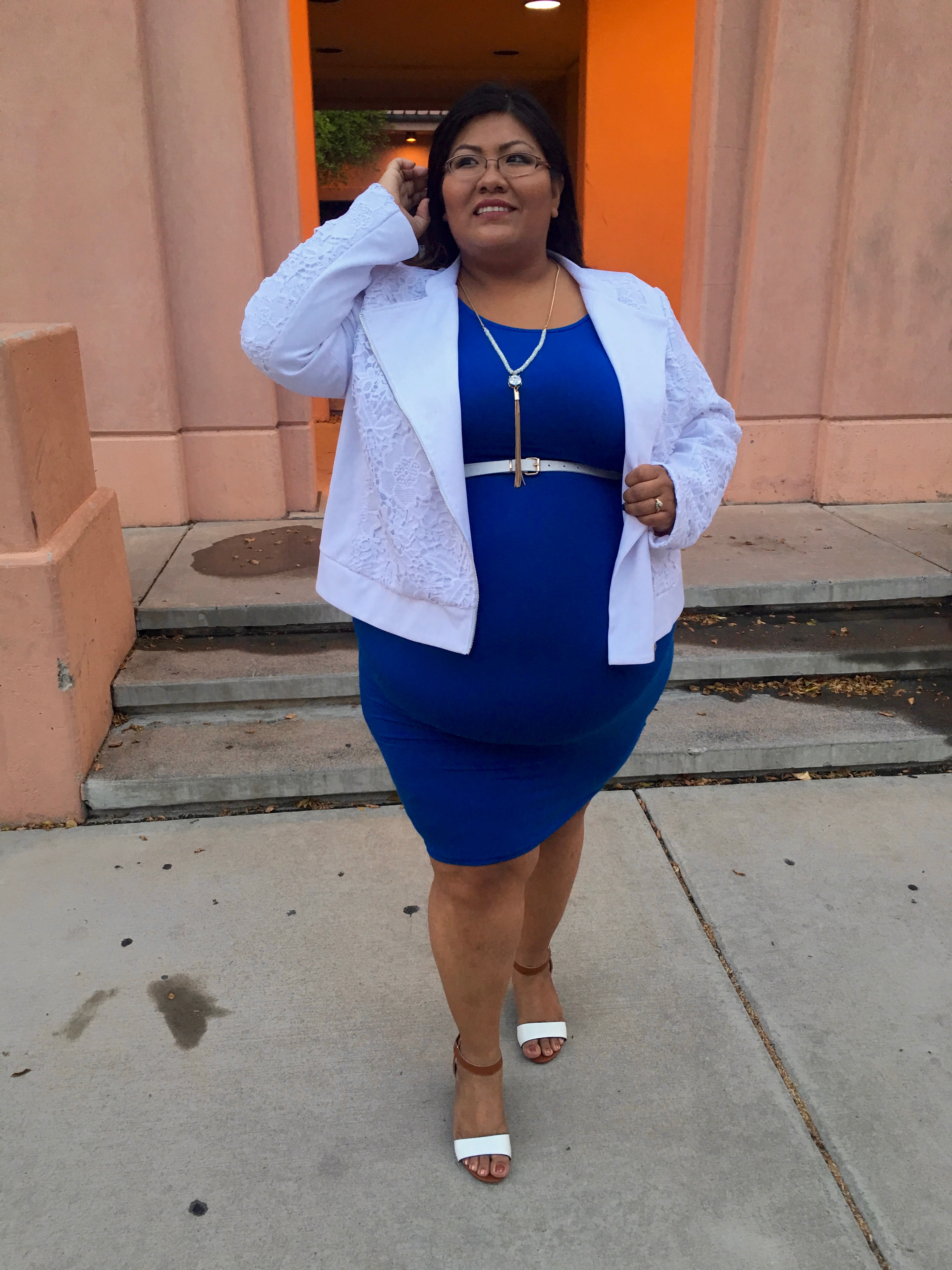 I mentioned at the start of this post that I was nervous about taking photos in this dress in public. What would people say to me? Well, glad to report that no one said anything directly to me. One person on a bike actually apologized for getting in the way. But I did notice that my confidence changed through the photo shoot. In the first set of photos, I was a bit nervous and used my purse as a security blanket to strategically hide my belly. But as the photo shoot went on I felt powerful and that I could do anything!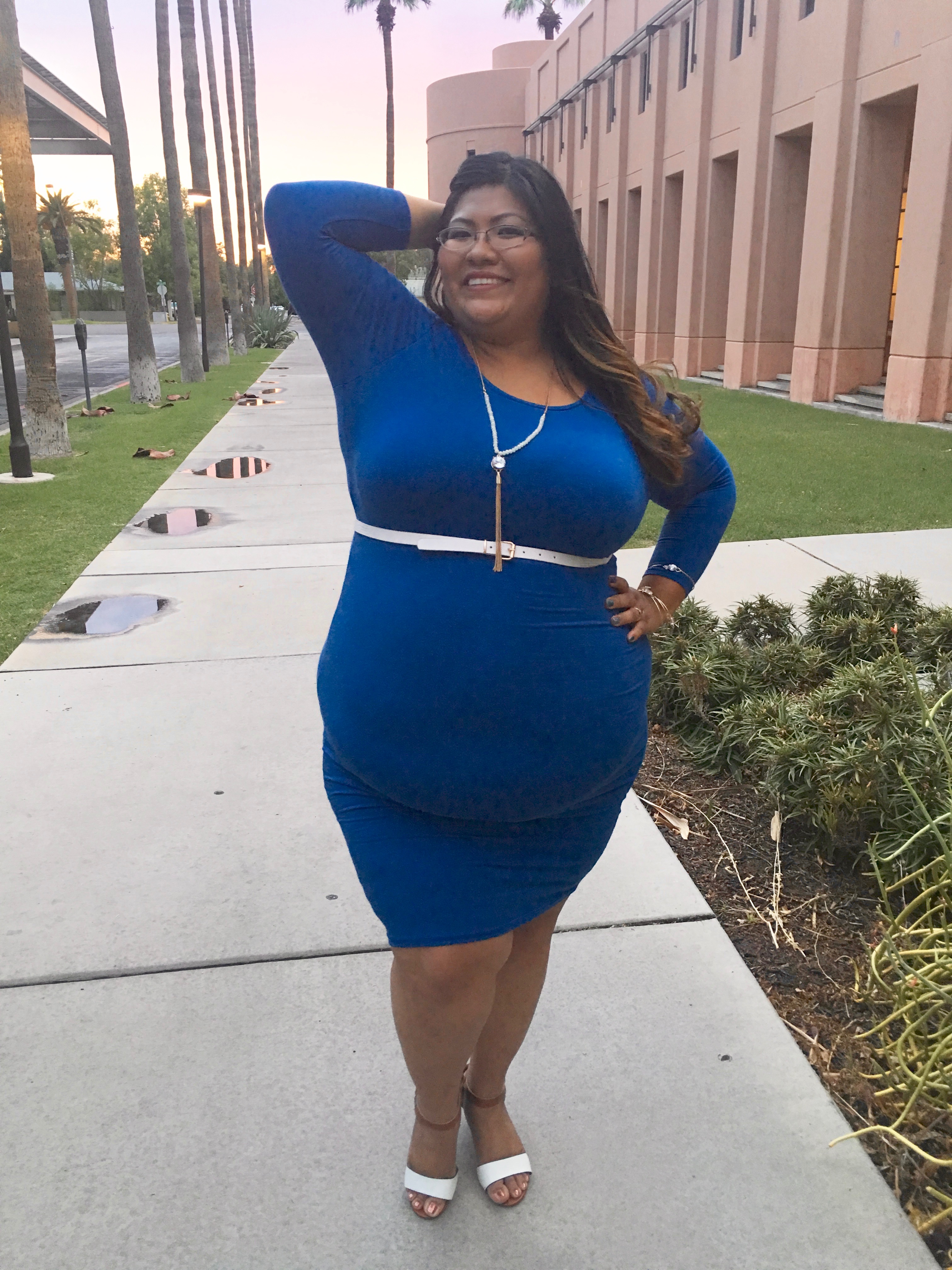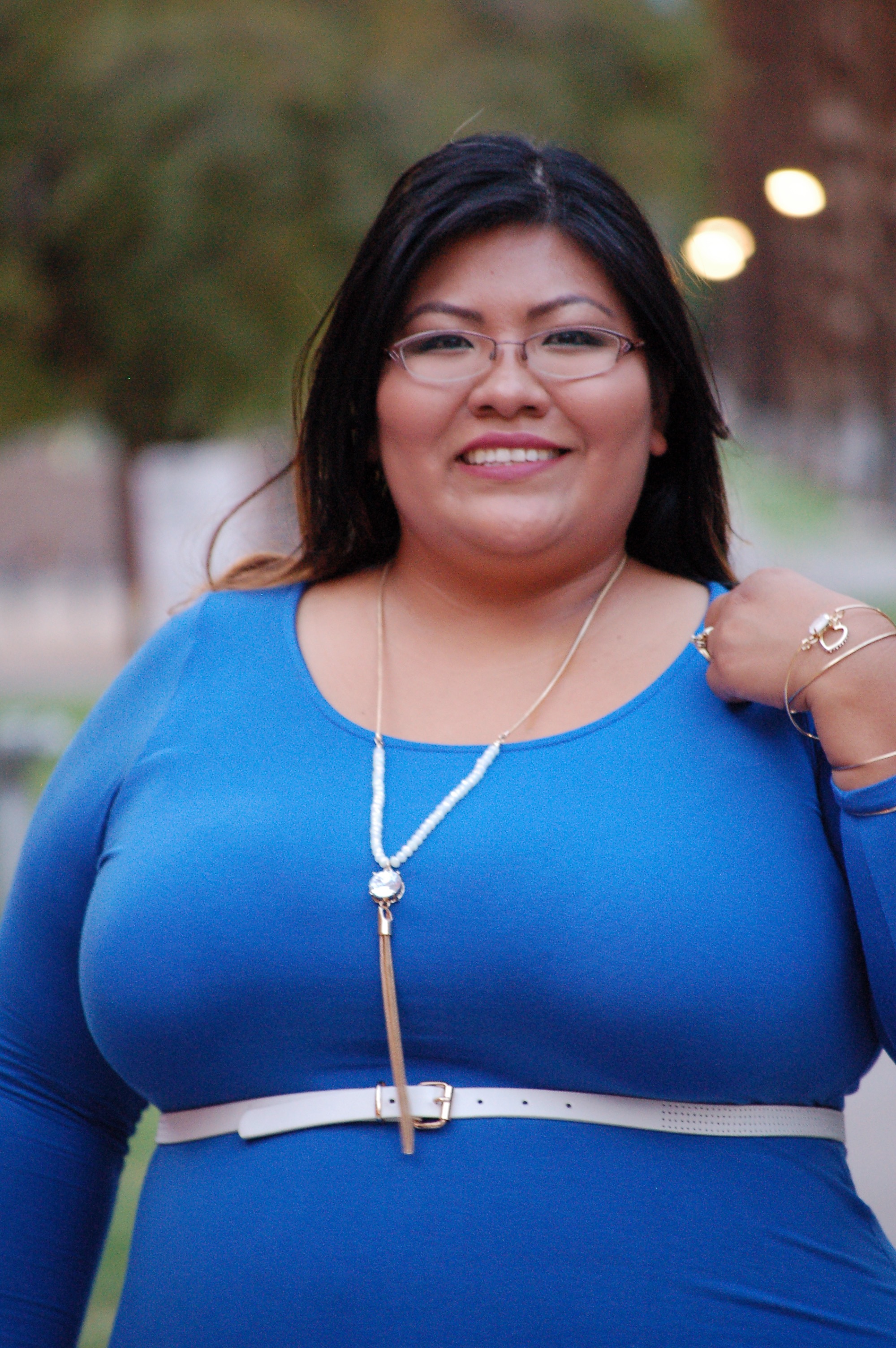 Body Con Dresses And Fatshion
I love this body con dress. I'm already thinking of other ways to style it and where I may feel most comfortable wearing it to (baby steps!). But while I'm accepting of my body and how this dress looks on me I know there are probably strangers (and possibly people who aren't quite strangers) who would say this dress is not for my body. I can imagine voices spewing all kinda of fat-shaming rhetoric (why is it that I can even imagine these things!). There are bloggers and fatshionistas whose body con outfits have helped me realize that clothing and fashion is for everyone. Below is a picture of me kicking fat-shaming rhetoric's ass!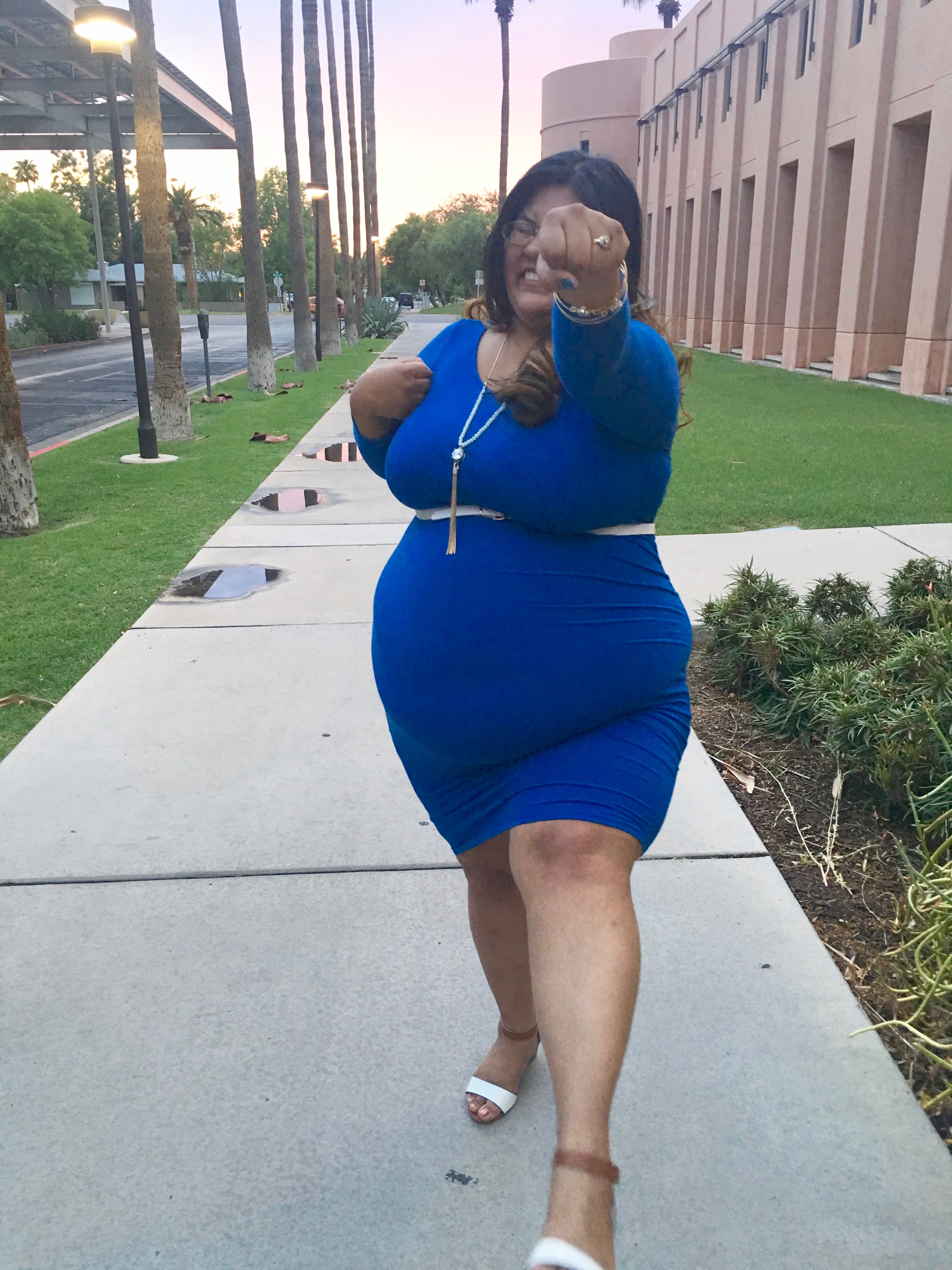 But while the plus size movement has done wonders to bring fashion forward clothes in sizes for fat curvy people, like me, the pictures that are encapsulating this wonderful movement are of similar silhouettes – hourglass figures of fit curvy women (e.g. Ashley Graham). Now, I love Ashley Graham. She is inspiring and has an empowering message for body acceptance. Her message helped me realize that I can be sexy at any size. But, I also empathize with calls for the plus size movement to be more inclusive of various body types and that includes the curvy women with a belly.
Part of my body love journey has been to embrace my full body, belly, lumps and all and perhaps my photos are my small contribution to help shift the culture of the plus size movement to be inclusive of fatshion and the various body types of fat people.
-Nicky