Disclosure: This post may contain affiliate links that when clicked on may result in a small commission to this site but all opinions are mine.
So, last month I went on this AMAZING birthday trip to New York City to attend theCURVYcon 2016. If you follow me on Instagram you've most likely seen my outfit (thanks for the follow!). If you don't follow me on Instagram (why not, you should *wink*) or if you missed the photos then you're in luck because today I'm sharing the details on my Torrid Skater Dress outfit!
As a reminder, this is part 2 of a four-part series detailing my experience at theCURVYcon 2016. Last week I gave a recap of the Gwynnie Bee x theCURVYcon2016 VIP Party and here is what else you can expect to come!
Recap: theCURVYcon 2016 And All That Jazz
What Came In theCURVYcon 2016 Platinum Swag Bag
Learn more about theCURVYcon 2017, which is taking place during New York Fashion Week in September 2017!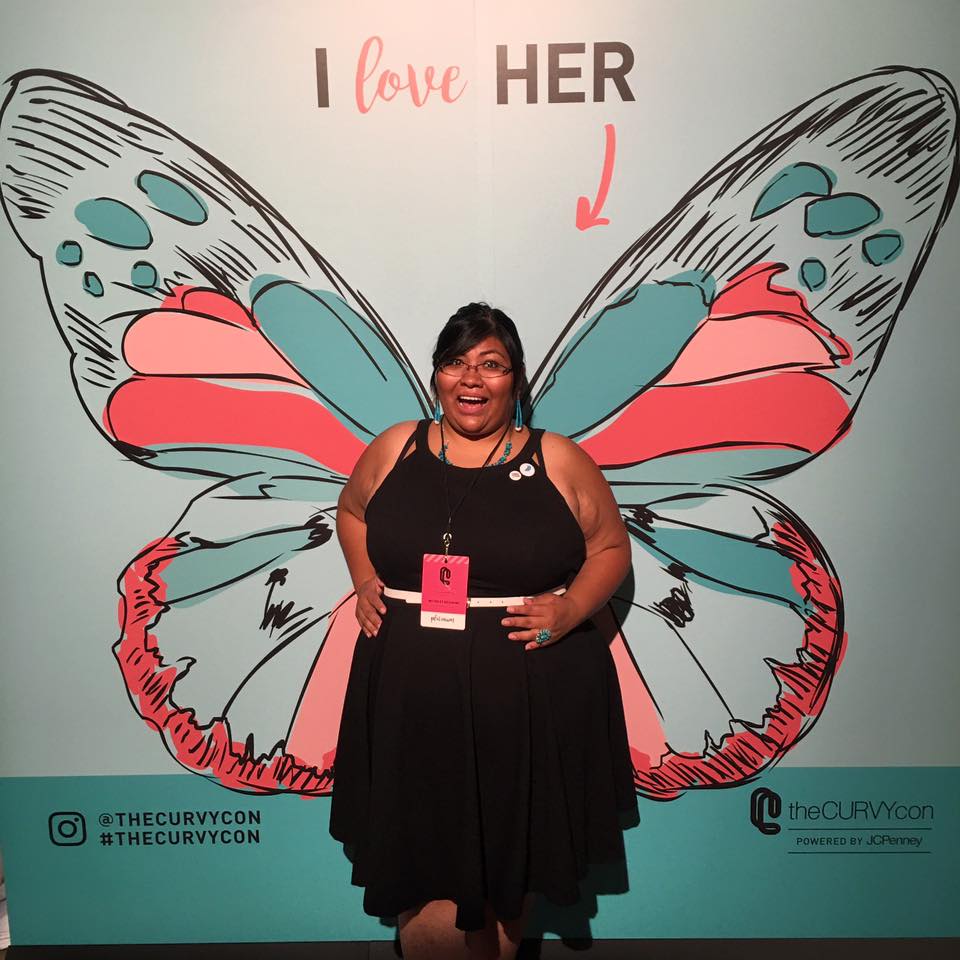 theCURVYcon 2016
theCURVYcon 2016 was a two-day event, one-day longer than it was in 2015 (which I did not attend). Unfortunately, I did not make it to Day 1 of this year's theCURVYcon due to a traveling conflict and moving between hotels. I did catch some highlights on theCURVYcon's Snapchat the morning of and I am sad that I missed it. Day 1 kicked off with a morning group exercise session and was followed up with shopping in the vendor hall. I had planned to attend Day 1 and even packed my Lane Bryant Livi Active workout clothes. While I missed out on Roz the Diva (I'm so sad I did!) and other activities, I did get my workout on as I lugged my 50-pound suitcase up and down the subway steps and across Manhattan.
When I finally made it to theCURVYcon for Day 2, I realized I had picked the perfect outfit for a day of happiness, inspiration, motivation, and a bit of rebellion! Day 2 was filled with panels of curvy bloggers talking about their brands and blogs, retailers answering questions about designing clothes for the curvy women, and more! But more on who said what and what I took away from the day in my next blog update.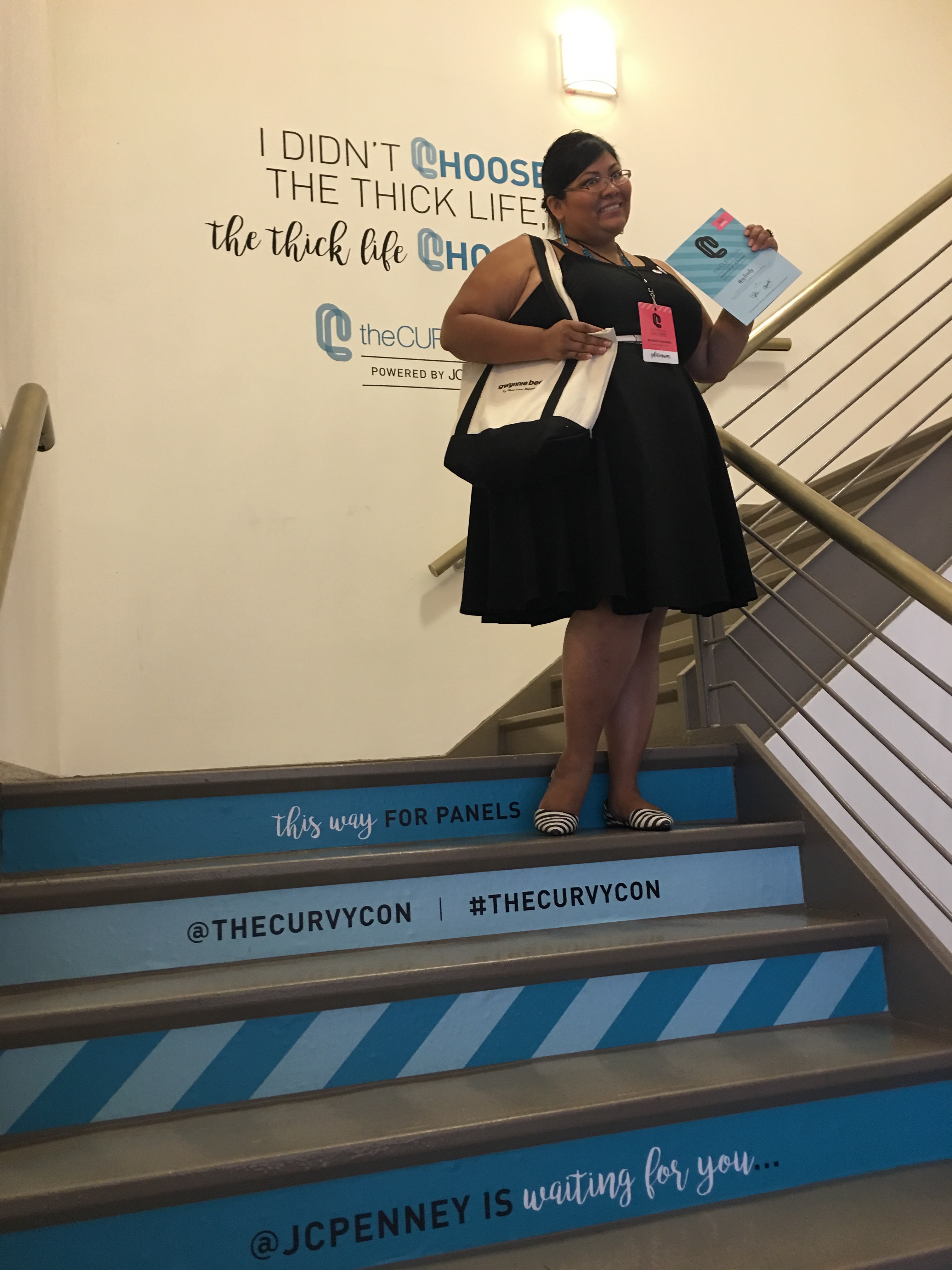 What I Wore: Torrid Skater Dress
When I was planning on what to wear to theCURVYcon there were way too many options for me to consider. Should I wear bold colors or prints, an elegant cocktail dress, or a fancy top with slacks or jeans? Do I want to wear cute heels, flats, or should I wear sneakers (I wasn't sure how much walking I would be doing)?
I had packed different outfits and a bunch of shoes, and figured I would make a decision the morning of. I selected my favorite Little Black Dress (LBD), the Torrid Skater Dress, because of its versatility. I can dress it up or dress it down simply by switching out my accessories and shoes.
Outfit details
 High Neck Skater Dress from Torrid
Belt from Torrid (similar)
Celine Ballet Flats – Merona from Target
Button Flare: Blue Bird Pinups & Native Missfit
Turquoise Bling: Necklace, Earrings, & Ring (personal collection)
The Torrid Skater Dress is a fun LBD. I like this dress for a few reasons:
This dress is fun to accent with colors! I particularly love the turquoise accents because I get to wear my Native bling! But I have accented with various colors: gold, hot pink, navy, and silver.
This is a high quality dress with texture and weight! When I tried this dress on in the store, I was surprised by how heavy the dress was due to the textured fabric. I like this type of fabric because I know it's durable and perfect for everyday use! I also don't have to worry about my dress easily blowing up in the wind (oh it still can flow upward but it just takes a really strong gust of wind).
The skirt of the dress fits me just right! I love skater skirts. I really wish I had discovered skater skirts in my high school days. Skater skirts though can be just a tad too short and don't always provide me with enough bum coverage. However, the skirt of this dress has more than enough fabric to provide an awesome twirl while covering all my assets.
Turquoise Bling & Button Flare
So, I went with the Torrid Skater Dress for one other reason. It was the only dress I packed that let me style it up with my turquoise bling and button flare. Being in New York City and at this high fashion event, I wanted to highlight my Native culture through my outfit, while also showing my rebellious side.
Plus-size fashion is rebellious. This unique culture within the fashion industry is defiant to mainstream norms of what fashion should be (i.e., #Effyourbeautystandards), calls on the inclusion of all body types in the industry, what large bodies can do (i.e., #fatgirlscan), and also calls on clothing designers to include plus sizing in their designs (i.e., #plussizeplease).
I suppose part of this rebel nature is what draws me to the plus-size fashion movement (aside from well the logistics of actually needing clothes that fit me). I'm an activist and while calling for the inclusion of larger bodies in the fashion industry isn't the same as calling for positive representations of Native American people in media or demanding a stop to the exploitation of Native sacred lands, there is a similarity in that both groups – Native activists and plus-size individuals – are seeking acknowledgement and a response to their calls.
To that note, I featured two of my favorite groups, the Blue Bird Pinups (represented by the blue bird) and Native Zinestress (represented by "Native Misfit"), on my outfit. These buttons were the perfect addition to my outfit, tying in aspects of fashion, pinup style, and Native feminism. Be sure to check out these two awesome female-led and female empowering groups! I actually had a third button that I was going to wear, "Indigenous Resistance," but I misplaced it during the morning rush [insert sad face].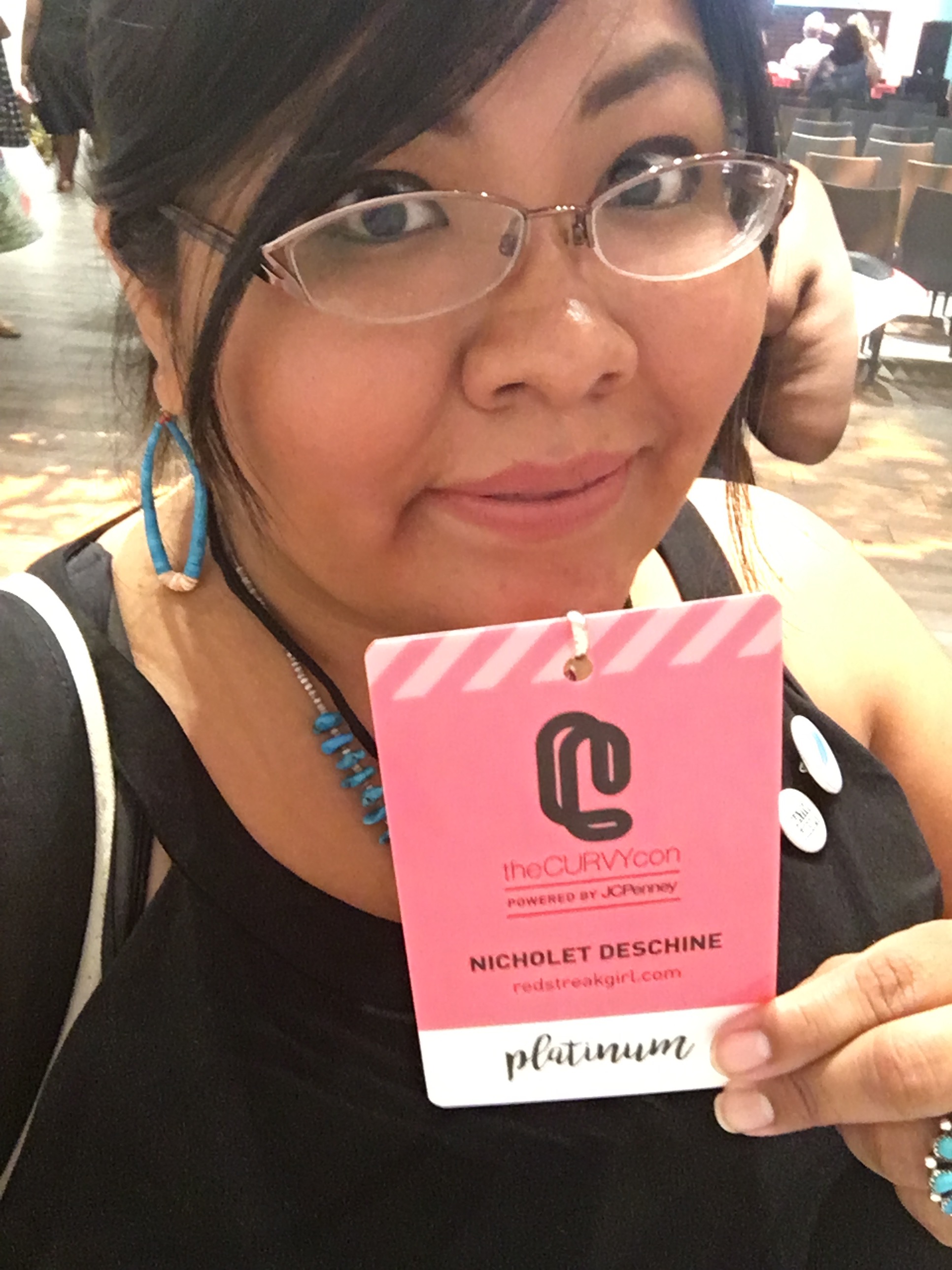 I had a great time at theCURVYcon 2016 and my outfit was the perfect way for me to express my individuality. Can you tell that I'm excited to share with you what I thought of theCURVYcon 2016?
So, don't forget to subscribe to my blog so you can receive blog updates direct to your email! In my next blog update I will share with you what I took away from theCURVYcon as well as my overall thoughts about the event! Learn more about theCURVYcon 2017, which is taking place during New York Fashion Week in September 2017!
-Nicky