Disclosure: I participate in Kiyonna's Blogger Brigade and they sent me this dress in exchange for a review. While this post contains affiliate links, that when clicked on may result in a small commission to this site, all opinions are mine.
I love party dresses especially dresses for holidays and New Years Eve parties, which are extra glamorous. This NYE, I am ringing in 2018 in Kiyonna's Lumiere Lace Dress an elegant sexy cocktail dress. Kiyonna is my go-to online boutique for trendy quality women's clothing for sizes 0x-5x. I've been shopping with Kiyonna since 2010 and have purchased everyday clothing from their bellinis and tops, to their lace cocktail dresses for galas and data nights!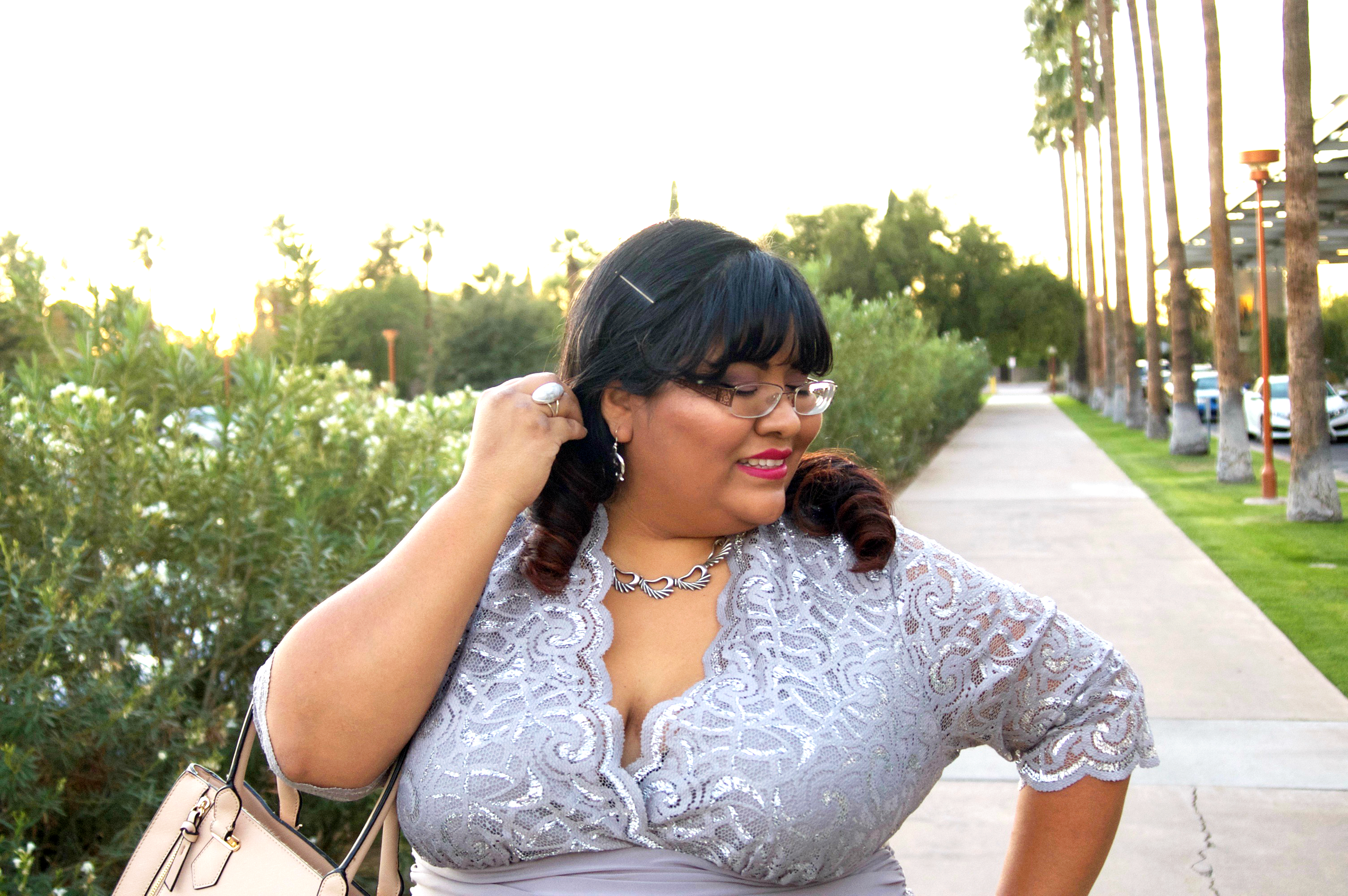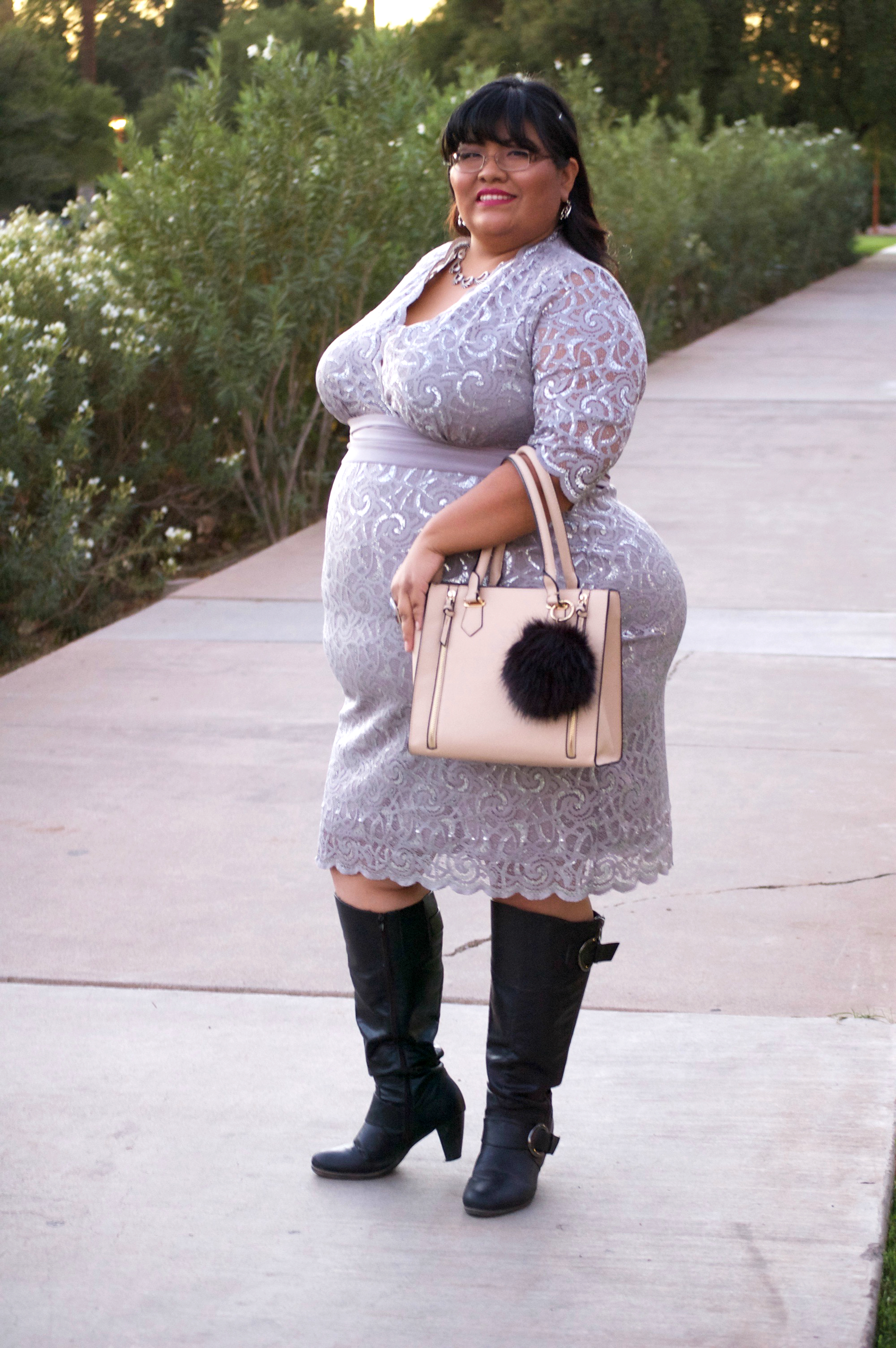 Outfit details
Lumiere Lace Dress c/o Kiyonna
Boots from Lane Bryant, Sold Out (similar, similar)
Satchel Handbag from Torrid, Sold Out (not so similar but cute!)
Handmade Sterling Silver and Agate Rings from Krystal Parkhurst
Handmade Sterling Silver Necklace and Earrings from Mildred Parkhurst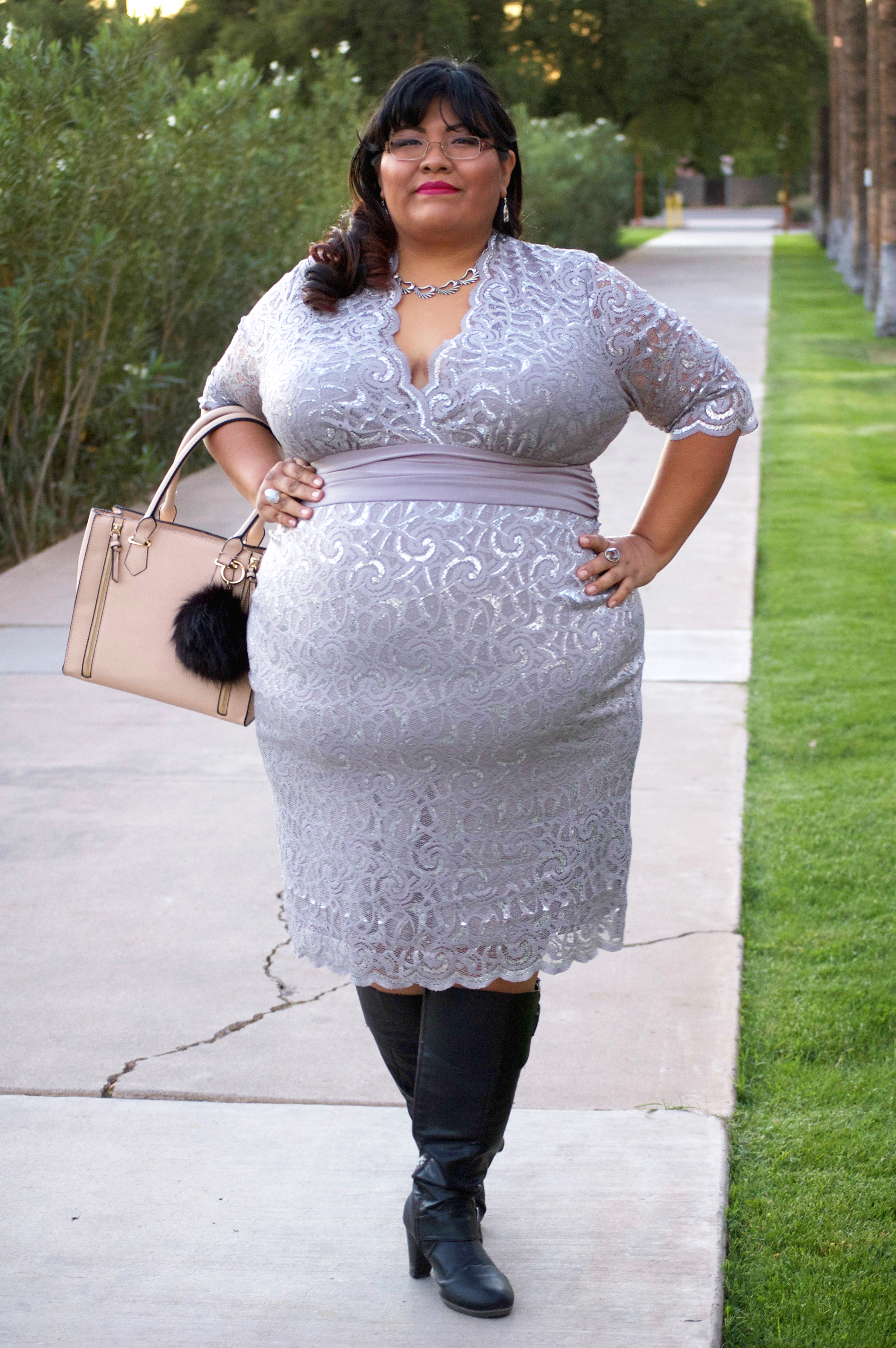 Kiyonna Plus Size Clothing
IMO, Kiyonna designs and manufactures quality clothing. I own many of their dresses that have lasted years and have reviewed a few here on my blog: Retro Glam Lace Dress, Tiers of Joy Lace Dress, and Vintage Dream Cocktail Dress. Kiyonna plus-size women's clothing is offered in sizes 0x-5x, which is the equivalent to the sizes 10-32. Kiyonna provides a Fit Guide that compares their sizing to other prominent plus size clothing companies. For fit and sizing purposes, I go between a size 2x and 3x in Kiyonna clothes depending on the stretch, whether a dress or top, and whether the dress is fitted or flares out. I am wearing a size 3x in the Lumiere Lace Dress.
Kiyonna's Lumiere Lace Dress has a metallic lace overlay and the scalloped lace has just the right amount of stretch. This dress also has more of a bodycon silhouette than some of the fit-and-flare dresses that I already own. While it has a bodycon look, the dress is not suffocating and the fabric is flexible enough without being too thin. While this dress does have a deeper v-neck, than I'm used to, the scalloped lace provides some décolletage coverage. What I like about Kiyonna's dresses is that their lace overlay is all over – in the front and the back – whereas some companies may only do a lace overlay in the front and provide a solid colored paneling for the back.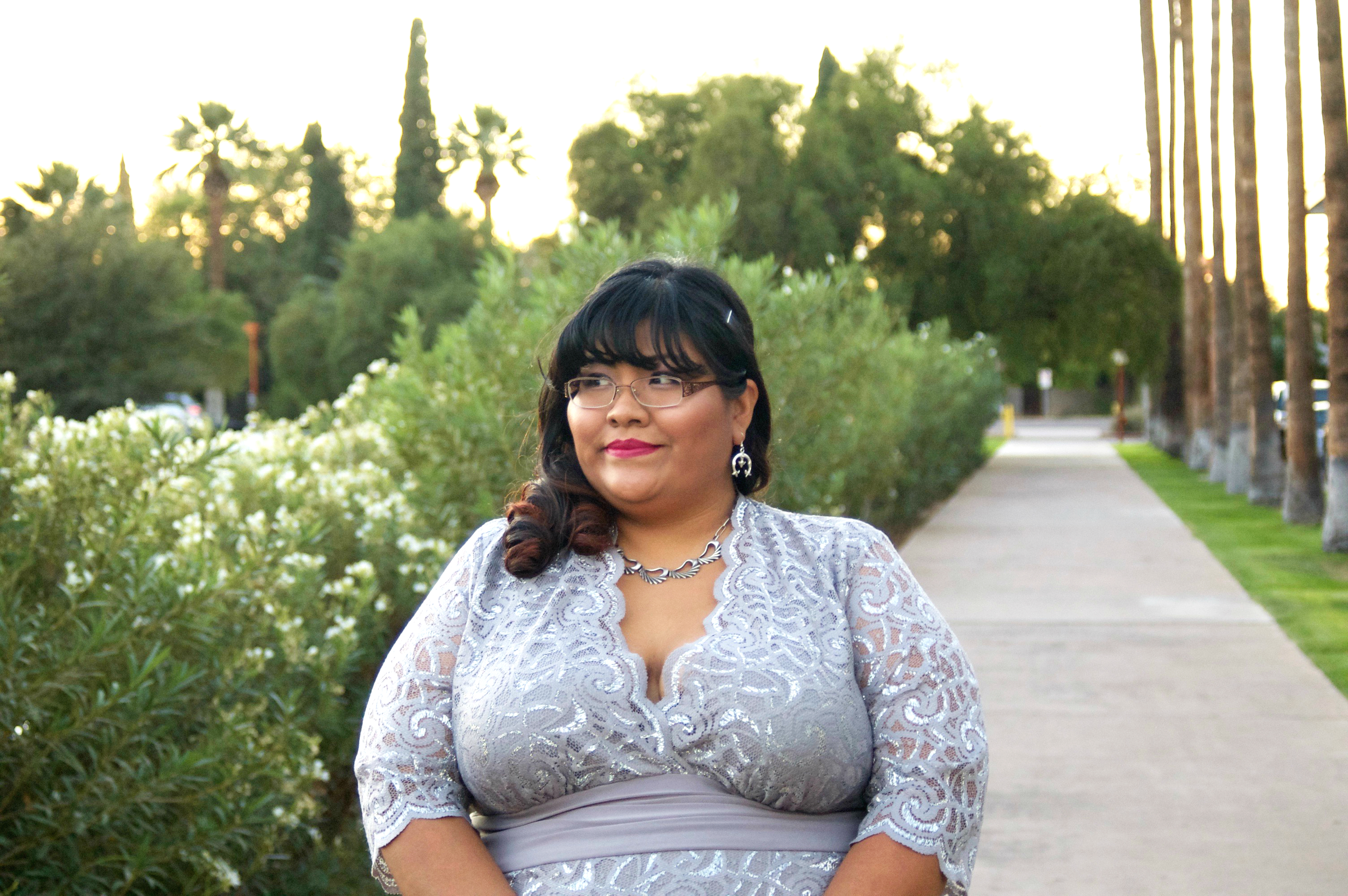 Native Bling
The metallic sheen and scalloped lace neckline of the Lumiere Lace Dress proved a slight challenge in deciding how I should style the dress. If you're a follower of my blog you may have noticed that I love to bust out the Native Bling and wear my Navajo Squash Blossom Necklace with any and every semi-formal event. I use every excuse to wear my squash blossom necklace because it's a jewelry piece handmade by Navajo Silversmith Mildred Parkhurst that I cherish.
I opted to wear a sterling silver bib necklace as it has a water-like design similar to the swirl design in the metallic lace of the dress. I decided not to match my earrings and necklace and wore a dangling sterling silver naja design that is often found in the Navajo Squash Blossom. Both the necklace and earrings are handmade by Mildred Parkhurst, my mother-in-law. My sterling silver agate rings are also handmade by my sister-in-law Krystal Parkhurst.
I added the black knee-high boots and satchel with black pom-pom for a little color but also not to draw away from the beautiful dress.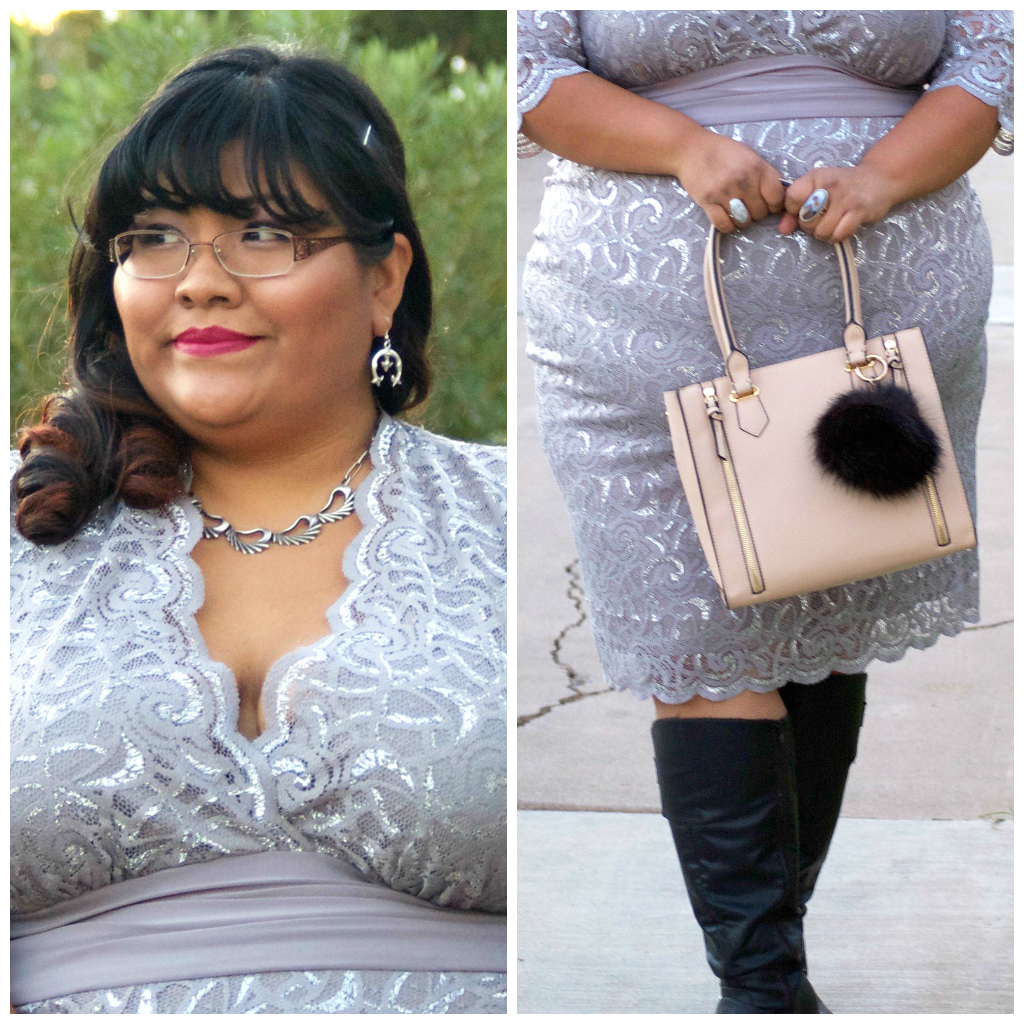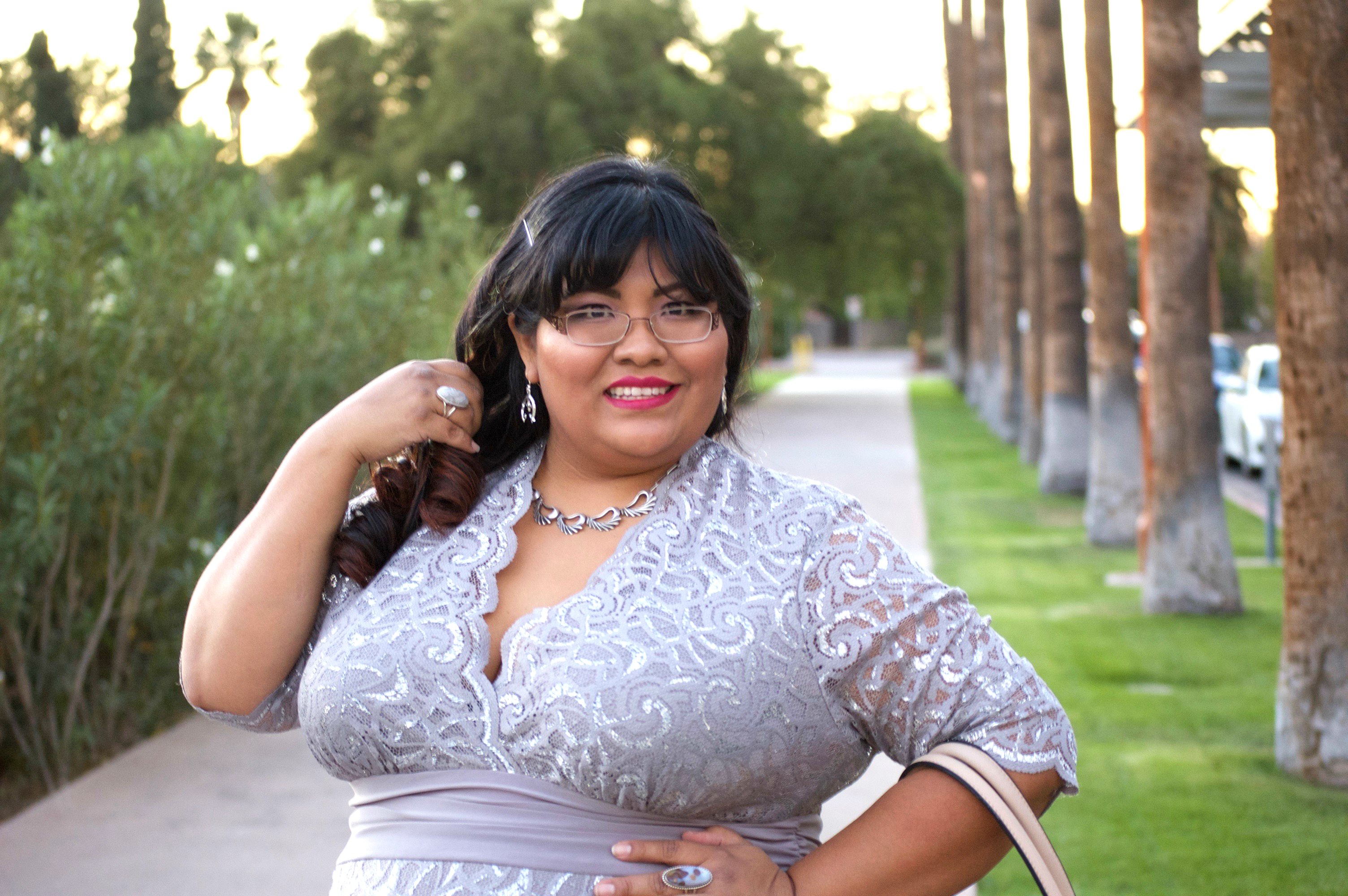 Start off 2018 in style!
While I'm personally obsessed with Kiyonna's lace dresses they have other luxurious cocktail and formal dresses! See below for Kiyonna's guide to some of their NYE looks! Also, Kiyonna constantly offers sales and coupon codes, which is how I've amassed my Kiyonna collection. Take advantage of their current promotion!
Cambria Velvet Maxi Dress, Garden State (Women's Plus Size) – Velvet is the must wear fabric this holiday season! Make a dramatic entrance in Kiyonna's Cambria Velvet Maxi. Made with beautiful crushed velvet, this dress brings all the luxury to your style with minimal effort.
Grand Gatsby Gown, Rose Gold (Women's Plus Size) – New Year's Eve is one of few instances in a year where it's absolutely acceptable to dress up in head-to-toe sequins! Feel like a glamorous debutante from the roaring 20's in Kiyonna's Grand Gatsby Gown, exclusively available in plus sizes. In this gown, you're bound to make a dazzling entrance at your next formal or evening event! Adorned with two different types of sequins throughout, you'll love the structure and shine of this elegant design.
Valentina Lace Illusion Cocktail Dress – Black/Porcelain (Womens Plus Size) – We put the Holla! in holidays. No deception here, just fabulous style with Kiyonna's Valentina Illusion Dress. Get a knockout hourglass silhouette in this bodycon dress no matter your shape thanks to contrasting black lace side panels. The lace also continues to the back of the dress for a completely different look from behind. You won't be able to keep your eyes off yourself in this sexy dress and neither will anyone around you.
Tantalizing Twist Dress, Black Noir (Women's Plus Size) – Treat yourself to this gorgeous, fully-lined sheath dress with adjustable flutter sleeves that can be worn on or off the shoulder for a luxurious, on trend look! With twist detail at the shoulder straps, alluring gathers that center at the bust and a ruched waistband, you and your curves will look like a dream. Wear it as a cocktail dress, special occasion or party dress-you'll definitely be the one for them to impress.
Whether you're a glamazon, like me, or going casual I'd love to see what you're wearing this New Years Eve! Share your outfits with me on Instagram or Facebook!
Happy Holidays!
-Nicky