Disclosure: This post may contain affiliate links that when clicked on may result in a small commission to this site but all opinions are mine.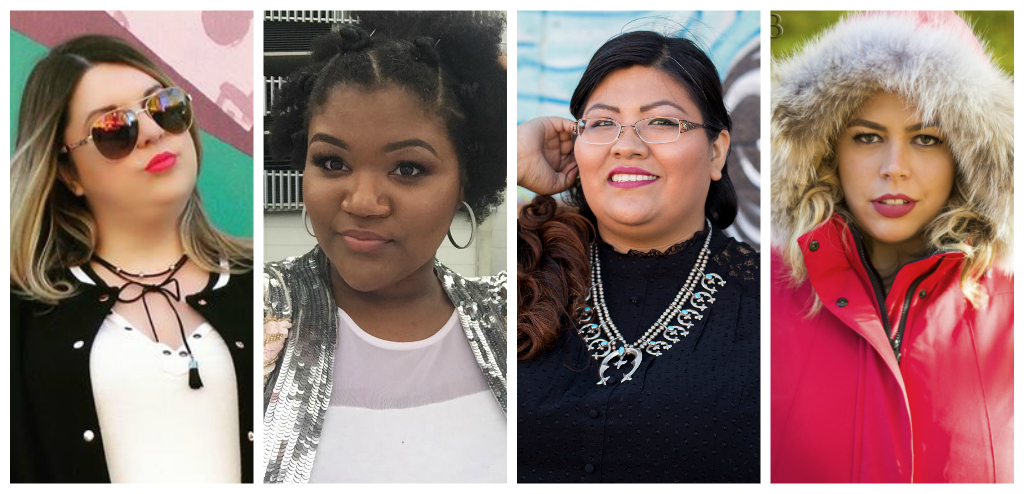 What happens when four fashion bloggers share a hotel room in New York City to attend theCURVYcon during NYFW?! A fashion blogger collab, of course! I'm super excited to introduce you to my blogger roommates, Sharita, Emily, and Jo Elle  – all four of us came to meet up in NYC for theCURVYcon. Three of us collaborated on styling Seven7's Denim Shirt. If you like this collab and want to see more from us, please show us some love by visiting each other's blogs, commenting, and sharing our posts with your friends!
theCURVYcon took place this past September 2017, DURING NYFW, and I ended up traveling solo and sharing a room with these three fashion bloggers. I was a tad nervous about traveling solo and "not knowing anyone" but this ended up being one of the best experiences I've ever had while traveling solo. My experience with these lovely ladies at theCURVYcon would be a whole other post but I will sum it up by saying that I love these ladies and am looking forward to hanging out with them again for theCURVYcon 2018!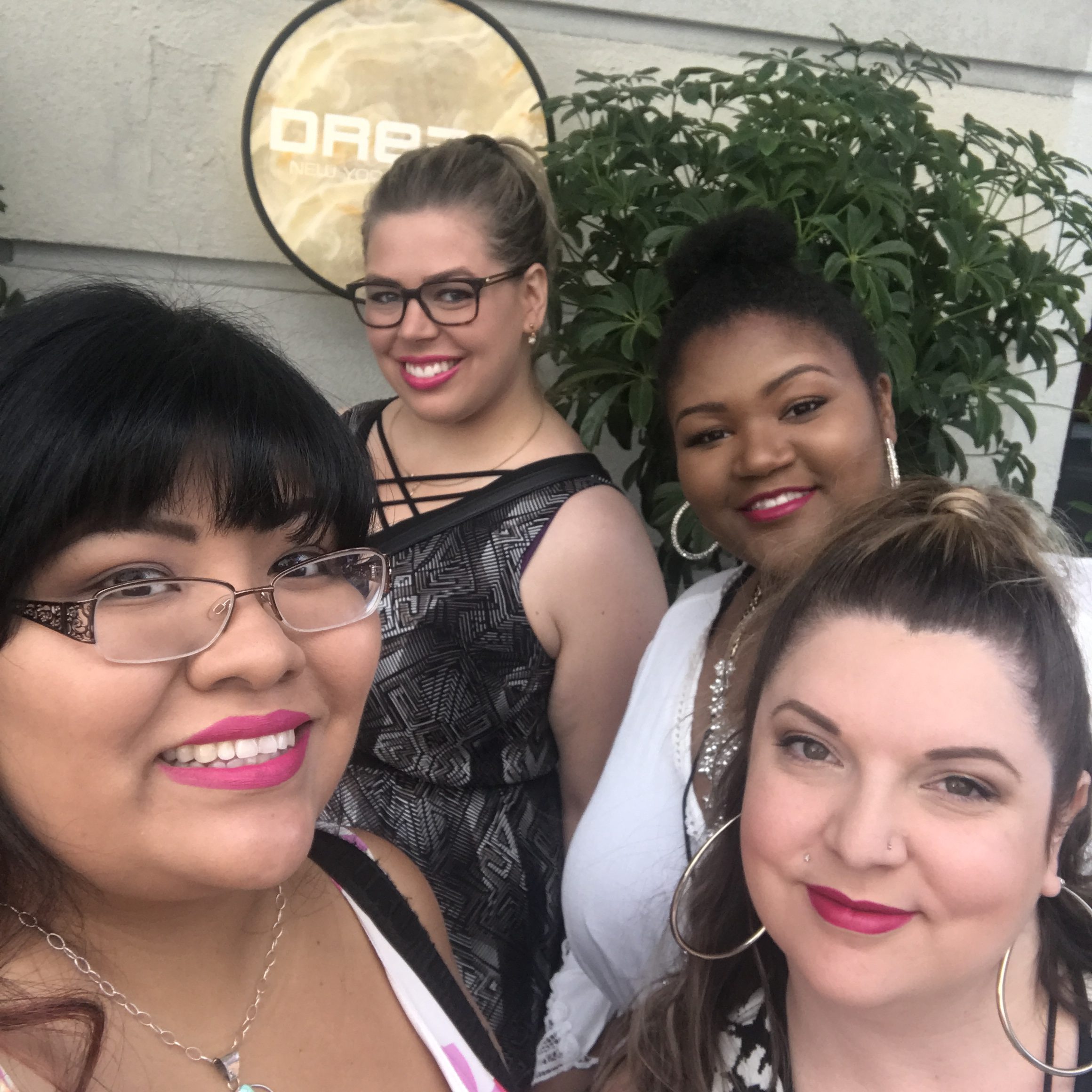 Surprisingly all four of us were Platinum VIP Ticket Holders, which meant that we would all have access to the same VIP events and VIP Swag Bag! Part of the VIP Swag Bag included picking out a shirt and jeans from Seven7. While size options were limited by the time I picked up my VIP Swag Bag all four of us picked out a Seven7 denim top and three of us decided to style it and share with our readers.
Styling The Seven7 Denim Shirt
The Seven7 shirt I selected was a Tie-Front Denim Shirt in size 22/24. Normally, I wear a size 24 in tops but because this is a button-up shirt I would need a size 26+ for the buttons to lay flat when fully buttoned up (so there is no button gap at the bust). Right now, in a size 24 I could button all the buttons but there would be a button gap around my bust.
Here in Phoenix Arizona, the temperatures are still in the low-mid 90's (F) and the air conditioners may be blasting freezing air inside buildings so layers work here just as they may in other places that are experiencing traditional fall weather.
For this outfit, I layered the Seven7 denim top over a black tank top, rolled the sleeves up, and tied the shirt at the waist. I wore the denim top with a navy blue polka dot skirt (that has pockets!). To add a little color to all the blue, I wore a chunky earring of a design of a Navajo Wedding Basket.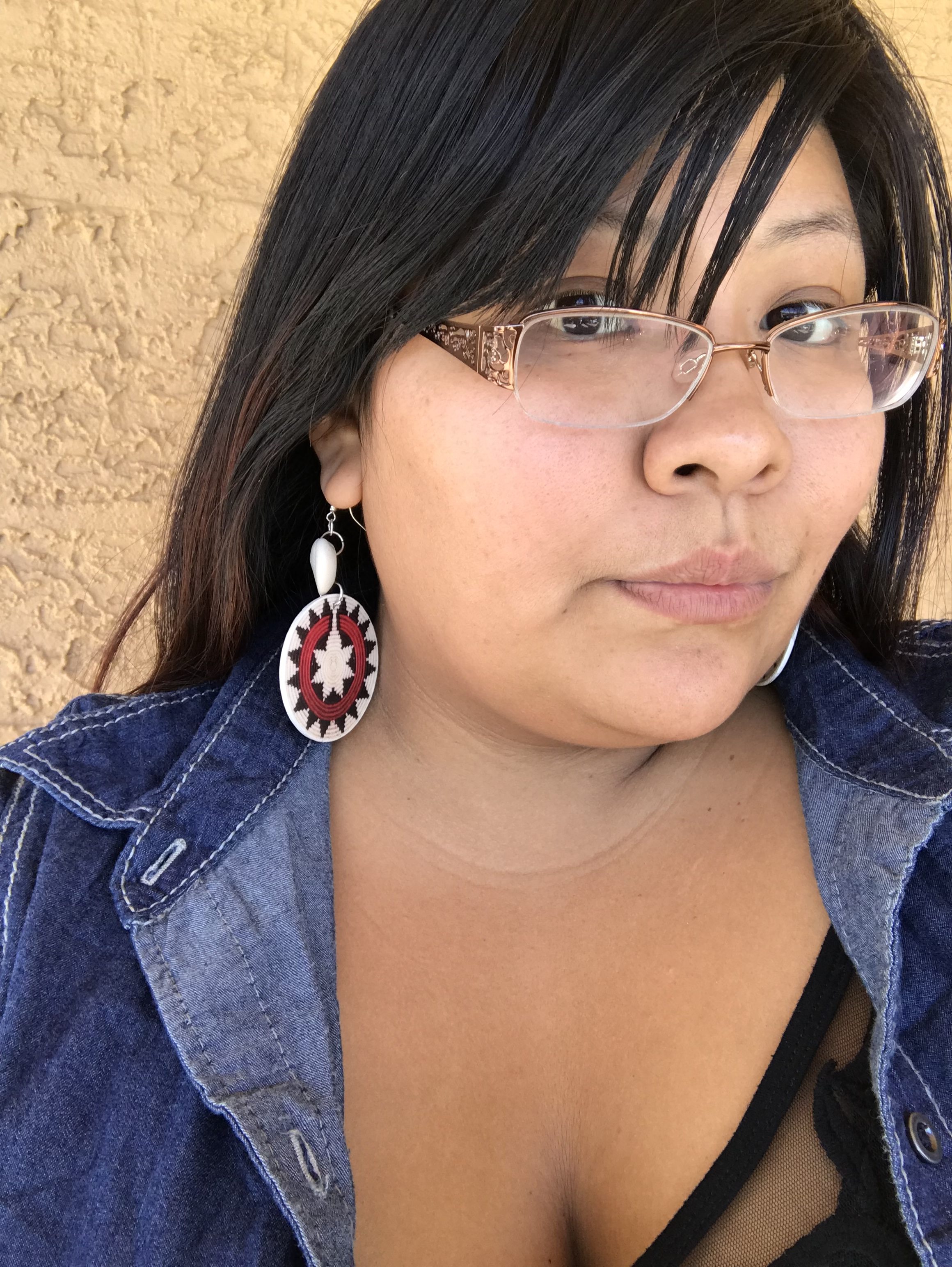 Outfit details
Tie-Front Denim Shirt from Seven7, Gift in theCURVYcon VIP Swag Bag
The Kate Midington in Navy Polka-Dot from Society+ (red, blue, dark teal, berry)
Black V-Neck Tank from Torrid, Sold Out (similar)
Navajo Basket Graphic Earrings with Shell from Littlesky Customs
Boots from Lane Bryant, Sold Out (similar, similar)
Mint Tote Bag, ModCloth Gift in theCURVYcon VIP Swag Bag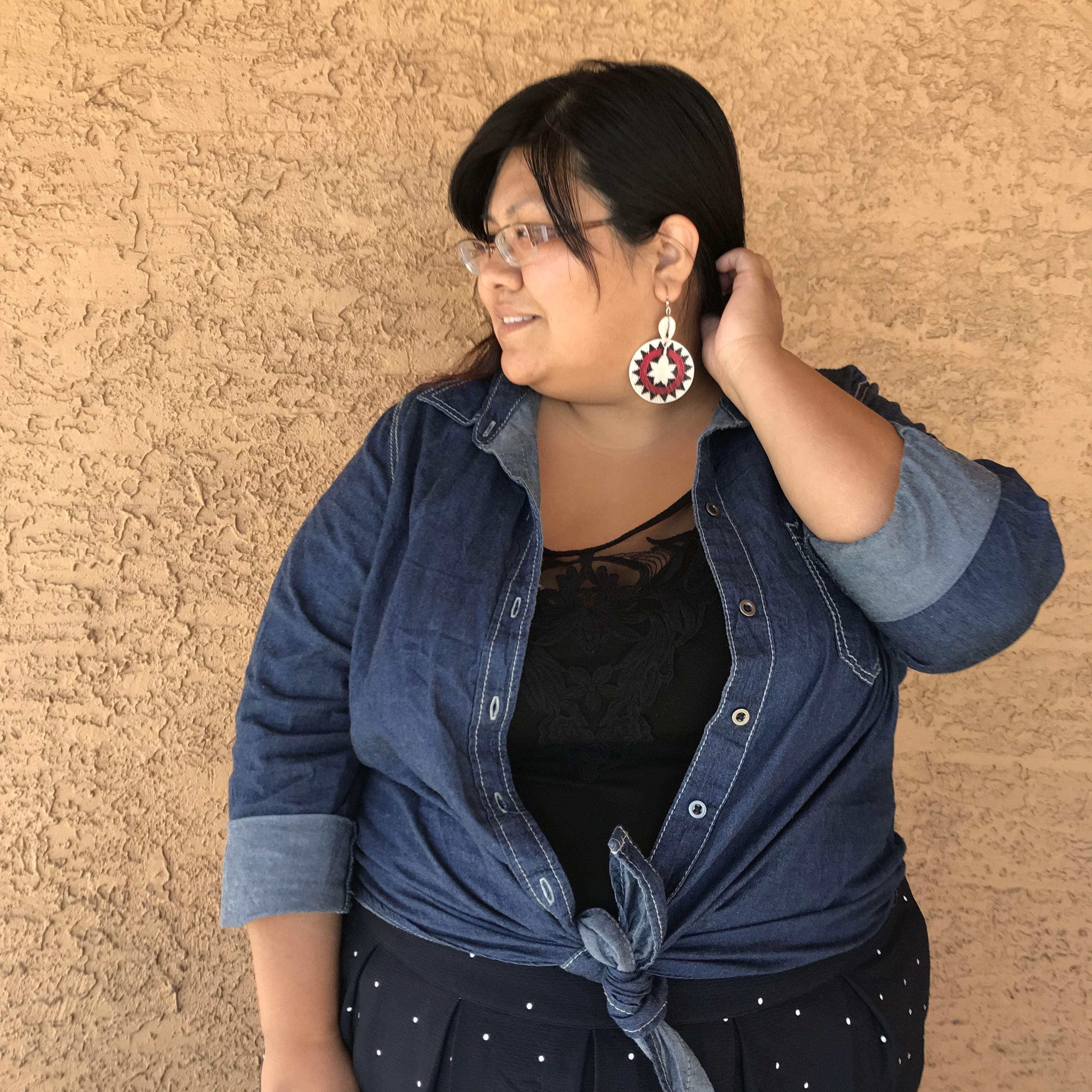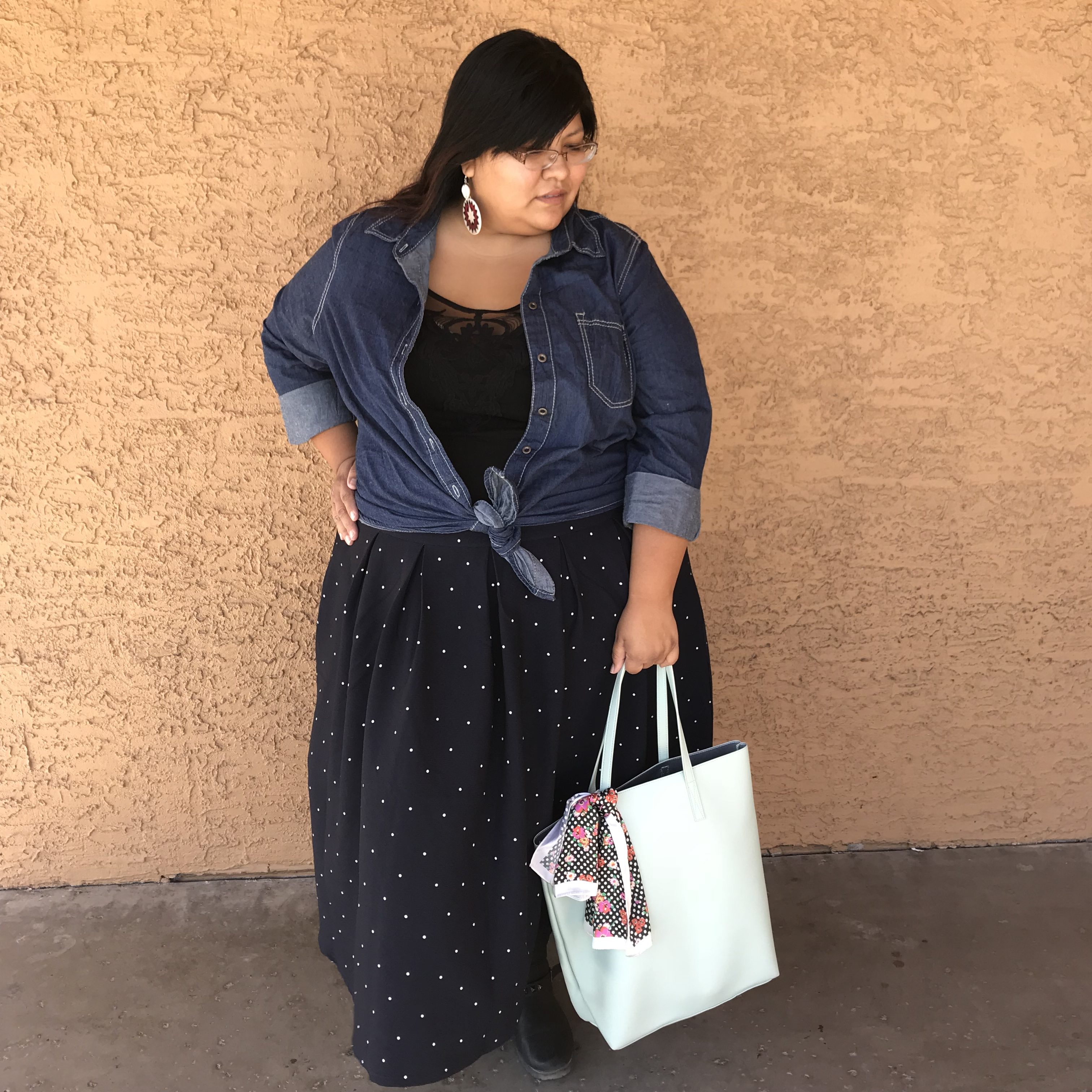 Meet The Bloggers, My Roomies!
Meet my awesome roomies and visit their blogs to see how they styled their Seven7 denim shirt!
Emily is a fashion blogger from Montreal Canada and is the Creator and Executive Producer of the Montreal + Fashion Week! Below is a teaser of Emily's style, click HERE to to read more about Emily and her outfit!
Instagram / Facebook / Twitter / Snapchat: meme-roye / Website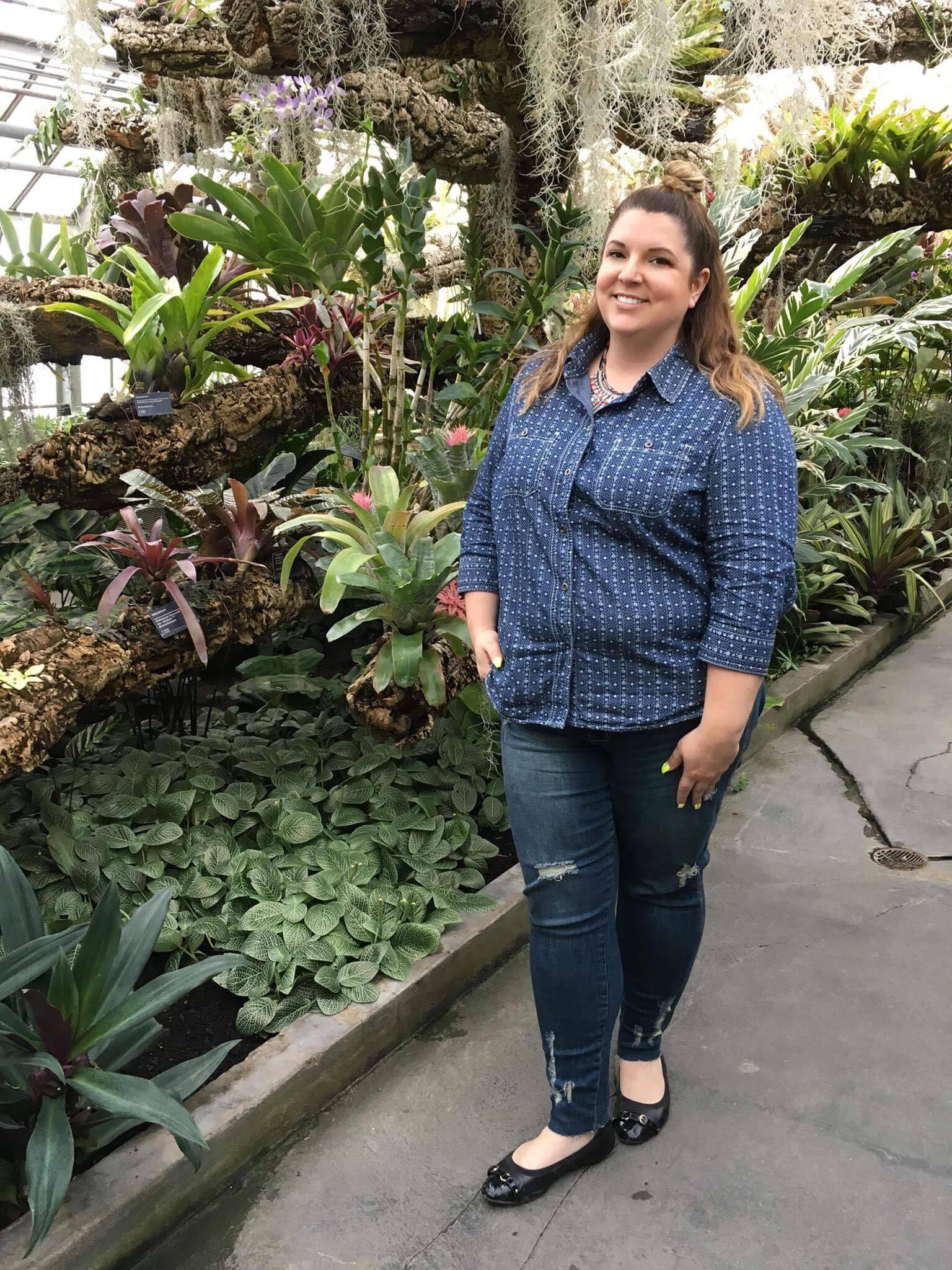 Sharita is a fashion blogger, event creator, and mover & shaker from Anchorage, Alaska. Below is a teaser of Sharita's style, click HERE to read more about Sharita and her outfit!
Instagram / Facebook / Twitter / Pinterest / Website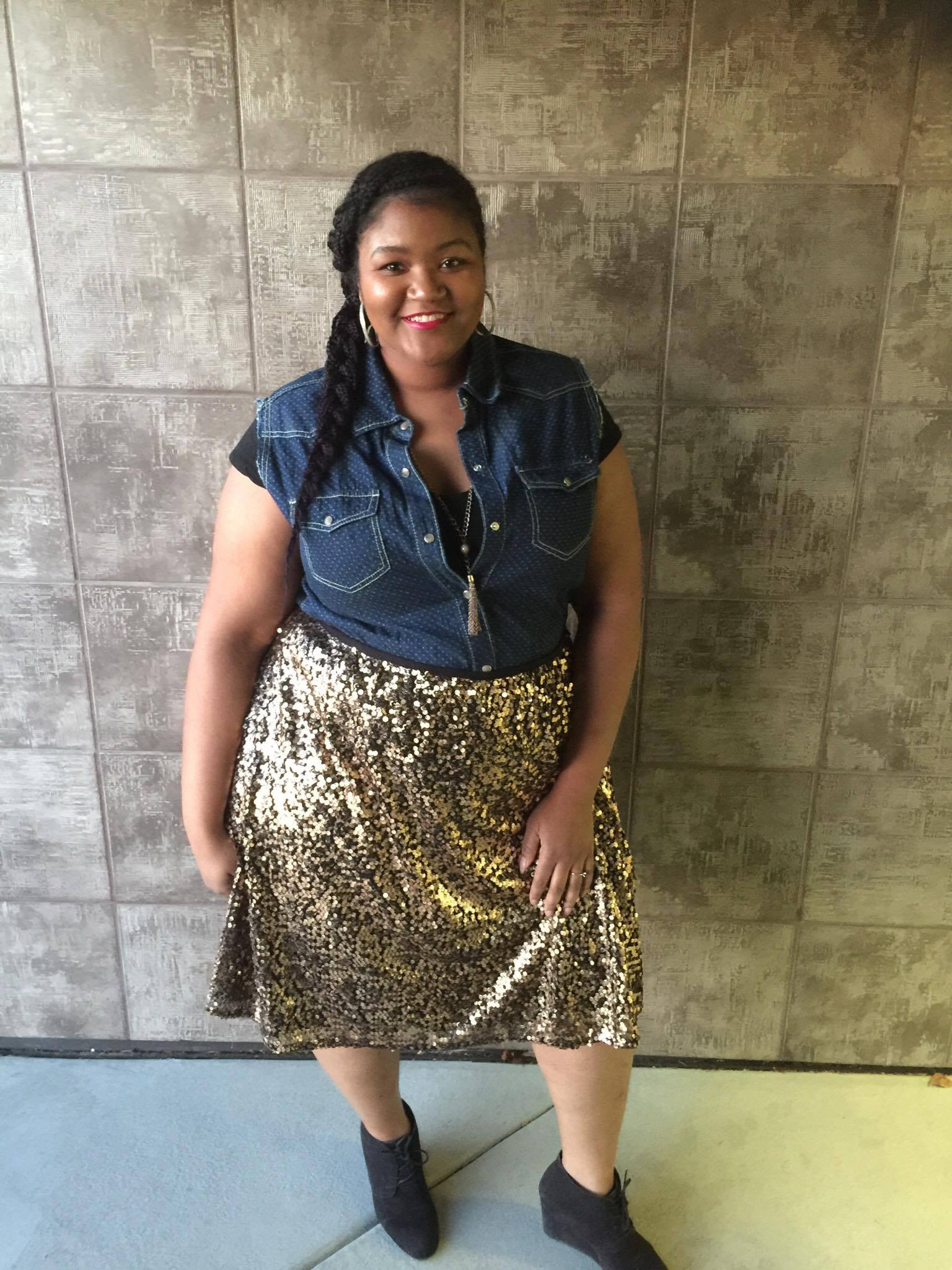 Joëlle is a model, fashion blogger, and activist/motivational speaker for body diversity in fashion from Quebec Canada. Joëlle has been busy motivating others since theCURVYcon and we look forward to her joining a future collaboration!
Instagram / Facebook / Snapchat: jovailla / Website
We hope in the coming year to bring more styling collaborations. Is this something you would like to see more of? Let me know in the comments what you think of this collaboration, and your thoughts about my or the other blogger's outfits!
-Nicky
SaveSave
SaveSave
SaveSave
SaveSaveSaveSave
SaveSaveSaveSave
SaveSave
SaveSaveSaveSave
SaveSave
SaveSaveSaveSave
SaveSave
SaveSave