I love seeing complete outfits from my favorite fashion bloggers and the places they wear them to because it gives me an idea of how to style my own wardrobe and inspires me to think outside of my comfortable box to try new clothing and brands. But purchasing new clothes just to give it a test drive, or constantly visiting stores can be expensive and tiresome.
To explore the fashion world and determine my style I am a member of Gwynnie Bee, a clothing rental service, which gives me access to quality plus-size clothing brands. Basically, I closet the items I'm interested in wearing and once an item is available Gwynnie Bee will send the item to me. Once I'm done wearing the item I send it back in the prepaid blue envelope and wait for the next item. Here is a screenshot of 18 items waiting "on the rack" in my closet.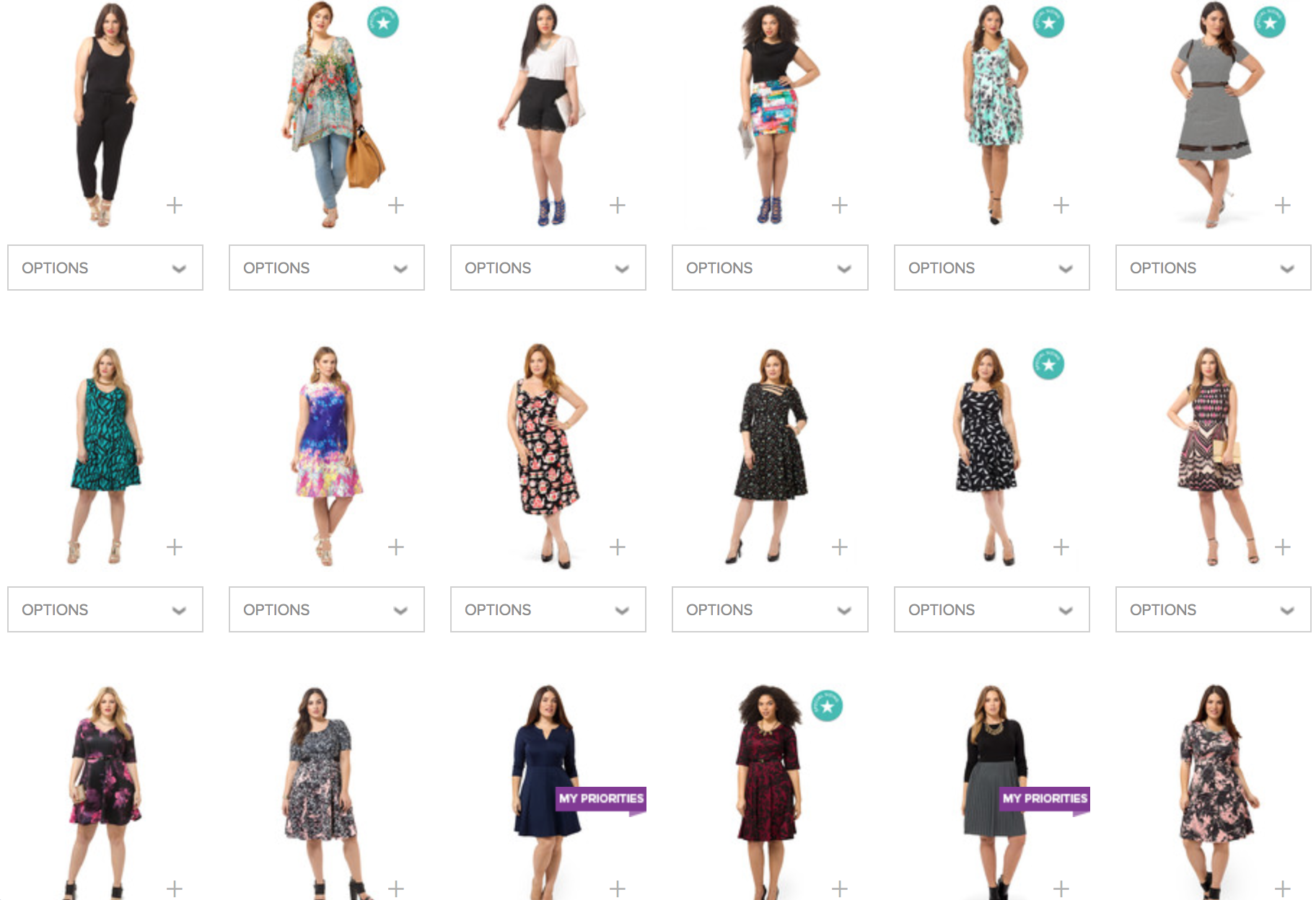 There are quality plus-size clothing brands available but most brands are simply not available in major brick and mortar stores. In addition, I used to be cautious of ordering clothing online but Gwynnie Bee's service lets me try it without having to buy it and so I'm not upset about a clothing item not fitting or working for my body…I just send it back!
Not every clothing item I have received from Gwynnie Bee has been a hit. Sure, I read the reviews and tips left by other members that may suggest an item runs large or small, or the fabric is thick and may not stretch, but these tips may not always be available on new items and even after considering the tips an item I receive may not work with my curves.
Today's blog is about one of those outfits that I did not wear. Read my review after the pictures.
Outfit details
Carmakoma Damavand Dress
Round Toe Heels from Target
Flower Belt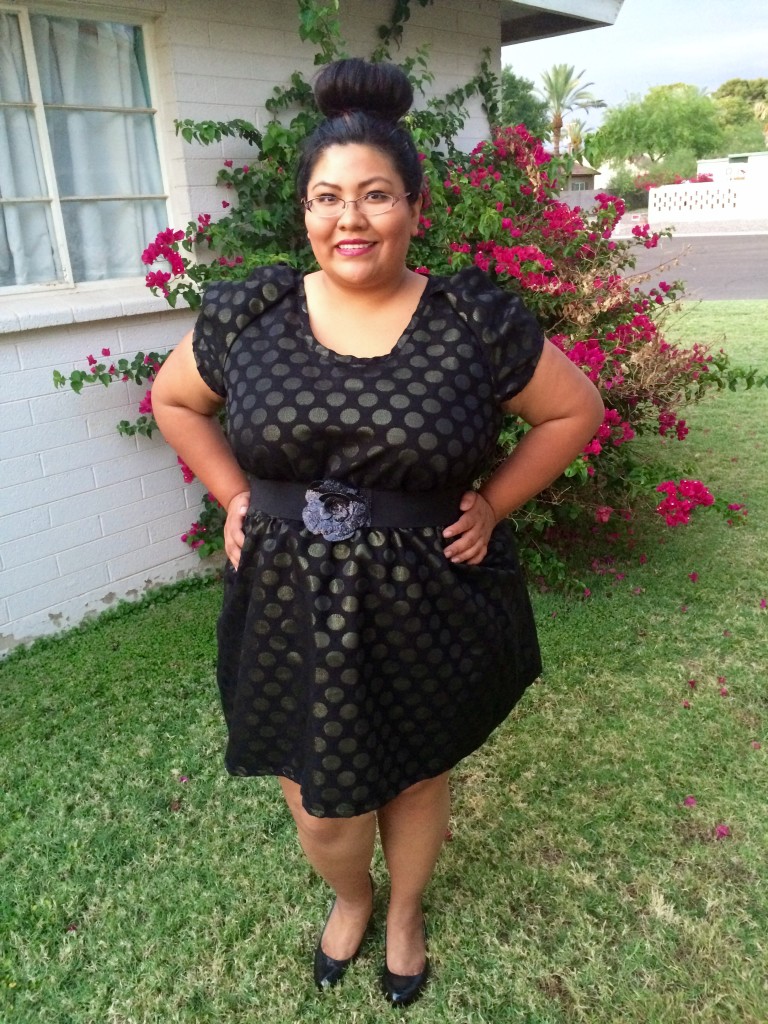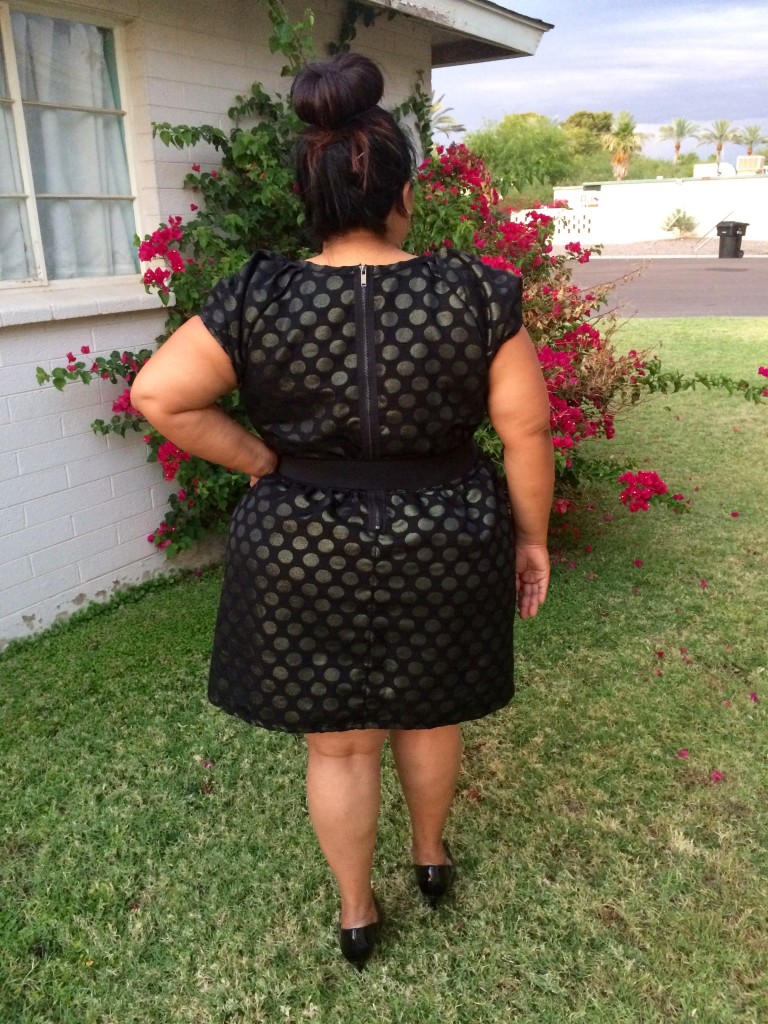 I was super excited to receive this Carmakoma dress and I had planned to wear it for my birthday night out. The dress is very cute. I love the metallic gold polka dots on black and I prefer an empire waist so this dress was almost perfect for me. Its only shortcoming was that it was too short (you can't tell in the pictures) and sitting down in it made me overly self-conscious. If only it was longer, it would have had a grand time at my birthday party.
Thankfully, I received it from Gwynnie Bee a couple weeks before my birthday so I still had time to find my party dress. But this is what I LOVE about Gwynnie Bee, I get to try new styles out in the comfort of my home, without having to purchase clothes that I may or may not feel comfortable in.
If you're interested in trying Gwynnie Bee you can sign up for a FREE 30-day trial. The 30-day subscription includes access to their expansive closet of plus-size clothing, unlimited clothing exchanges, and free shipping.
If you do sign up for the free trial, let me know! I would like to know what clothes you receive.
-Nicky