Disclosure: This post may contain affiliate links that when clicked on may result in a small commission to this site but all opinions are mine.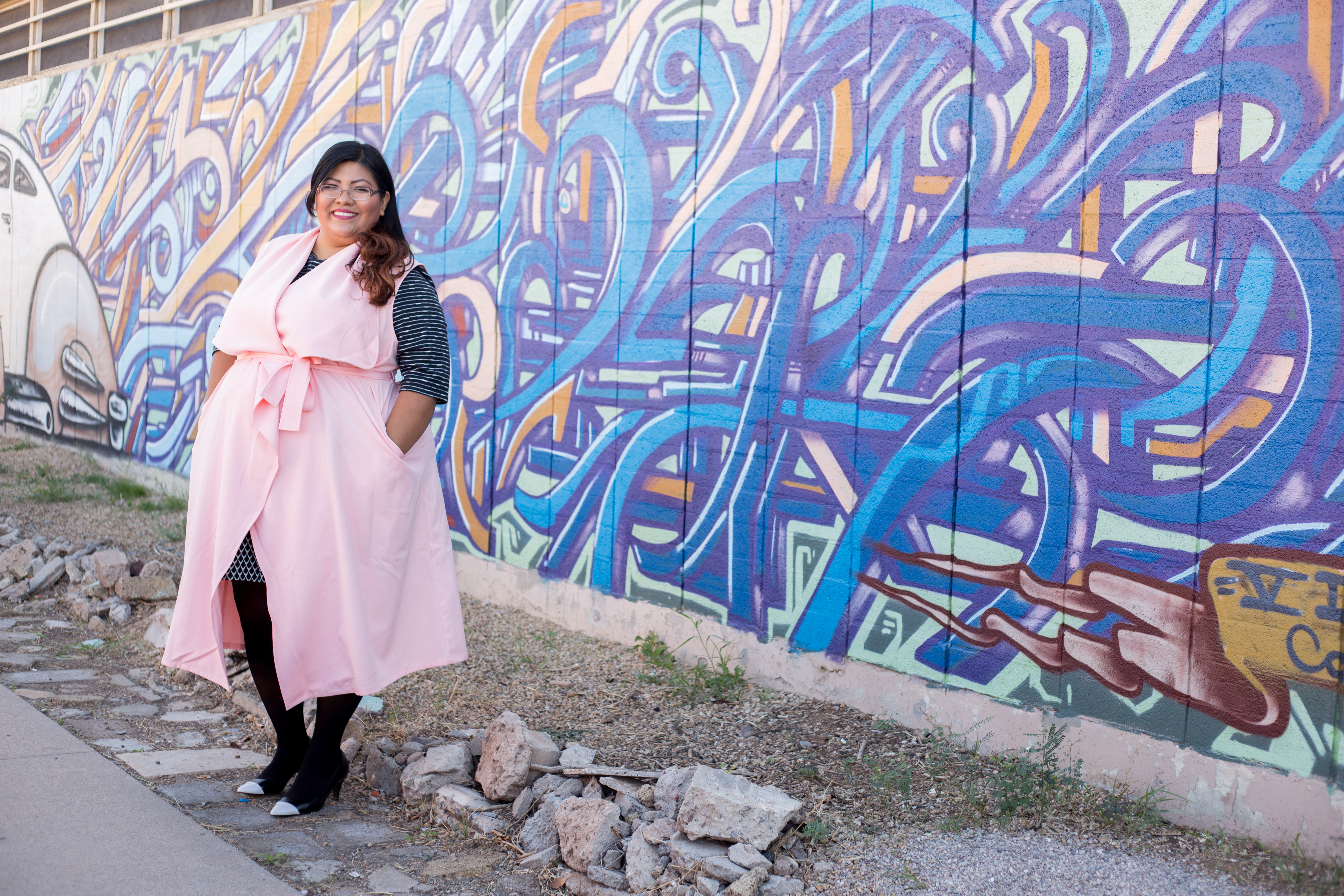 Today's outfit on the blog is a great example of a winter to spring transition outfit. February is a strange moment in fashion because in some places it is still winter and people are still dressing for cold weather. And yet in February, the so-called month of love (i.e. Valentines Day), I start seeing spring fashion like bright spring florals and sundresses appearing in stores.
I'm wearing a not-so-thick-but-not-too-thin black and cream dress and layering this outfit with black tights (to keep my legs warm) and a large pink vest. This outfit is perfect for today's weather in Phoenix, which is warm during the day and still crispy cool in the evening. Since the weather can sometimes be unpredictable this outfit gives me the option to layer up or take the vest off if I'm too warm.
Here are some tips to transitioning your winter wardrobe for spring:
Layer up. If you are wearing a thick sweater or heavy dress, layer it with a lightweight shawl or vest. If you are wearing a tank top or thin flowy dress, layer it with a thick jacket or cardigan sweater.
Contrast the darker winter tones with pops of spring colors or florals.
Show some skin! Consider wearing nude tights or no tights at all.
Outfit details
Fit & Flare Taylor Dress rented from Gwynnie Bee
 Chicest Of Them All Vest (Pink) from Society+
Structured Faux Fur Charm Tote Bag from Torrid, Sold Out (similar)
Pointed White Toe Cap Heels from Lane Bryant, Sold Out (similar, similar)

Gwynnie Bee
This fit & flare black and cream Taylor Dress is a rental from Gwynnie Bee, a clothing subscription service for women's clothes in sizes 10-32. I actually had this dress for about 2 months because it was great for the cold North Dakota fall-winter weather. However, despite really enjoying this dress I returned it to Gwynnie Bee because winter clothes are less likely to be worn and thus worth less their value in Phoenix Arizona. Gwynnie Bee is a great service to rent those transitioning clothes that I have an occasional need for but I don't want to outright buy and keep in my closet.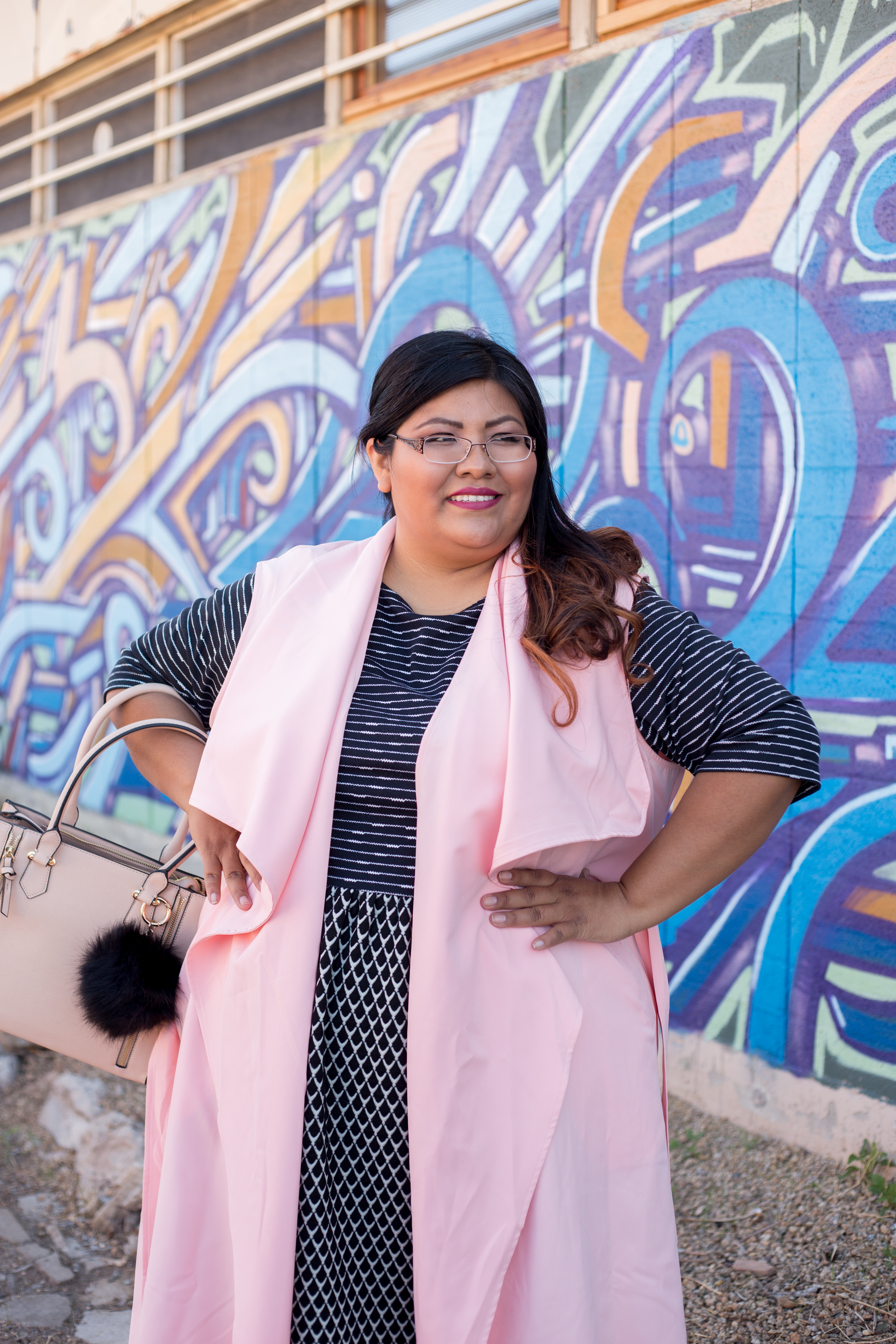 That is one of the features of Gwynnie Bee that I enjoy, I can exchange clothes quickly, hold on to them for a little longer, or outright purchase items I love. I am a paying member of Gwyniee Bee for more than 3 years and if you want to try the service you can sign up for a FREE 30-day trial (thank you for using my referral link!). The 30-day subscription service includes unlimited clothing exchanges and free shipping. Gwynnie Bee also has a feature to prioritize a garment so you would be more likely to receive the garments you really want to try.
Here is a snapshot of what is currently in my closet: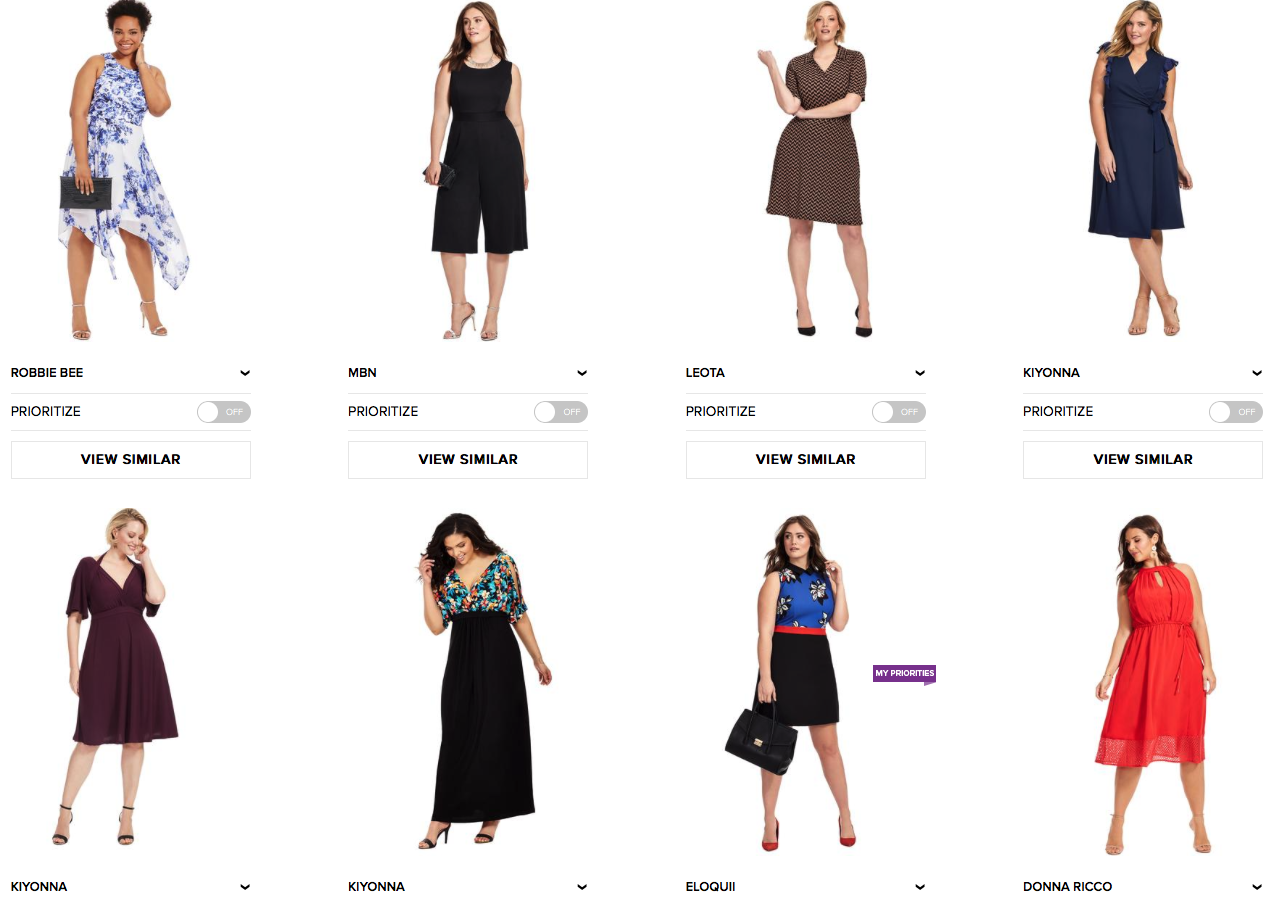 Accessorizing
I feel like accessorizing is an art. I generally rotate through my jewelry collection of necklaces and earrings but sometimes an outfit presents me with a question of whether jewelry is the best accessory. Take this outfit as an example. The pink vest is an accessory in and of it self (AND it has pockets!!). The belt helps to tie the outfit together if I want to accentuate my waist or not. With such a bold clothing piece I think a necklace would get lost somewhere in the large lapels. I also am not wearing jewelry in my past two outfit posts featuring this vest (HERE and HERE).
I selected this structured handbag because of the blush pink color but also because of the big black pom-pom. The pom-pom when up against the pink vest draws attention to this cute handbag, which has gold-toned fixtures. I also decided to extend the black and white colors of my dress to my toes with the white toe-capped heels. Lastly, when the vest is closed and tied together I like how the patterns of the dress peek through the pink vest, especially the hem of the dress.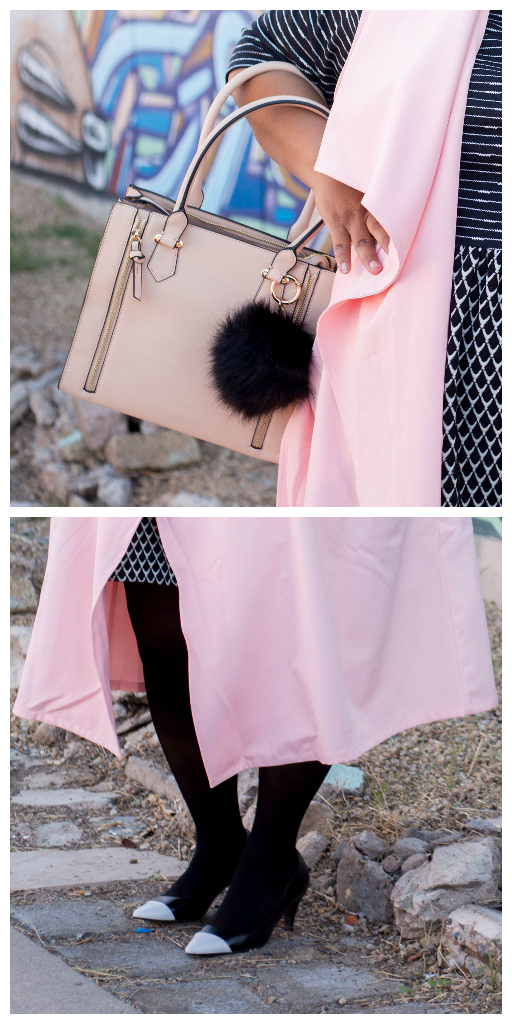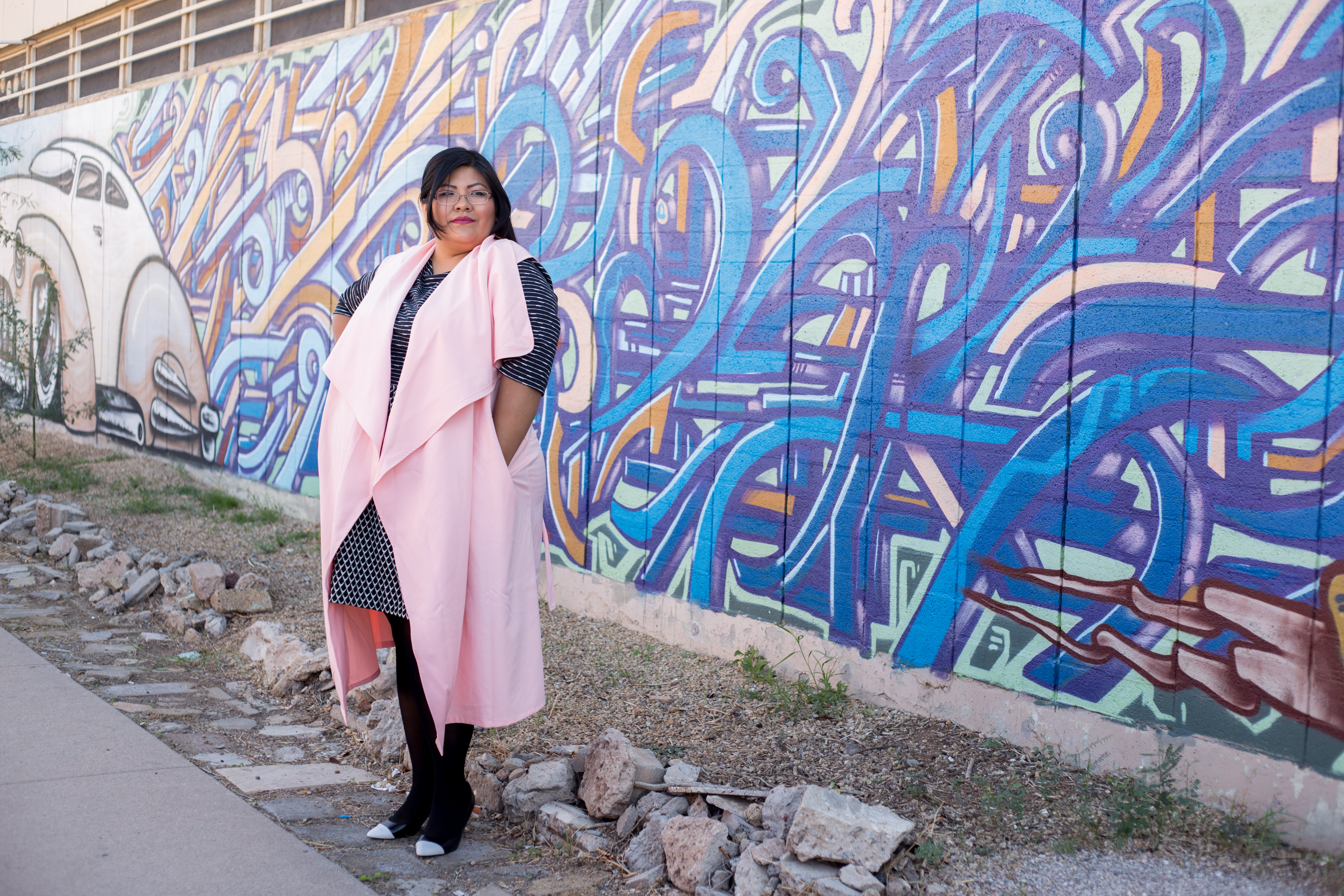 This was a great transitioning outfit for winter to spring because I was still able to make use of the warmer dress before sending it back to Gwynnie Bee. I think not wearing tights would have helped me to not feel too hot while I was walking around in the sun. But the tights were great for keeping my legs just a tad warm while working in an office with AC. This baby pink vest was just the right pop of color against the black and white pattern of my dress.
What is the weather like where you are now? Are you transitioning your winter wardrobe to spring or are you already experiencing sunny warm weather?
Photos by: Maeghan of Maeghan Gerloff Photography.
-Nicky