Disclosure: This post may contain affiliate links that when clicked on may result in a small commission to this site but all opinions are mine.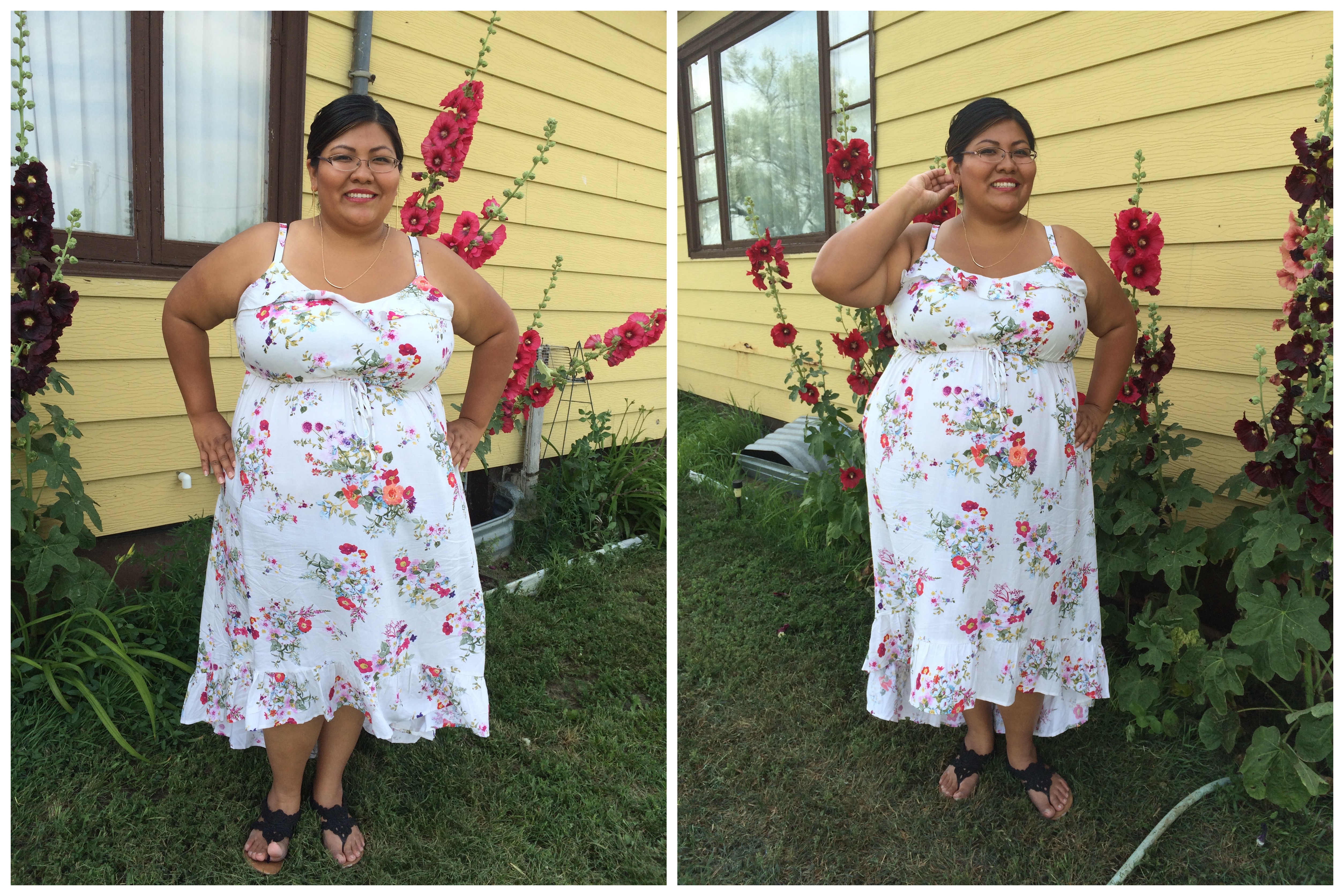 The hot dry summer, especially here in Phoenix AZ, calls for lightweight and airy summer dresses to chill in. A couple years ago I wrote about Torrid's Floral Challis Maxi Sundress (similar) and what to wear under a white summer dress. That dress (pictured above) is still in relatively great condition and I still wear it to this day. Although I purchased that dress two years ago it still is one of my go-to dresses for the spring and summer. While Torrid no longer sells that specific dress I've rounded up 5 similar summer dresses that I could see myself chilling in, especially in 106° temps! I'm looking to add one of Torrid's summer dresses to my closet and could use your feedback! Which is your favorite?
1. Chill your legs and shoulders with a fun maxi dress.
Maxi dresses are a closet staple for the summer but mix it up with this Off The Shoulder Smocked Hi-Lo Maxi Dress that will let you feel the summer breeze on your legs and shoulders.
Want to wow at your next warm weather function? This dress is a duh. The navy challis hi-lo maxi dress is ready for the temp to start climbing with a pink and white floral print. The smocked bodice is so comfy you'll never want to take it off, while the off shoulder sleeves are so sexy no one else will want you to either.
This coral maxi dress tells a love story. The cinched, lace trimmed bodice has the sexy excitement of a first date; the stretchy smocked waist transports you to the honeymoon phase (hello comfort). The lace trimmed hi-lo hem has its own happily ever after.
2. Get away from the heat in this lightweight dress.
This Floral Print Ruffle Challis Tank Dress is the perfect dress for your summer vaca – it is lightweight and takes up less space in a suitcase! Throw this dress on over your swimsuit and head to the beach! This Floral Print High Neck Challis Hi-Lo Dress is very similar but in the trendy hi-lo style!
On an island in the sun, you'll be playing and having fun in this vacation-approved tank dress. The ivory challis is our lightweight answer to any cold weather, with a multi-color floral and paisley print that'll get you noticed on the beach.
The black challis on this dress literally takes flight with a flowy feel and a hi-lo hem that lends air supply to your strut. The high neck keeps you covered up, but the sleeveless bodice shows off those arms. The floral print is so amazing, we kind of want it all to ourselves (but we'll share with you).
3. Stay chic this summer despite the summer heat.
This cute Crinkled Chiffon Tank Dress is a lightweight summer dress for those not so causal days. Add a cardigan and take your summer dress to work!
This dress? It's a girl thing. The fully lined mini sports a crinkled white chiffon overlay that has that coveted delicate, wispy aesthetic with a gorgeous floral print. The v-neck tank style sports a slightly gathered waistband and a smocked back. The cutout strappy back flaunts just a hint of skin.
4) Chill the weekend away in a casual summer dress.
This Hacci Knit Trapeze Dress is perfect for lounging on a hot summer weekend. Rompers are a fun flash back to the 80s when I was a kid but this Charcoal Grey Jersey Strappy Back Romper looks soon relaxing!
Talk about a super chill dress! This one's made from crazy soft, can't-stop-touching hacci knit and has a relaxed trapeze silhouette (nips in at the waist, cuts out & away from the body). In heather grey.
It's a party-approved romper that is so comfy you can pass out in it at the end of the night! Slinky, silky, and soft, with crisscrossing straps on the back that turn up the sex appeal.
5) Take your summer maxi up a notch.
This peach pink Lace Up Ruffle Maxi Dress would be great for that dinner party or summer wedding on a beach that you feel like dressing up to but still want to feel chill in.
Life's a party; dress like it. You've got the second part handled with this sweeping peach pink maxi dress. The light-as-air georgette is a master class in femininity – with a hi-lo sweeping maxi hem serving as a gorgeous contrast to the lace up neck.
Belle of the ball potential is realized with this maxi dress. Swathed in a gorgeous merlot red crinkle chiffon, our designers carefully detailed the sweeping design with lace inset panels for a mix-and-match look. Lace flutter sleeves maintain a romantic air, with a tie back that gives you the chance to flash some back.
Personally, I prefer a summer dress with straps to cover any bra straps and favor the hi-lo or maxi look. How about you? What do you look for in a summer dress?
-Nicky
SaveSave
SaveSaveSaveSave