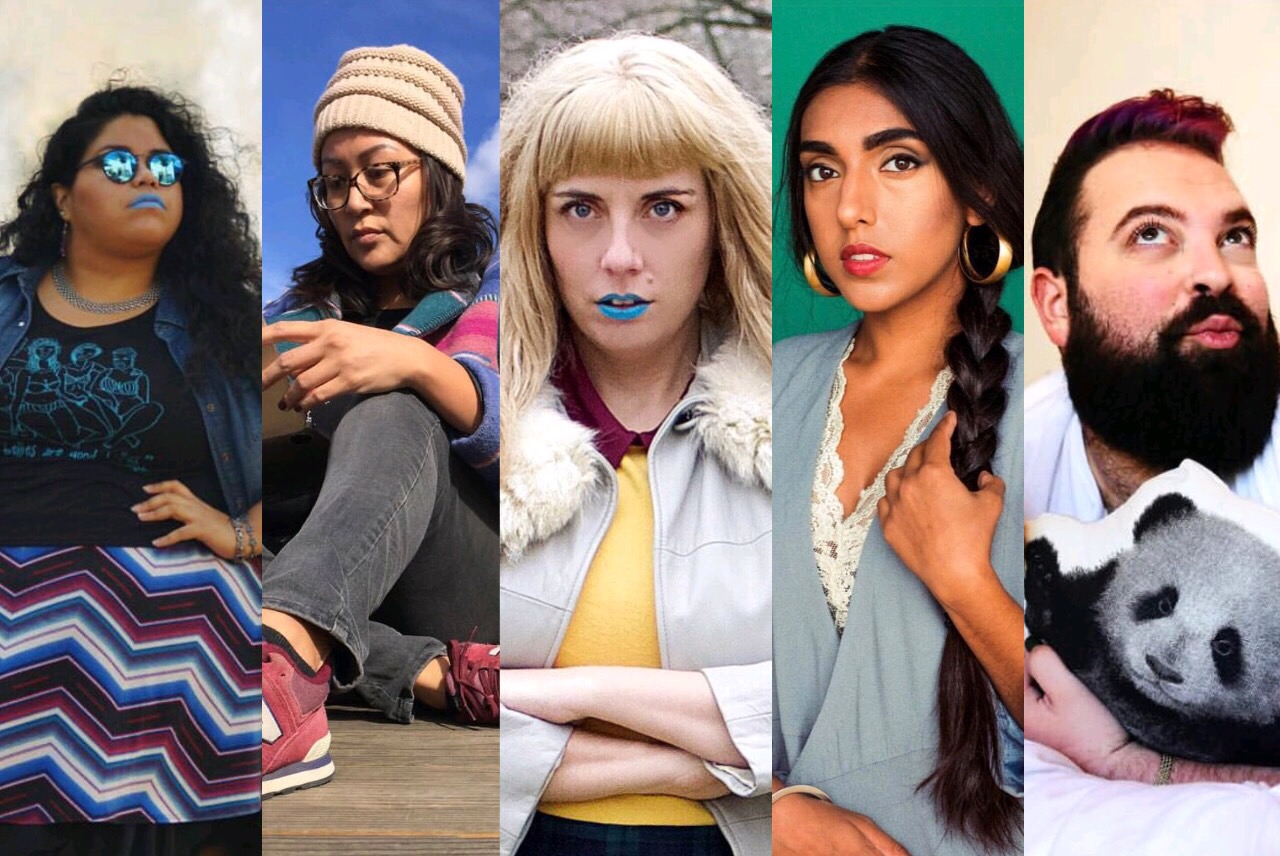 I'm a social media junkie and LOVE being on Instagram. I can get lost in time following my favorite hashtags and trying to keep up with the happenings of so many awesome babes. I am simply amazed at how many SLAYING QUEENS there are who are empowering others and kicking-ass while doing it! My personal goal this year is to be empowered and to use my voice and body more to be active and speak about the things that are important and meaningful to me. The Slaying Queens I've selected for this list in one way or another inspire and motivate me to do just that.
So, I wanted to share with you 5 Slaying Queens And Where You Can Find Them. These are peeps who I'm currently obsessing over. No doubt, this list may change with every full moon so come back in another month to see 5 more slaying queens! *Queens are not in any particular order.
Who are your slaying queens that I should be following? Let me know in the comments below!
1. MyXXFLY
Why They Rule:
I recently became enthralled with Yesenia Guadalupe of MyXXFLY because of their fierce fashion style and voice ("You Say You Want a Revolution?" is a MUST read)! Sustainability is one of MyXXFLY's goal – to promote sustainable fashion. This is something I am on board with because I believe that I as an individual and we as a nation need to be more conscious about my/our relationship with the environment and Mother Earth. Sustainable fashion is something I practice by renting clothes from Gwynnie Bee and limiting my fast fashion purchases. Of course I could always do better. Lucky for us, Yesenia lays down truth about fast fashion and being a more conscious consumer. She SLAYS not only with her fashionable sustainable styles but also with her voice!
Where To Find Them:
** Instagram ** Twitter **  Facebook ** Website/Blog **
2. A Bear Named Troy
Why They Rule:
I'm not sure how I stumbled upon A Bear Named Troy's Instagram feed but Troy captivated my heart! Quite simply, Troy SLAYS. Troy is my pink sparkle on Instagram, ya know the sparkles on top of a cupcake that look so delicious you want to eat it but it's so picture perfect? Yup, Troy is that type of pink sparkle. Troy's cute with a touch of vulgar and goes live on Instagram enough for me to get my daily dose of A Bear Named Troy. I think it was seeing Troy in a unicorn onesie that made me stop scrolling through my Instagram search feed and say "Wow, I love this unicorn." Anyways, Queen Troy recently started a YouTube Channel so be sure to check it!
Where To Find Them:
** Instagram ** YouTube ** Twitter ** Snapchat ** Facebook **
3. Desiree Belone
Why They Rule:
Desiree Belone is a makeup artist and I've been following her on Instagram for a while now. Desiree is a Slaying Queen because she is living her passion as a professional makeup artist. Although I've been wearing makeup for years, I still feel like I don't know much about makeup. When I first started wearing makeup, I really didn't know what I was doing. I was a teen and my first makeup product was a used eyeliner pencil that a friend gave to me. Ha! Nowadays, I've advanced from simply using eyeliner and colored lipgloss to experimenting with matte lipstick colors and eyeshadow palettes. Desiree actually recommended a bright matte lipstick that I've come to love and would have never otherwise considered. While I think makeup can be fun, it was not always so. My makeup buying experience usually ends with a sales associate telling me "Native American skin tones are the hardest to match" and I'm usually left with a too light or dark foundation that I have to make work. Des is a Slaying Queen because she inspires me with her awesome makeup and MUA skills, and she always looks fly! She is my proof that I can make makeup work for my Native American skin tone.
Where To Find Them:
** Instagram ** Snapchat **
** MUA Instagram ** MUA Facebook ** MUA Website **
4. Jamie Je T'aime
Why They Rule:
I first noticed Jamie this summer when she was promoting the Instagram hashtag #FashionIsMagic. Jamie rules because she has an addicting quirky style that just draws me in. Everything from her bold lipstick, daring outfits (look at her rock that bikini in snow!), and her talk about how Fashion Is Magic because it is transformative. To me, fashion IS magical because of how something as simple as wearing a specific garment, accessorizing my cardigans, or selecting the day's jewelry can not only transform that day's style but can also transform my emotions. On days, when I'm needing a boost in confidence I may select a button that says "Indigenous Resistance" or "Native Rebelle" to remind me that I'm the descendent of Hunkpapa Chief Two Bears and that I can do shit because my ancestors survived and resisted colonialism. If I'm just feeling the need to express my mood I'll put on my tutu even if it's to dance around the house or walk my dog down the street. I belive that fashion is magic and you should too! Now go follow Queen Jamie.
Where to Find Them:
** Instagram **  Website/Blog **
5. Rupi Kaur
Why They Rule:
I heard of Rupi Kaur in early 2015 when her picture of a woman laying on a bed with leaked menstrual blood was removed off of Instagram. The picture and news of this censorship was reported through one of the feminist sites I follow (and also various news outlets). The photo showcased the natural wonder of a woman's body and our ability to bring forth life but the act of censorship highlighted how the natural body even when fully clothed was deemed by some as unbecoming when the objectification of the female body is often unchallenged. It was then I found Rupi's poetry and her book "milk and honey". Her powerful words were a reminder that despite trauma I am strong and resilient. Rupi is a Queen Bee and her words SLAY. AND in the past day she announced that she will be releasing a second book!
Where To Find Them:
** Instagram ** Twitter ** YouTube ** Facebook ** Website **
-Nicky
SaveSave