Is it just me or has winter in the Phoenix area been colder than usual? The cold weather has me bundling up in layers to keep warm AND I get to wear my knee-high boots!
 Outfit details
Spruce & Sage Polka Dot Print Pleated Dress from Gwynnie Bee
Torrid Peacoat
Lane Bryant Knee-High Boots
SLATE Layered Nugget Bead Necklace from Rocksbox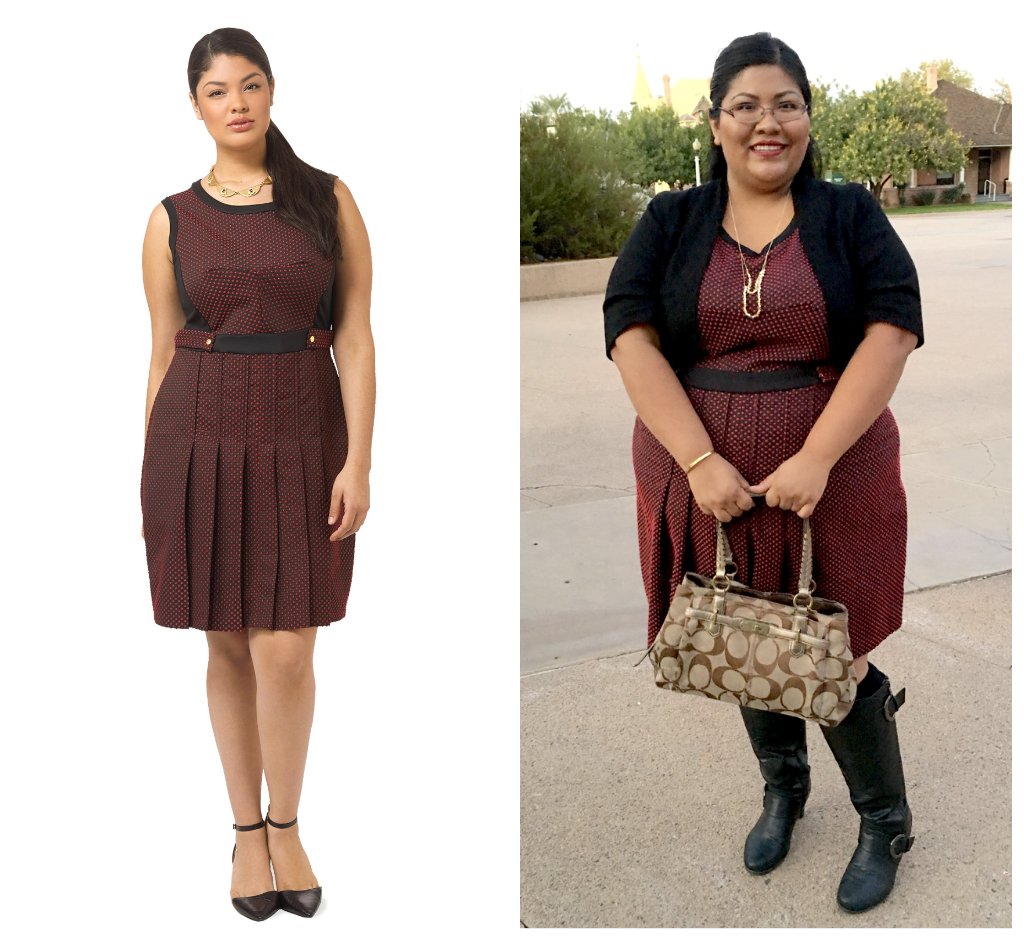 Style
This dress is a rental from Gwynnie Bee and I closeted it because of the front pleats and the dark maroon color. In general I try to stay away from skirts with pleats because the pleats tend not to lay well against my curves. However, the pleats on this dress are lower on the skirt of the dress rather than the pleats starting at the waist. I thought overall the style was different than other dresses I've worn and so it was a go.
Lately, most of the dresses I've been receiving from Gwynnie Bee have gold buttons or zippers, which makes it a bit challenging for me to find accessories to wear with an outfit. My personal jewelry collection has more silver jewelry than gold. Rocksbox, a jewelry rental subscription service, has been a fun service for me to experiment with gold colored jewelry without the commitment to purchase an item. For example, I really liked the gold nuggets on this necklace and the weight of it was impressive but the length was awkward…not quite long enough and not short enough. I wore it with this outfit and then sent it back.
Since it is relatively cold outside for Phoenix weather I wore a shrug with this short-sleeved dress. The knee-high boots were perfect so I didn't have to wear leggings, which can get bulky under a dress.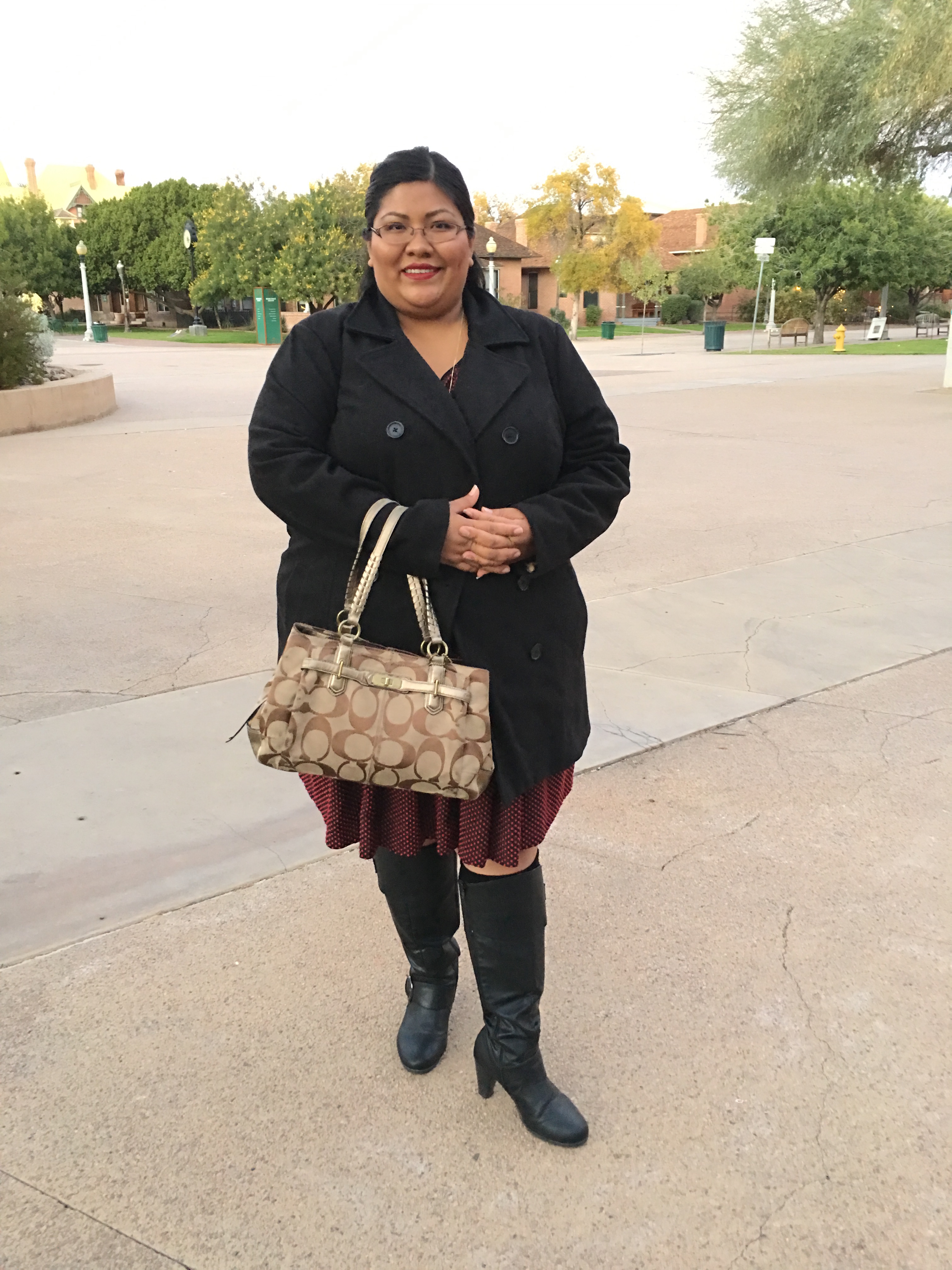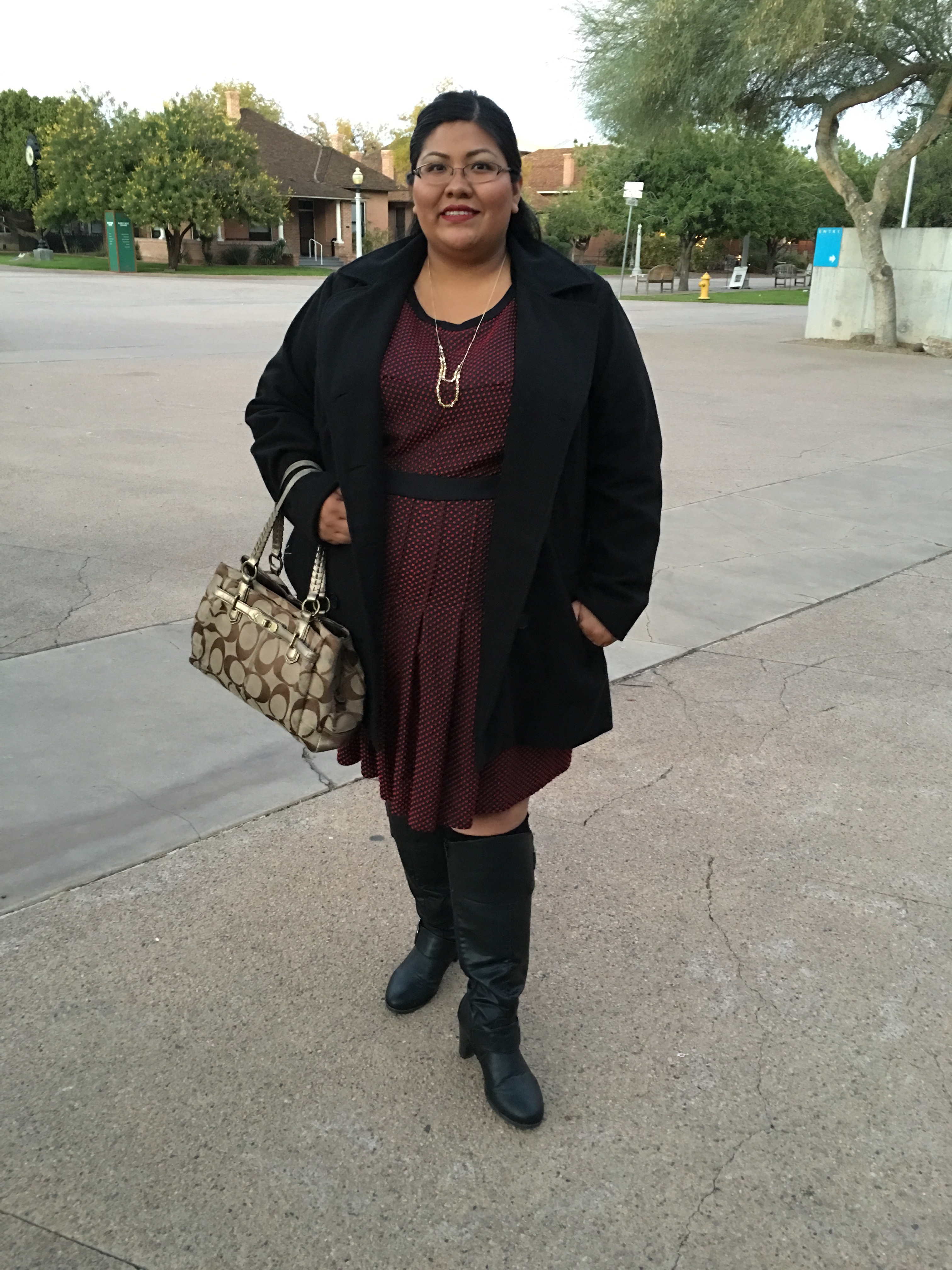 Fabric
The material of this dress was thick with some stretch and the dress was not too heavy. I thought the best part of the dress were the raised polka dots which offer a surprising texture to the dress. The polka dots are actually a bright red but sewed on the black fabric makes it appear a shade of maroon from a distance.
Fit
Honestly, the fit of this dress was not all that great but I made it work. I was extremely self-conscious of the length of the dress in the back. Before I left the house I was assured that the length covered my assets and was not revealing. However, when I walked the dress would swing (the peacoat helped to tame some of that) and I had to sit strategically on a chair to ensure all bases were covered.
My other concern was with what was happening in the bust area. There were these darts in the bust that pinched the fabric in a very odd place creating a type of perkiness of the bust. I think the darts were meant to create shape in an otherwise thick fabric but for me rather than helping to shape the dress resulted in a loose top. Other than those concerns the overall fit of the dress worked for me.
My go-to cold weather clothing items are definitely my knee-high boots or anything that cover my legs, layers like a shrug, cardigan or sweater wrap, and my peacoat. I'm certain the cold weather in Phoenix is nothing like the cold weather in other places, so, what are your go-to cold weather pieces?
If you're interested in trying Gwynnie Bee you can sign up for a FREE 30-day trial. The 30-day subscription includes access to their expansive closet of clothing sizes 10-32, unlimited clothing exchanges, and free shipping. I hope you'll give Gwynnie Bee a try!
– Nicky