Disclosure: This post may contain affiliate links that when clicked on may result in a small commission to this site but all opinions are mine.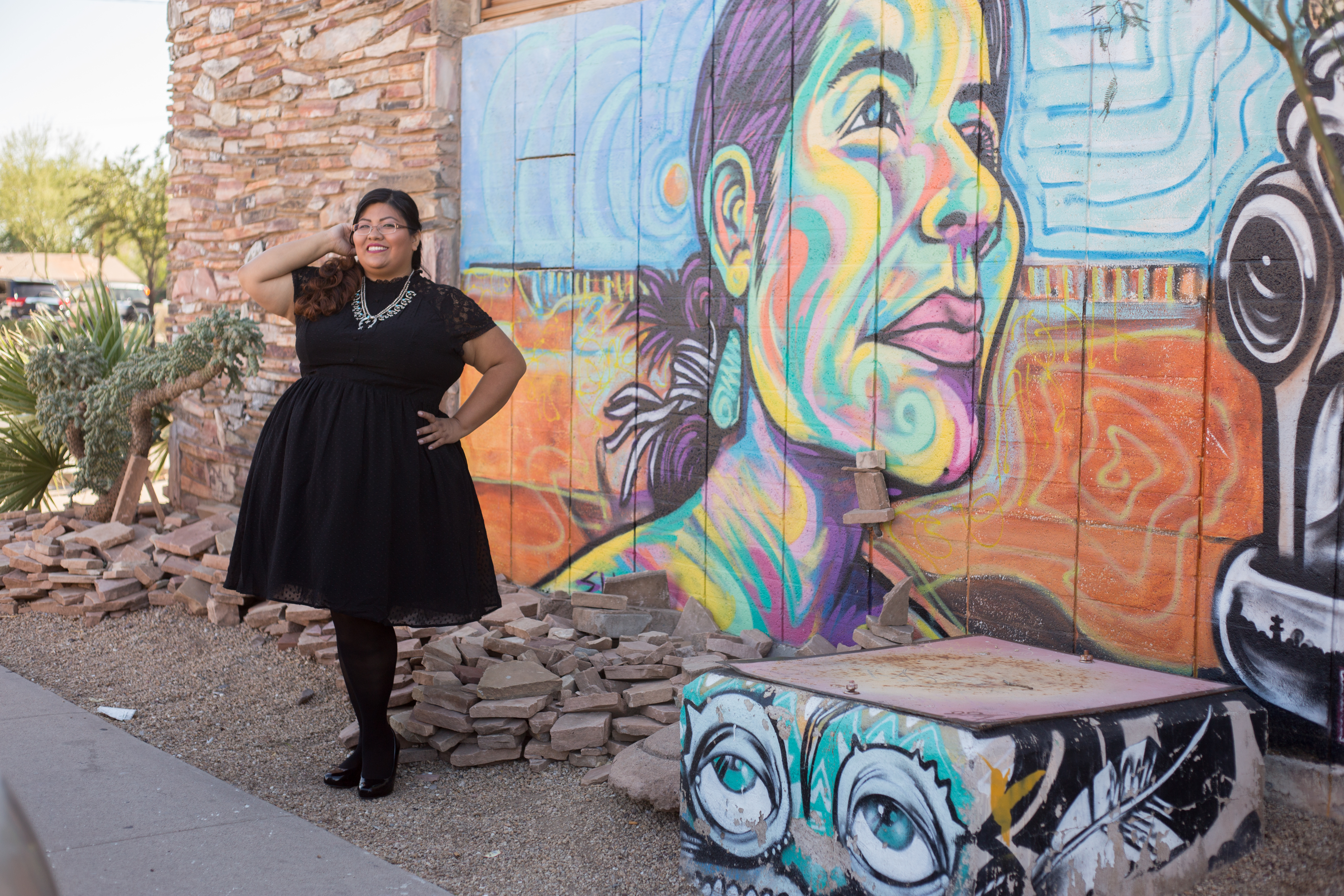 I think alternative pinup culture is an inspiring community since it has come to embrace diversity in women and inclusive of ethnicities, body size, and tattoos and piercings. For me pinup culture empowers my own feelings as a sexy, independent, plus size woman. The Blue Bird Pinups, a group of Native American pinups, are creating an empowering community for Native women. Drawing inspiration from the Blue Bird Pinups, I decided to style this Torrid Retro Swing Dress with a nod to my Navajo culture by making the squash blossom necklace the focus of my outfit. The mural, in the background of my photos, is on the exterior wall of The Hive in Phoenix and is of a person wearing a tsiiyééél, a Navajo hairstyle. If you know the artist's name please let me know so I can credit them.
Outfit details
Retro Chic Chiffon Button Front Swing Dress from Torrid
Black Heels from Target (old, similar)
Sterling Silver Squash Blossom made by Navajo Silversmith Mildred Parkhurst (personal collection)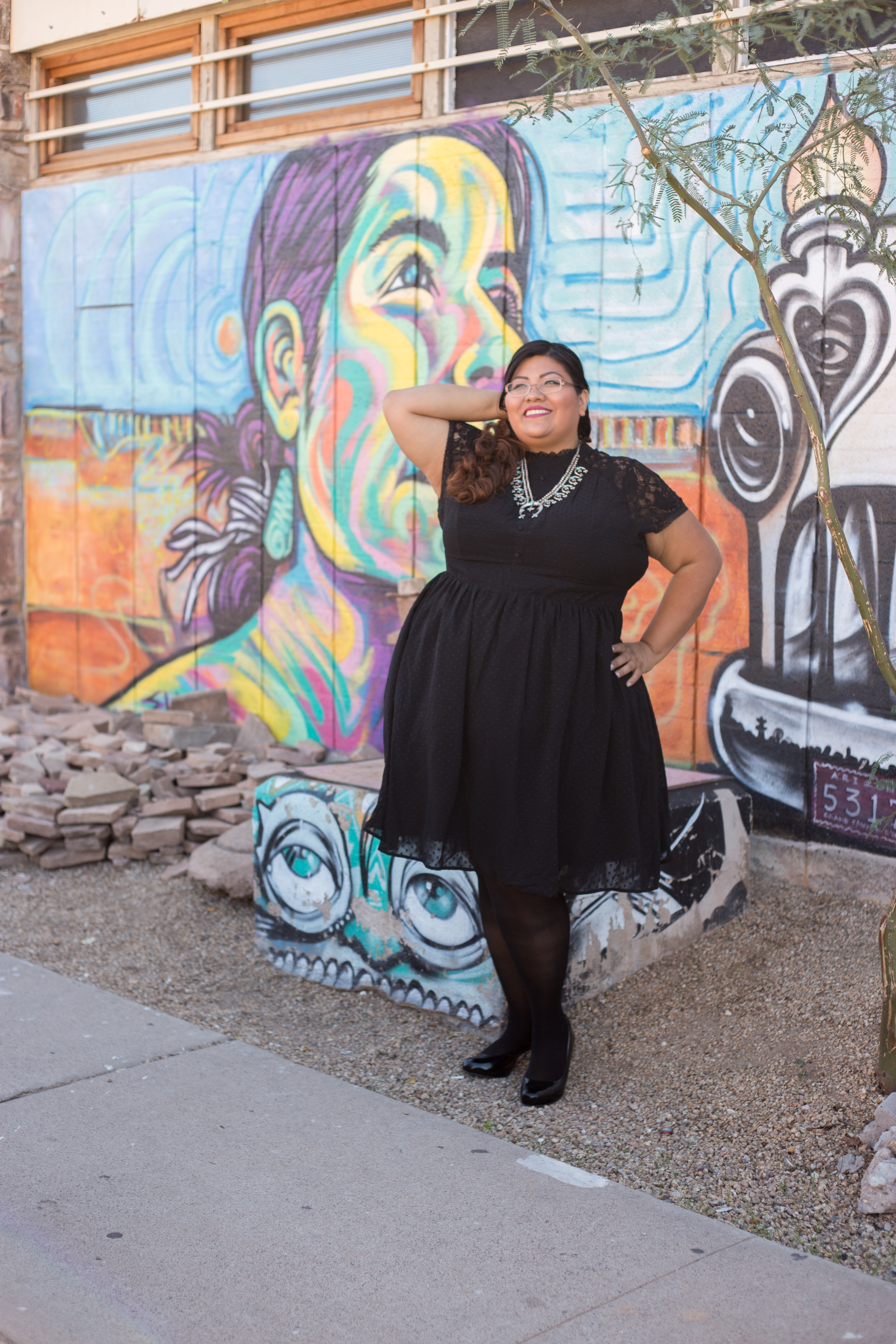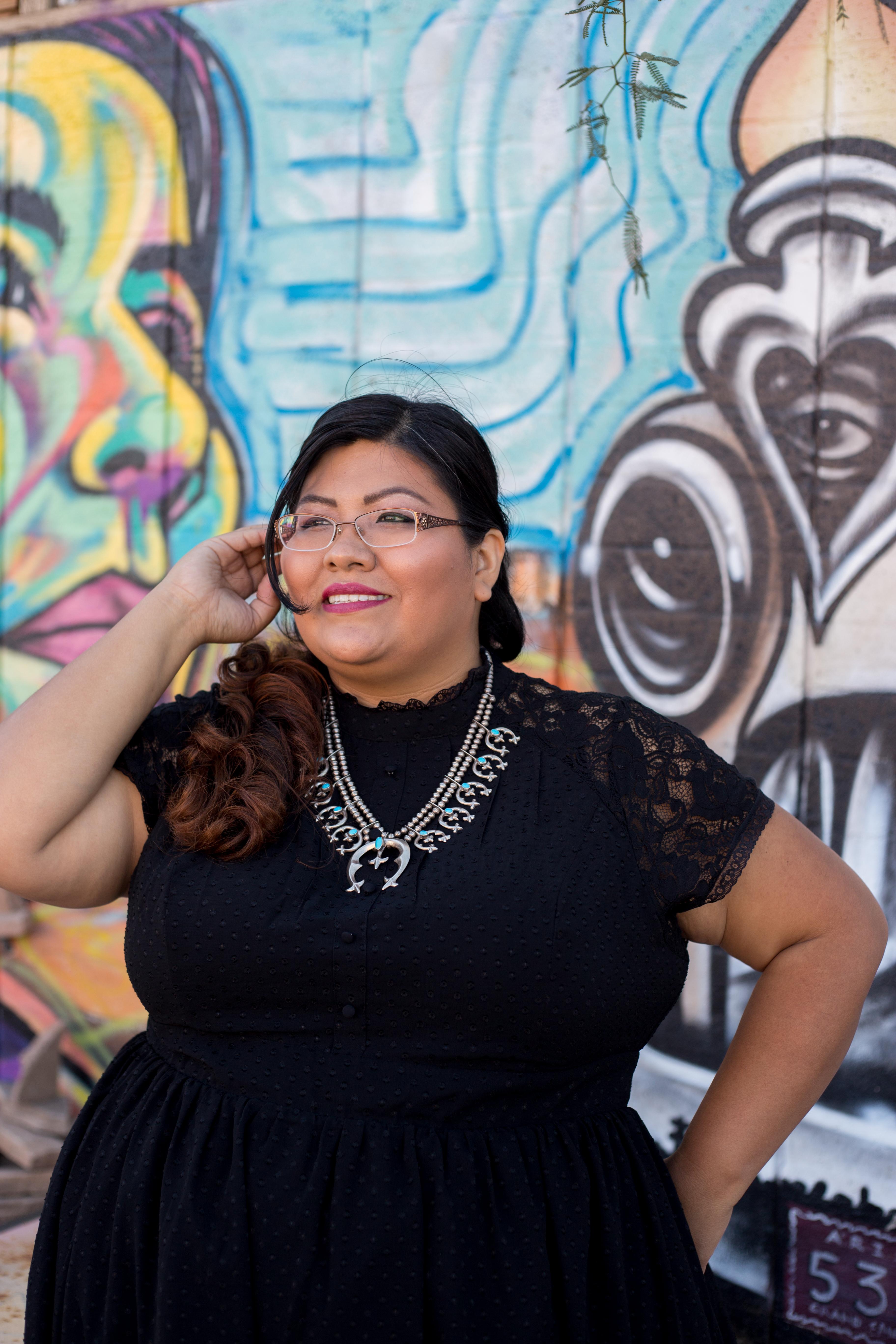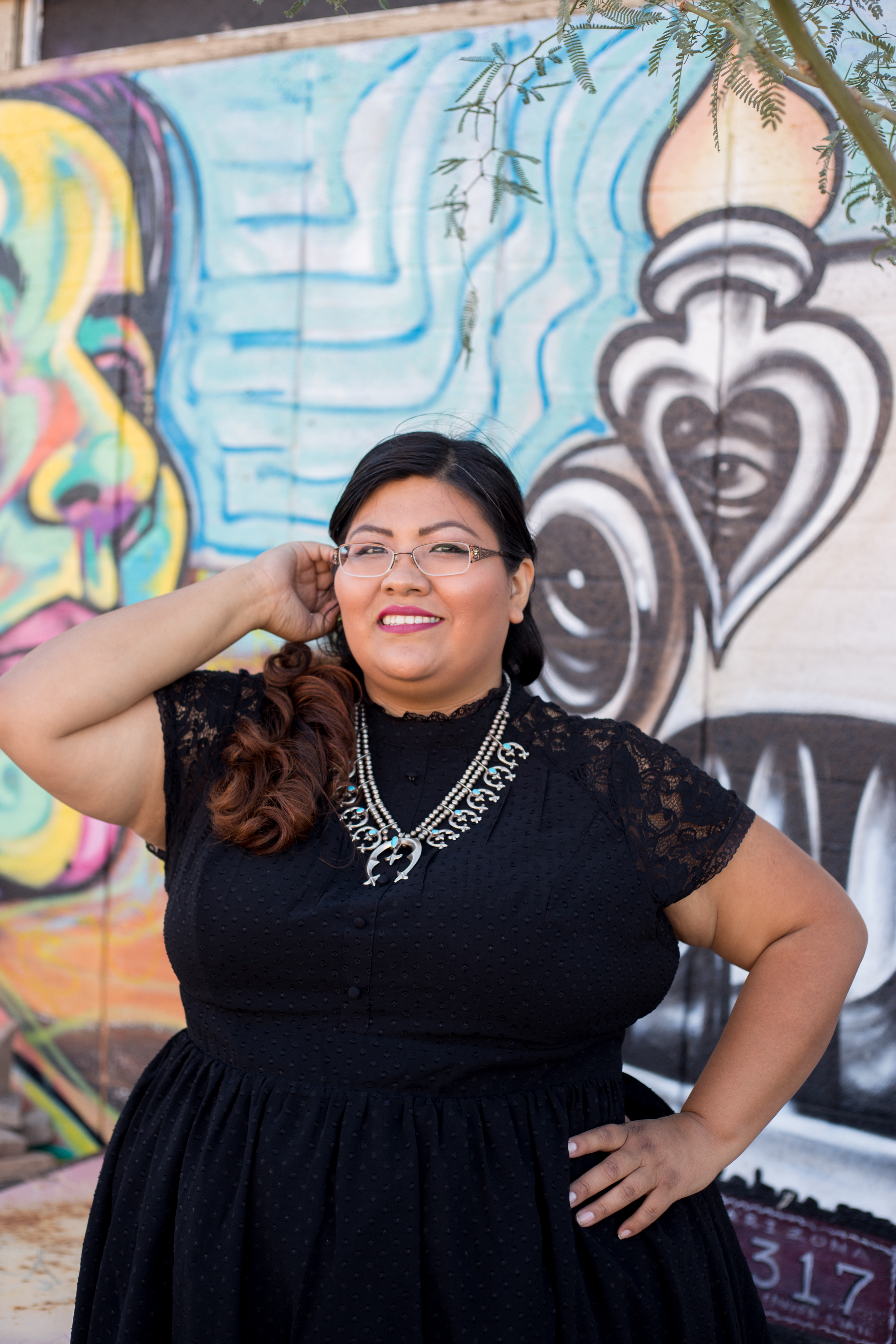 Review: Torrid Retro Swing Dress
One of the things I liked about this dress was the high collar and lacy shoulders and sleeves. The high collar has a modest look while the lace still hints at the exposure of skin in a flirty way. The dress has a fun hourglass silhouette and the tulle gives the skirt a little bit of volume. It's cute! I've worn this dress to an art gallery and out on a date.
The fabric of the dress is a textured polka dot fabric. However, the fabric of the high collar happens to be one of the downfalls of this dress. I didn't think the high collar was restricting in anyway but rather the backing of the collar, the fabric that rubs up against the neck, was irritable. The fabric inside the collar is actually the same textured dotted fabric that is the dress. But rather than the textured fabric feeling smooth (like the way the dress feels) the collar fabric was stiff and rough. Even the lace at the very top of the high collar was not bothersome. I at least got a couple wears out of this dress before the collar became unbearable, and I was able to use a coupon and get free shipping to help reduce my final cost for this dress.
Has something similar happened to you? You purchase an item and at first it seems to work but later as you wear it you notice small parts of an outfit that bother you? The way a zipper does or doesn't lay flat? How the fabric rubs under your arms? Or how the back pants pockets tend to catch at everything when you sit or back into something? Let me know your pet peeves when it comes to your favorite clothing pieces in the comments below.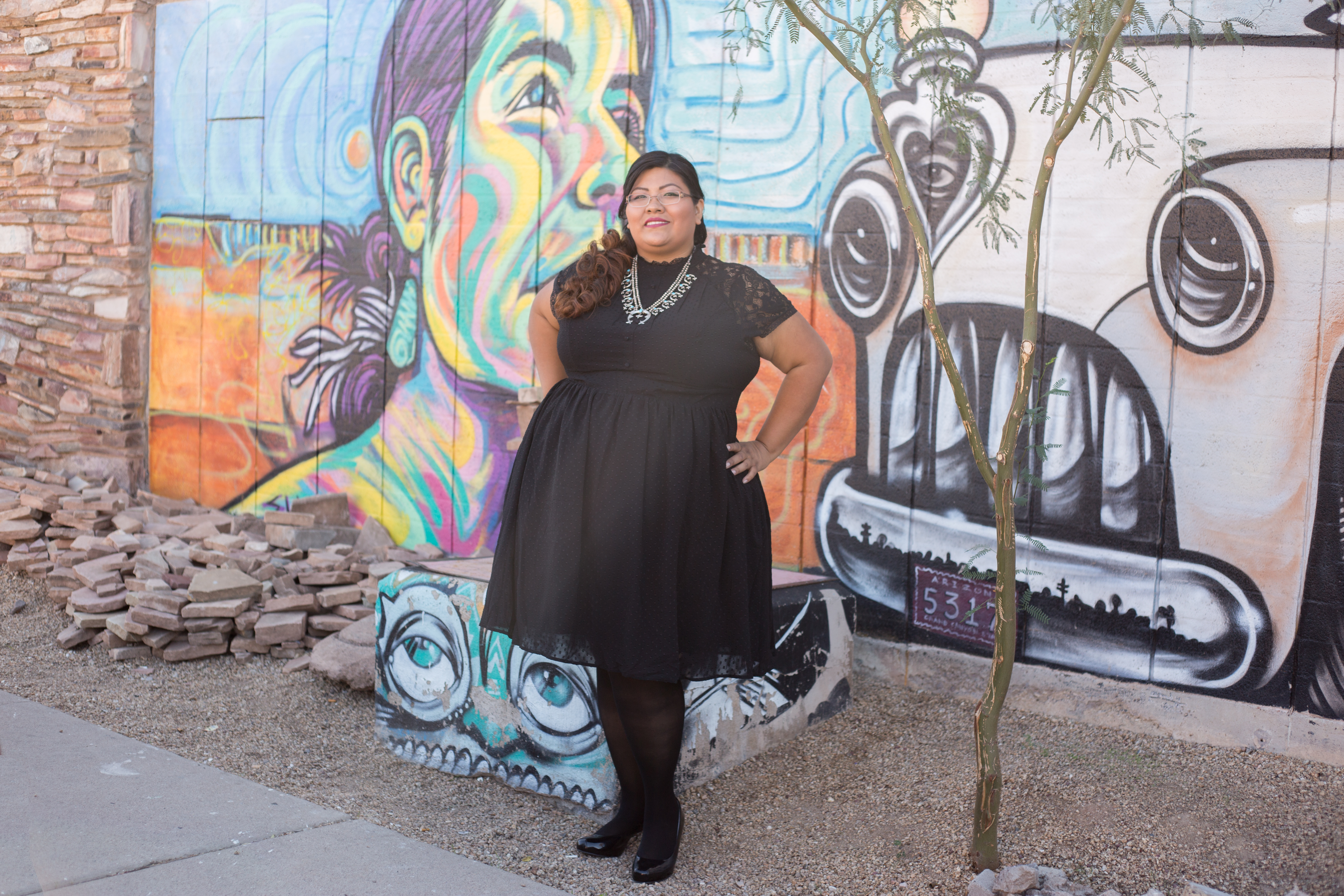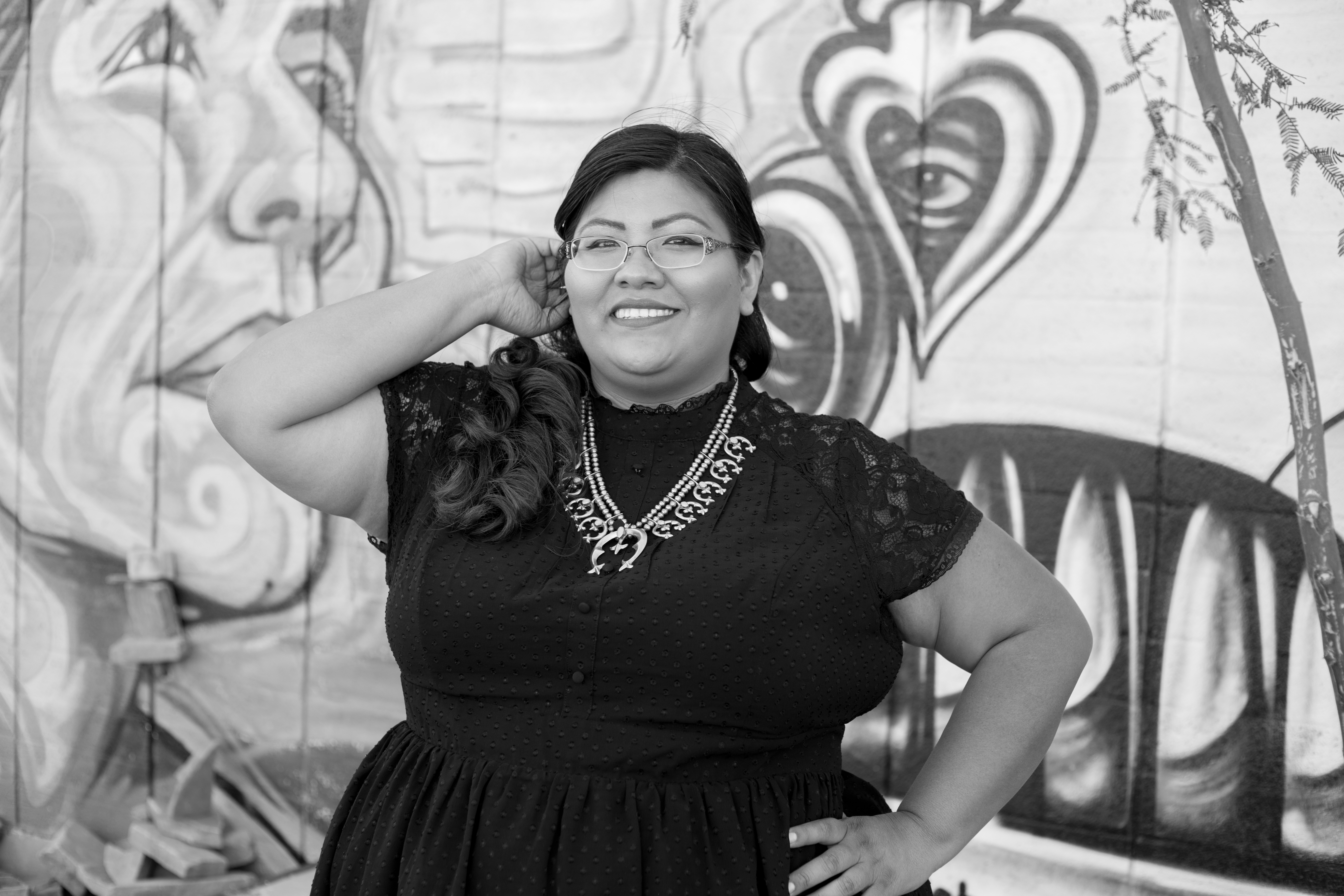 Authentic Native American Made Jewelry
My sterling silver squash blossom necklace is one of my most prized jewels, my crown. My squash blossom necklace is valuable and of high quality that it will be passed down when my daughters are older. It was handmade by my mother-in-law Mildred Parkhurst, a Navajo silversmith. I married into a family of Navajo silversmiths who have been silversmiths for generations; their jewelry always captivates my heart.
I know that turquoise-like, "Native inspired", or boho jewelry will forever plague the fast fashion industry (i.e. the turquoise jewelry sold at major retailers) but nothing compares to authentic Native American designed and handmade jewelry. Fast fashion's appropriation of Native American culture and jewelry only further stereotypes Native Americans distinct cultures and negatively impacts Native American artists whose sole source of income might be their art. By supporting Native American artists you receive a high quality piece of art/jewelry (that more than likely uses a design passed down through generations) and you also directly support that individual, their family, so they can sustain and pass down their way of life.
Here are some artists whose jewelry I love and want to own!
If you own Native American made jewelry, which is your most prized piece?
Photos by: Maeghan of Maeghan Gerloff Photography.
-Nicky